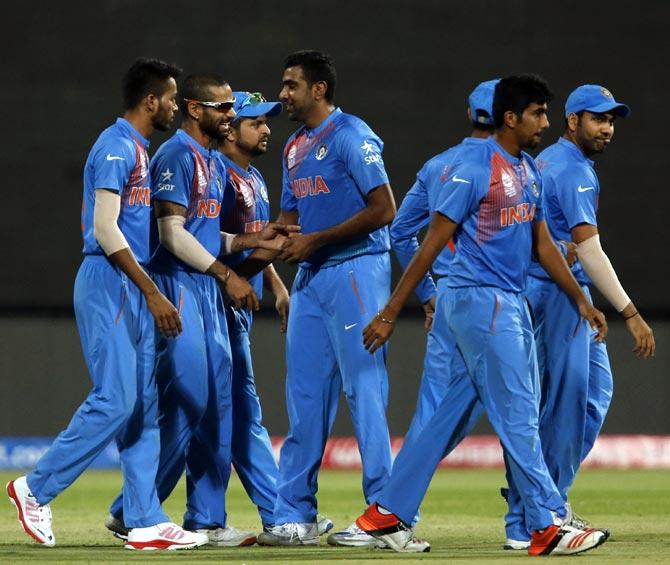 IMAGE: Ravichandran Ashwin, centre, celebrates with his team mates after dismissing Bangladesh's Mohammad Mithun in the World T20 match in Bengaluru on Wednesday. Photograph: Danish Siddiqui/Reuters
The team's ability to stay calm under intense pressure and manage the "chaotic situation" with a cool head paved the way for the nerve-wracking one-run victory over Bangladesh in the ICC World Twenty20 in Bengaluru on Wednesday, says captain Mahendra Singh Dhoni.
The prospect of securing a semifinal berth at stake, India survived a mighty scare to snatch victory from the jaws of defeat in front of a packed crowd at the Chinnaswamy Stadium.
The victory placed India second in the group.
"In a situation like this it's literally chaos. What you are trying to do is you're trying to manage chaos," Dhoni said after the match.
"Everybody will come and he'll have his own opinion. Often the opinion of a batsman is very different to the opinion of a bowler. But what you have to do is you have to see what the strength of the batsman is who is batting at that point of time, how the wicket is behaving, whether there is some kind of reverse swing or no reverse swing on offer.
"All these things you need to calculate and I feel what really helps is you listen to all of them.
"But, at the end of the day, you push the bowler to bowl what you feel is good at that point of time. If I am convinced that this is something I want to do, I will go ahead with it, but, definitely, having an open mind at that point of time really helps because at times in situations like these under pressure, that's where the input of others comes in. But you have to assess everything and it has to happen in a very short span of time."
Dhoni said the victory will not erase the pain of the 2007 loss to the same opponent that knocked India out of the World Cup.
"We still remember the 2007 loss. The reason being we were not able to qualify for the next stage in spite of playing good cricket. We are also human beings - we also feel hurt if we have not done well. I think it is an emotional connect to the game and I think this victory does not ease 2007 loss," he said.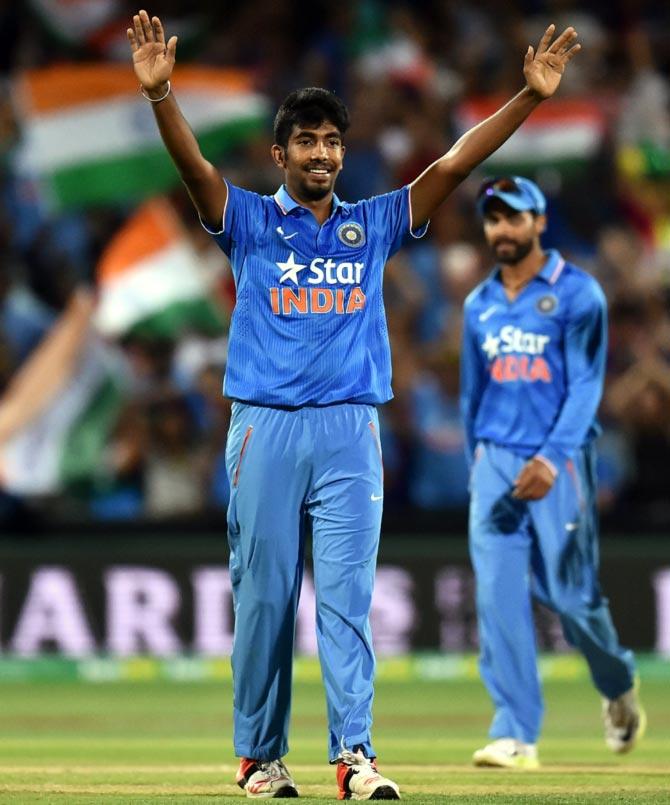 IMAGE: Jasprit Bumrah. 'This was the first game where he was under pressure. Photograph: Daniel Kalisz/Getty Images
Dhoni hailed the younger players in the side for stepping up and performing in key roles, specifically crediting Hardik Pandya and Jasprit Bumrah, who looked nervous at the start after a misfield that led to a boundary and a dropped catch.
"As far as Hardik is concerned, there is a phase where there would be ups and downs. Once you are through these phases or chapters, you become an accomplished player as a bowler and as a batsman."
Pleased with the way Pandya recovered after conceding two boundaries in the final over, Dhoni spoke about what led to him giving the last over to the youngster with Bangladesh needing 11 to win. The bowler was told not to try bowling yorkers, and rather try back of the length deliveries.
"There were quite a few stuff we were discussing, one thing was for sure, we did not want him (Hardik) to bowl a yorker. It had to be a back of a length, but how back of a length, that was the question. You don't want to bowl a wide. We were deciding out field and I think he executed really
Well.
"The batsmen were scoring quite freely at that point of time. I knew I had to take that one over from somebody whether it was a spinner or Hardik Pandya. I said what is important right now is to make a game out of it and that's where I said I'll use the proper bowlers at this point of time and we'll see how many runs are needed in the last over. Then according to that we'll decide who is the person who can bowl.
"There were quite a few options. There was Yuvraj Singh, Suresh Raina, Hardik Pandya was there. That was the reason behind it. Often it's quite an easy one. You want to give a cushion of an extra few runs and you go back to your main bowlers, you back their strengths and say whatever runs you save it all keeps mounting on the last over and if he's able to execute his plans then we'll be on the winning side."
About Bumrah, Dhoni said, "After the first misfield, if you see actually his international career, this was the first game where he was under pressure. It's not only the pressure of bowling. I consider him slightly weak when it comes to the fielding department and today's game was very important. We all knew how important it was.
"To start, the very first ball if you miss, as a youngster you are under pressure and I feel that actually reflected in his bowling also, then he dropped a catch.
"It's important at that point of time to tell him that it doesn't really matter because what has happened has happened. You can't do anything about it. Even if you sit there for half an hour, the batsman won't get out. What was important was to get away from it and at the same time try to execute your plans, what your strength is."
Calling the victory a team effort, Dhoni said most of the players had a rough outing.
"It was still a very good effort by the team. I felt majority members of the team had a tough day. Ash (R Ashwin) had a very good day when it comes to bowling but still there were patches where he went for runs where he thought maybe the batsman played a very good shot. All the bowlers went for runs but they came back and everybody contributed. So I feel it's a very good game for us, especially for youngsters who have not played under a lot of pressure.
On the playing conditions, Dhoni said the first half belonged to spinners and in the second the batsmen called the shots.
"I think it was tough toss to loose. The wicket played differently in both innings. In first innings, the pitch was sluggish and spinners came to play. In the second half, it became better for batting, but credit should not be taken away from Bangladesh. They played really well. They were cruising along and kept constant pressure on our bowlers."