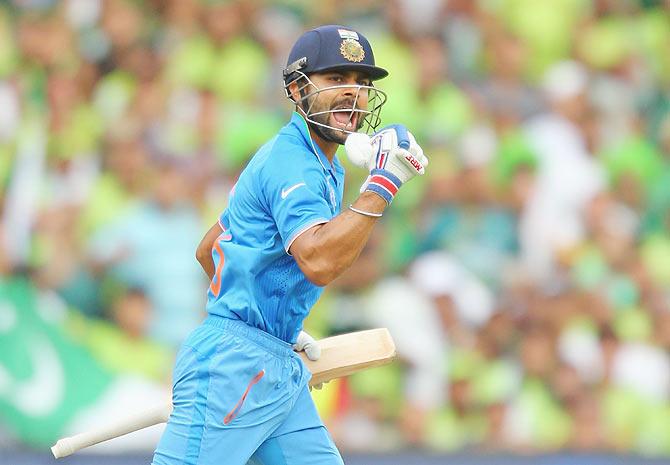 Virat Kohli of India. Photograph: Scott Barbour/Getty Images
In view of rumours surrounding an Indian conglomerate's attempt to start a possible rebel league, the Federation of International Cricketers' Associations chief executive, Tony Irish, has said that mainstream cricket should be 'on their toes' to keep their players away from being lured to an another potential T20 league.
- Lalit Modi or Ten Sports not linked with our project on cricket: Essel
Earlier in the week, Indian business giant Essel Group reportedly tried to set up mysterious registration of a company -- New Zealand Cricket Limited -- and has already registered the companies in Australia as well as in other Test playing nations.
Essel, which is owned by billionaire media baron Subhash Chandra, was the main promoter behind the ill-fated Indian Cricket League, the rebel predecessor to the Indian Premier League.
Australia's Steve Smith and Shane Watson. Photograph: Ryan Pierse/Getty Images
Describing the development as a concern, a Cricket Australia spokesman earlier said that they were certainly aware of the registration, adding that the ICC has been informed and the matter is being investigated as it has the potential to threaten the current establishment.
Meanwhile, FICA chief Irish said that there is always going to be interest from players in events irrespective of what history has occurred, adding that one couldn't discount the fact that players wouldn't be interested, Stuff.co.nz reported.
Irish said that the cricket boards have got to be on their toes and realize there are other markets for players and they have got to try and make mainstream international cricket as attractive as possible.