'I think like that last partnership towards the end today, we've just got to keep fighting and that's the way we play cricket'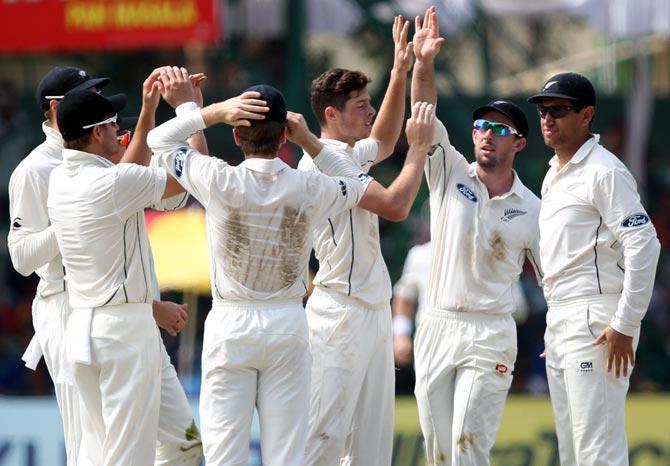 IMAGE: Mitchell Santner, centre, celebrates with team mates after taking the wicket of Murali Vijay. Photograph: BCCI.
New Zealand bowling coach Shane Jurgensen says partnerships will be crucial to his team's survival on the fifth and final day of the first Test against India, in Kanpur, on Monday.
Chasing a history-defying 434-run target, New Zealand need 341 more runs to win or bat through the day on the fifth-day pitch to save the match.
The Kiwis have Luke Ronchi and Mitchell Santner at the crease for the visitors but lost key batsmen including captain Kane Williamson on day four to end at 93 for four.
"We made some adjustments today. I think like that last partnership towards the end today, we've just got to keep fighting and that's the way we play cricket, we have to fight till the end. There is still six wickets to go and if you get a good partnership going, and we saw that today when India batted, if you get a good partnership you can score at a decent rate, and more importantly you can bat for time," Jurgensen said.
"That's our goal, to fight for as long as we can, have a good start in the morning and really try and fight as far as we can."
Asked how difficult it is for them to turn things around against such quality Indian spinners, he said not buckling under pressure is key.
"Some (balls) turn, some don't and some jump. It's just a matter of not feeling the pressure and starting to accept the challenge and play with a smile on your face. What a great opportunity it is tomorrow to come out on the fifth day. If we attack that it's our best opportunity to get through," he said sounding optimistic.
The coach refused to comment when asked if Martin Guptill will be retained in side. He is having an awful run including two failures in the ongoing Test.
"I think he was a bit unlucky today in the way he got out. That's not really my area, selection, but it was a pretty tough situation to go out there and the way he unfortunately got it is a bit unlucky really. But history shows, guys will be given every opportunity, that's from my limited time with the Black Caps. Today it was unlucky the way he got out."
The coach was also asked to assess the bowling of his spinners when Murali Vijay and Cheteshwar Pujara batted in the last session, on Saturday.
"You can probably tell by the way we bowled today, which was much better. What we saw today was probably more what we want to be seeing. We probably just didn't make the adjustments as quickly as what we wanted to, but we made them today and it was much better," he said.
Jurgensen feels the lesson his bowlers can learn from the Indian bowlers is that they 'create a lot of pressure'.
"They make you play the ball consistently, they bowl straight and they are very experienced. It's shown the little adjustments they make, positions on the crease, angles, field placements, they are obviously very god at that. Like we saw with their batters in their conditions, we saw the way they bowled in their conditions. We have to take the positives out of the way we bowled today and learn from that," he said.
"Obviously see how those guys do it. Of recent times it has been one of our strengths as a team. We saw it in the World T20, that we can make those adjustments and I'd like to think with our future opportunities to bowl will be doing that."