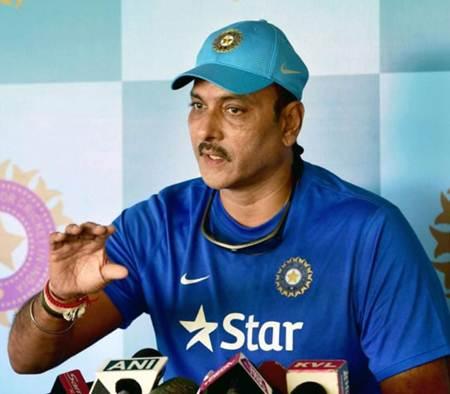 Former India Team Director Ravi Shastri made it clear on Tuesday that he is "done" with the Indian cricket team, saying it's time to "move on".
Shastri recently lost out in the race to be India's new chief coach to former captain Anil Kumble.
"The chapter is over as far as I am concerned. I firmly believe that it is time to move on. I have nothing more to add or say in this regard," Shastri said.
It was reported that Sourav Ganguly, who was part of the Board of Control for Cricket in India's three-member Cricket Advisory Committee -- which included Sachin Tendulkar and VVS Laxman -- to select the coach, was not present during Shastri's interview with the panel.
Asked about Ganguly's absence, Shastri replied: "Nothing on Sourav. I have had enough of this. I don't need to say anything. I was abroad and since I have comeback yesterday night I have not had time to rest."
However, after speaking to senior BCCI officials, it emerges that the two former India captains share cold vibes with each other.
"Ganguly has always felt that Shastri, as a renowned commentator, has never really given him due credit for transforming the Indian team," a BCCI source privy to developments said.
"Similarly, Shastri must have had a feeling that Ganguly, who harboured aspirations of being national coach, wanted to undermine his position. But, to be fair, if Sourav saw Anil's presentation, he should have been present during Ravi's interview as well," the source added.
It is learnt that Shastri did not make a PowerPoint presentations, but spoke about the achievements of the team under him, which included winning the limited-overs' series in England, the Twenty20 clean sweep in Australia, Test series win in Sri Lanka and World Cup semi-finals in Australia.
Many in the BCCI feel that the decision-makers should have spoken to Shastri and told him that he need not apply as the BCCI was looking ahead towards appointing a fresh face.
'The 18 months that I have spent with the Indian team has been the most cherished phase of my association with the Indian cricket. When you set out on a journey, you set the bar high but you don't know what you can achieve. Credit to the boys for making it special,' Shastri had said in a recent interview.
IMAGE: Ravi Shastri
Photograph: PTI