'Disability is god's gift.'
'Had I not been blind, I don't think I would have got the chance to represent my country.'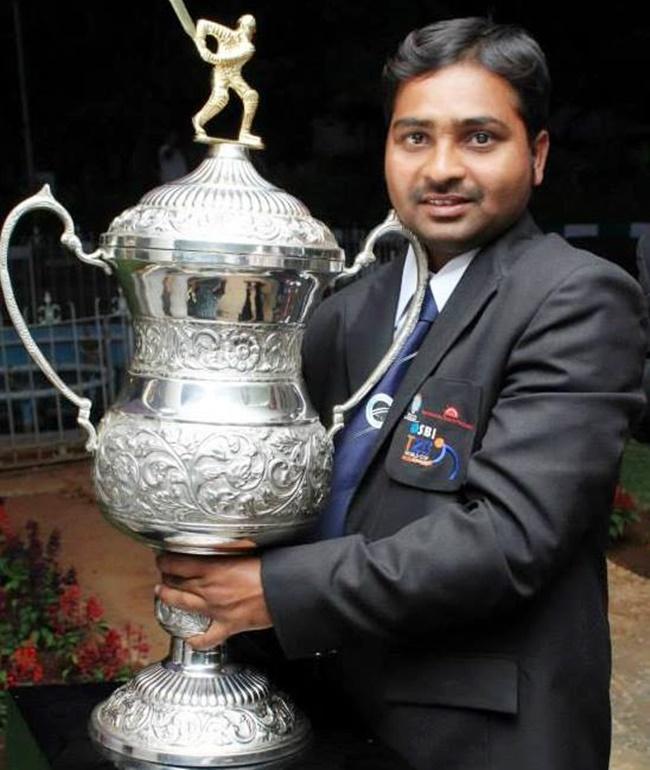 IMAGE: Shekhar Naik's story is one of determination and perseverance. Photograph: Kind courtesy Facebook
In a country where blind cricket is not recognised and celebrated, Shekhar Naik was the captain of the team which won the T20 World Cup in 2012 and the Blind Cricket World Cup held in South Africa in 2014.
Naik, in his 13-year career, has smashed at least 32 centuries in domestic and international matches in blind cricket.
The Government of India saluted his achievements in this year's Republic Day honours list, conferring the Padma Shri on him.
The honour comes at an opportune moment -- India are set to defend their title in the second T20 World Cup.
When this 30-year-old visually impaired cricketer looks back at his life he remembers his mother.
"She told me to do something, strive to achieve it and become someone," he tells Rediff.com's Laxmi Negi.
Naik's story is one of determination and perseverance.
Apart from disability, he was forced to be contend with extreme hardship when he lost both of his parents by the age of 12.
Today, Naik is blind cricket's flag bearer and he proudly says that his disability is "god's gift" to him.
Fourteen members of his family are blind -- blindness is hereditary -- Shekhar's childhood was restricted to the four walls of his home.
But once cricket came into his life, he saw the world.
How did you start playing cricket?
I was born 100 per cent blind. It is hereditary in my family.
Until the age of 8, I had not gone out of my house.
The children in my neighbourhood refused to play with me because I was blind. It used to hurt me
My mother also used to cry. But she told me, 'Do something, strive to achieve it and become someone.'
There was a health camp conducted near my village. Doctors there realised that my eyes could be operated upon.
After the operation I gained some vision in my right eye, which allows me to see to a distance of about three metres.
My mother enrolled me in the Sri Sharada Devi School for the blind in Shimoga district, Karnataka, and that is where my passion for cricket started.
Did you always want to play cricket?
Actually, I didn't know what cricket was.
At the school, I saw other children were playing, but I didn't know what that sport was.
Some of them asked me to join them.
It was a first time for me that children wanted to play with me. I happily joined them.
I was lucky that our physical education teacher took interest in my game.
He realised that I had talent and used to help me in my training for hours.
I was selected in the school team and my mother was very happy.
It was when she told me that, 'Cricket se famous hona.'
Only then did I realise that her dream was mine too.
It became my goal and I started working hard on it.
Initially, I was playing inter-school competitions.
In 1998 Mahantesh GK of the Samarthan Trust saw me play and said I could be part of the state team.
(Blind cricket in India is governed by the Cricket Association for the Blind in India, which is the cricketing arm of the Samarthan Trust for the Disabled, an NGO.)
There was no looking back for me.
I was selected for the national team in 2002 and 2009 as a player.
In 2010 I was selected as the captain.
I went on to win two World Cups for India.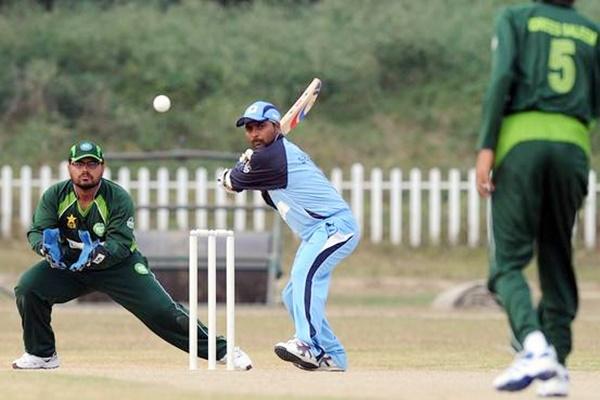 IMAGE: Shekhar Naik captained India to victory at the T20 Blind Cricket World Cups in 2012 and 2014. Photograph: Kind courtesy Facebook
Are your feats well documented?
Blind cricket doesn't have a body like BCCI.
It feels sad that some of my achievements have not been documented.
But after the 2014 World Cup, things have changed.
Prime Minister Narendra Modi invited the team and felicitated us.
He also spoke about the blind cricket team winning the World Cup in his Mann ki Baat and from then on we are getting recognition.
How is blind cricket different?
There are three different categories -- B1, B2 and B3.
B1 has 100 per cent blind individuals, B2 has players who can see till three metres. I come under the B2 category. B3 are partially sighted players. They can see up to 4, 5 metres.
Blind cricket is also different from normal cricket in the sense that we have to play under arm and there is a plastic ball.
Since we use a plastic ball there is less force and therefore we have to go for more of sweep shots.
There is a shorter boundary too.
How are India-Pakistan encounters?
India-Pakistan match hamesha tagda hota hai (they are well contested games).
There is always tension on the field.
If not cricket, then what?
I keep thinking about it. Cricket has changed my life.
I have travelled around the world because of cricket.
Had it not been cricket, and my mother would not have guided me, I would still have been in my village.
Your biggest achievement so far?
I was given the responsibility of leading the team in 2010, winning the World Cups and the Padma Shri.
These three achievements are equally important to me.
Who would you like to dedicate the Padma Shri to?
My mother. She has been my inspiration.
Today, I have realised her dream, but I think this is just the beginning. I shouldn't stop at this.
What do you do for a living?
I work for the Samarthan Trust for the Disabled.
In order to concentrate on my cricket, I need a government job.
So that I can focus solely on cricket.
I feel I still have many years of cricket left in me.
A lot of people look up to you. What would you like to tell them?
You will get opportunities in life, only you have to utilise them.
I believe that disability is god's gift.
Had I not been blind, I don't think that I would have got the chance to represent my country.