Coach Jitendra pleased with Krunal's debut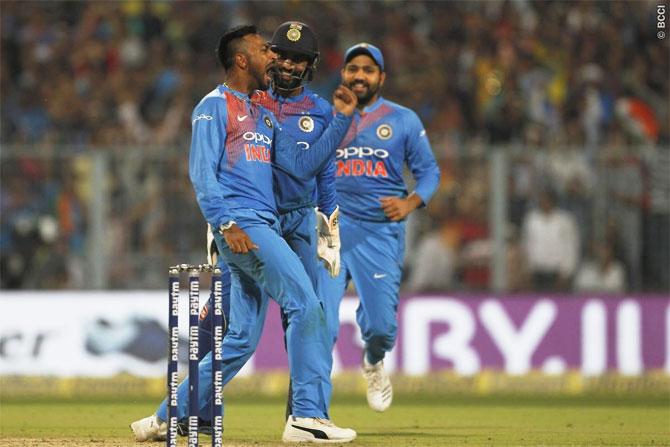 Joy knew no bounds for Jitendra Singh, the coach of Krunal Pandya, after the all-rounder made his T20 debut for India, on Sunday night, in Kolkata and justified the faith reposed in him by the team management.
Krunal got his chance to don the national cap two years after younger brother Hardik's ODI debut in October 2016 against the West Indies in the first of three T20 Internationals at Kolkata.
The 27-year-old Krunal (21 not out off 9 balls) did not disappoint as he steered the side home in a tricky chase in the company of Dinesh Karthik and also hit the winning boundary off Keemo Paul in the 18th over.
"Yes, Krunal did well and batted as per the situation (of the game), which is a good thing. I am very satisfied and there is always score of improvement. Finishing a match has been there in my coaching philosophy," Jitendra said from Vadodara.
"A good player is the one who finishes a match and you should not leave it for anyone else. And he (Krunal) did that yesterday which I felt was more satisfactory," said Jitendra, who also coaches Hardik, on Monday.
According to the 36-year-old Jitendra, who was a coach with the Kiran More Academy, Krunal - a left-handed batsman and slow-arm orthodox bowler - has 'matured' as a player.
Jitendra recalls that though he was working with Krunal for the last eight years, Krunal started focussing more on his game in the last four years only.
Krunal first came to limelight after his good show for the Mumbai Indians in the Indian Premier League, from where his India journey started.
So what was the trigger and Jitendra identifies it with Krunal's omission from the U-23 Baroda side.
"There was a U-23 match and he was in the Baroda side. But after that particular match, he (Krunal) was dropped from the side. After that, he started focussing (on the game) more," Jitendra recalled.
"After that he started working hard towards the game and his attitude towards the game changed," the coach said.
Krunal's father Himanshu Pandya was also elated on his elder son's T20I debut.
"It was Krunal's dream to play for India and that has been fulfilled," said Himanshu.