'Batting against spin bowling you need to have your own individual plan. You can't go into a match saying, "Oh, this wicket is going to spin this much".'
'Expect for A B de Villiers, nobody else has any idea what their game plan is.'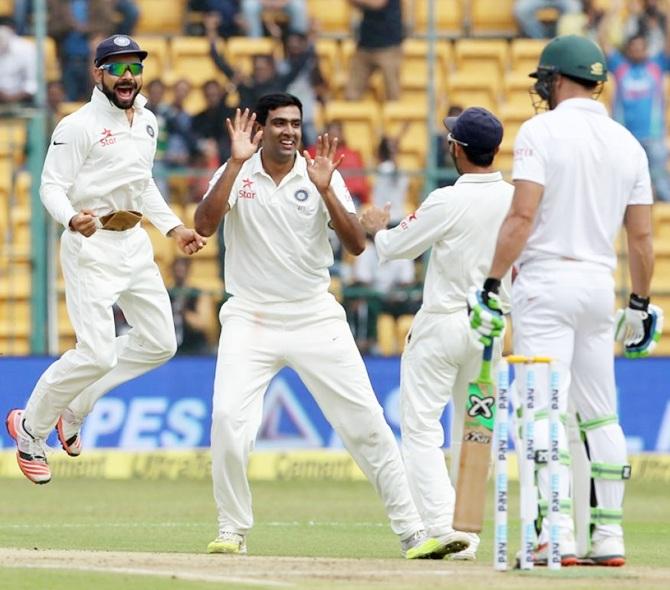 IMAGE: Ravichandran Ashwin celebrates taking Faf du Plessis' wicket. Photograph: BCCI
Another baptism by fire may be in store for South Africa, as a turning track is expected for the third Test, starting in Nagpur on Wednesday, November 25.
Hashim Amla's side scored 184 and 109 runs in the first Test in Mohali, which they lost by 108 runs. In the rain-hit second Test in Bangalore they were bundled out for 214 on a good wicket on Day 1.
Former India spinner Murali Kartik believes South Africa's batsmen are struggling to cope mentally in the Test series. Some of their batsmen, Kartik feels, have "lots of demons in their heads" when facing the Indian spin trio of Ravichandran Ashwin, Ravindra Jadeja and Amit Mishra.
Kartik, who played eight Tests and 39 One-Day Internationals, wasn't given enough chances to fulfill his potential in the international arena. Anil Kumble and Harbhajan Singh were the two preferred spinners in his playing days.
In first class cricket, Kartik has claimed 644 wickets in 203 games. Besides a long career for the Railways in domestic cricket, he has also represented Lancashire, Middlesex, Somerset and Surrey in English county cricket.
The left-arm spinner explains to Harish Kotian/Rediff.com why the South Africans are all at sea against Ashwin and Jadeja.
What is going wrong for South Africa?
For one, they have got lots of demons in their heads. If you look at the wickets, they haven't done that much, whether it was Mohali or Bangalore. The wickets had nothing at all.
Expect for A B de Villiers, nobody else has any idea what their game plan is.
The South African openers could not provide the team with a good start. Has that been a factor?
It is not about starts. You can say that they did not have any clue against the spinners in Mohali, but you had three seamers bowling to them in Bangalore. I don't think that is the case, it is about the skill-set.
Firstly, you need to have some skills and the mental aptitude.
Batting against spin bowling you need to have your own individual plan. Importantly, you can't go into a match, saying, 'Oh, this wicket is going to spin this much,' and have all those feelings in the head. It is not right.
Once you do that, you will always go into a match thinking the wicket will explode when it hasn't exploded.
There was not one wicket which hit the glove, hit the head or the shoulder, or scooted along the ground. They were thinking so much about what is going to happen that so many of them got out leg before wicket or leaving the ball or caught at slip off a straight delivery. There were so many mental demons there.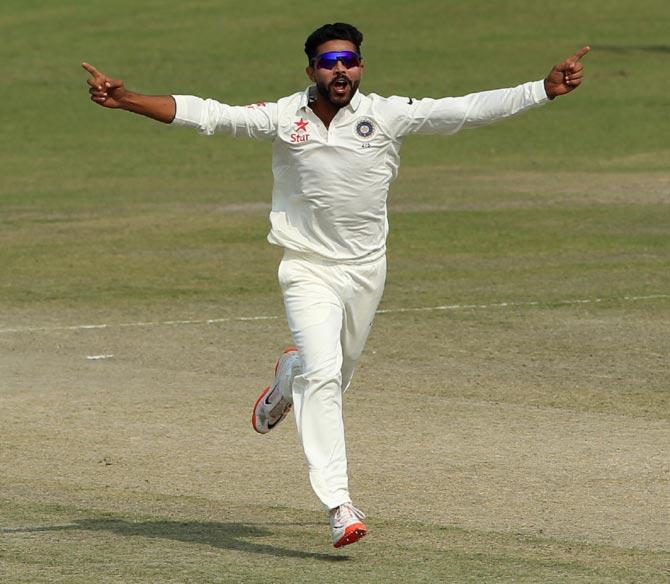 IMAGE: Ravindra Jadeja celebrates taking a wicket. Photograph: BCCI
Being a left-arm spinner yourself, how would you analyse the impact Ravindra Jadeja made in the first two Tests?
He is always going to have success on a wicket which is under-prepared because of the fact that he bowls quick, he bowls round arm and he bowls that length where you don't know which one is going to turn and which is going to go straight.
On a spinning track, to bowl straight is the toughest thing and Jadeja does that. He also brings the ball in.
Even on a spinning track he has got the ability to bring more balls in than take them out. He just has to take one out and then from the other end you have Ashwin and Mishra who spin the ball.
So the batsmen are always thinking, 'Oh, this guy will also spin the ball' and they make mistakes.
What would you credit Ashwin's emergence in the last year or so to?
I would say, from the Carlton Mid tri-series in Australia (also involving England) earlier this year, Ashwin's bowling has improved a lot.
He has understood what he wants to do with his bowling.
I feel he is hitting the crease a lot stronger than before. He is bowling a lot more stock deliveries which are off-spin. That has come from the belief that he has understood what he wants to do now.
Sometimes, the maturity in the spinner is not trying too many things, but sticking to the best delivery he can bowl.