'Talent is there, ability is there, it's about managing themselves, how to deal with pressure and the expectations that will come as U-19 champions'
'I'm really happy that the 15 boys got to wear World Cup medal. They deserve it. It's been a lot of sacrifices'
Norma Godinho/Rediff.com, listens in as Coach Rahul Dravid relives India's glorious run in the Under-19 World Cup.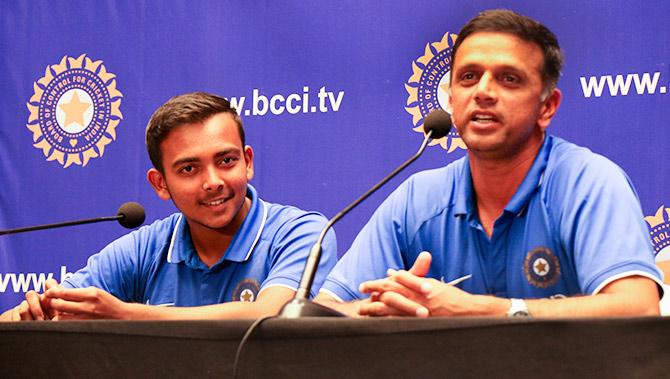 IMAGE: India Under-19 World Cup-winning coach Rahul Dravid (right) and captain Prithvi Shaw at a media interaction on their arrival from New Zealand in Mumbai on Monday. Photograph: Satish Bodas/Rediff.com
The victorious Under-19 World Cup team landed in Mumbai from New Zealand on Monday and the excitement was palpable.
This bunch of teenagers had just won one of their biggest tournaments in their young cricket careers.
The 15-player squad along with their support staff had arrived to a warm reception.
And taking centre-stage, quite literally, were Coach Rahul Dravid and Captain Prithvi Shaw. And when Dravid speaks you listen. The duo talked of Team India's performance at the tournament, their preparation for it and how they plan to carry this momentum forward. Norma Godinho/Rediff.com listens in as Dravid keeps the audience clued in with his gems.
Rahul Dravid is a man of measured words. His class comes across in the articulateness of his thoughts. As expected, it was no different when he spoke about the champion Under-19 team he mentored at the just concluded World Cup.
Giving all credit to his bunch of teenagers for 'going out there and doing the job', Dravid said that the real challenge starts now.
"The challenges and hard work start from here. We have had a couple of conversations with them about it," the 45-year-old said.
"While we were in the World Cup they would show a re-run of some of the earlier finals and they showed a re-run of the 2012 final and as I watching that, I sort of went to web and starting checking a few things because that final featured Australia and India. The result of that final will tell you that India beat Australia. Six years down the line, only one of those boys has played a couple of one-day games for India, whereas four or five of that Aussie team has gone on to play for Australia, more of their boys have gone on to play first-class cricket. The debatable point is who actually won that final if you look back six years later," a perceptive Dravid stated.
"I think those are interesting chats to have. In this bunch of boys the talent and ability is there. It's just a question of them now being managed carefully, them managing themselves, learning how to deal with pressure, the expectations with now being Under-19 champions. Being known players, it won't be easy for them, at least for a short period of time, to play domestic cricket without somebody talking about this performance. The expectations that come with this is a good challenge. The hard work begins for them and for us as well, as to how do we manage these boys over the next few years," Dravid said.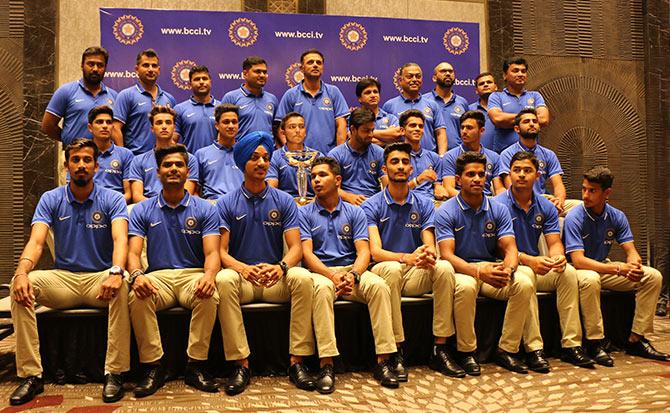 IMAGE: The victorious India Under-19 team and the support staff pose with the World Cup for a photo-op on Monday. Photograph: Satish Bodas/Rediff.com
Dravid also laid emphasis on the magnitude of the achievement.
"The great thing about this World Cup is that these boys had so many experiences, as kids they've got experiences that should hopefully hold them in good stead for a lifetime. The fact that they are playing in an ICC tournament, a high pressure tournament, televised games, actually reaching the final, playing a high pressure final…" Dravid said.
"In fact, some boys did comment to me that the final did feel different than some of the other games. It kind of showed. I don't think we played our No 1 game in the final. I think we played our No 1 game maybe in the semi-final and quarter-final but it gave us the result we needed.
"Just the fact that they played in the final; it's an experience for them. Just the fact that they came to Bombay airport and saw the excitement, the noise and the people around them, I think it's another experience. Coming here and fronting up to you guys is another experience for them. I'm glad they have had their opportunities to have these experiences and these chances to have these extra experiences have come because they won. That for me is a plus point," Dravid explained.
Dravid was, however, realistic in his assessment of the future of these young champs.
"Even if a lot of them don't go on to play for India, which can happen, it's not easy to break into the Indian side but at least if they go on to have successful first-class careers and from there on it becomes a stepping stone into international cricket," he stated matter-of-factly.
The former India captain, being the selfless man is he known to be, gave complete credit to the players for their achievement.
"As a coach there is only so much I can control. I told the boys after the World Cup win: We can only do so much. We can only prepare you well for 12-14 months. In the end of the day you as a coach you are dependent on the performance of your players, on the execution of your players. We can make all the plans we want, if the players don't execute on the day, if they don't pitch the ball in the right areas or the batsmen don't bat well... as a coach once a game starts there is very little you can do," he said.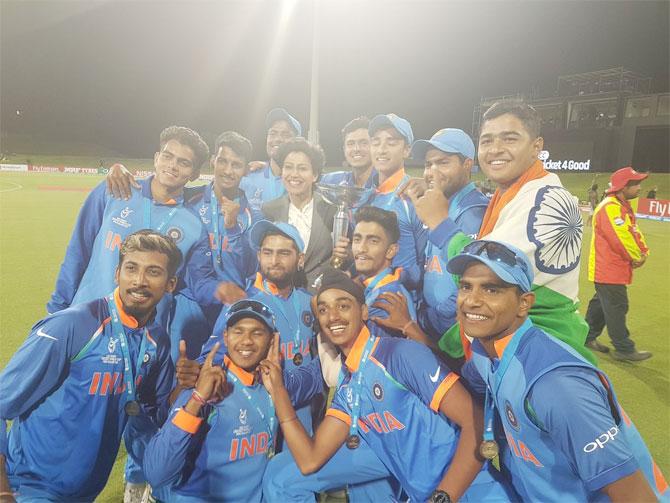 IMAGE: The victorious India U-19 team with former women's cricket captain Anjum Chopra on Saturday, February 3. Photograph: Cricket World Cup/ICC/Twitter
"From my perspective, I know the impact a coach can have, I'm realistic about impact coaches have. I think it's an important role, don't get me wrong, it's an important role, not only me, the whole support staff plays. We are realistic about the real impact we have. Credit is really these players. They are the ones who face up, they are the ones who stand up in pressure games. They are the ones who've stood up and shown maturity beyond their years. They are the ones who have not relaxed at any stage in this tournament. They've made the sacrifices and actually put in the performances. They are the ones who've spent hours in the gym, they are the ones who've pushed us to practice more. So credit is entirely theirs and I'm really happy for them," said the proud coach of his wards.
But getting to the World Cup was no mean task. The preparation that the India boys went through was over a year-long process. And Dravid was satisfied now that all that hard work bore fruit.
"The real satisfaction is in the process that was followed over the last 14-16 months. I think, the whole preparation and planning that has gone into, not just necessarily this World Cup, but just the preparation in developing young Under-19 players in the last 16 months is a good process we put in place," he said.
"You've got to keep refining it. Keep getting better at it and keep improving on that process. Really happy for these 15 boys because they get to wear a medal, get to win a World Cup because they thoroughly deserve it. They put in a lot of hard work. It's been a lot of sacrifices over the last year put in by all them. Just the way they played in the World Cup, the way they gelled as a unit, the quality of cricket they played, the way they executed it was absolutely brilliant. Even under pressure, when we found ourselves under pressure in a few games we always found people who stood up and delivered, things like that give you a lot of satisfaction," he said.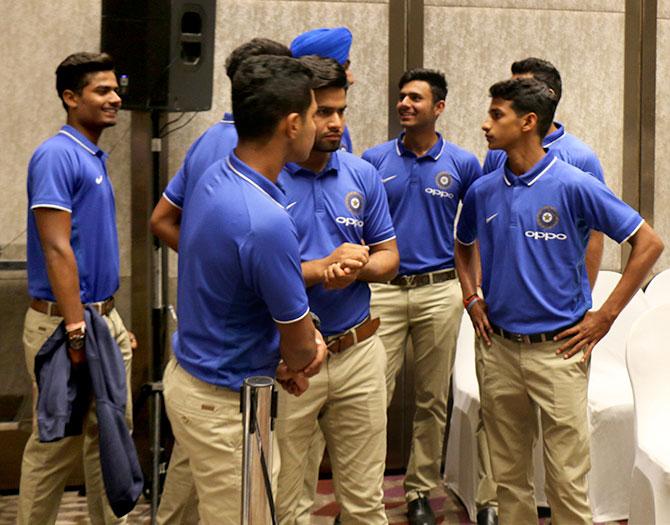 IMAGE: The India under-19 cricket players looked relaxed at a city hotel on their arrival in Mumbai on Monday. Photograph: Satish Bodas/Rediff.com
The head coach also shared credit for the victory with the team's support staff.
"Also, just the work put in by the support staff, the quality of people we had in our support staff was absolutely brilliant. That gives me great satisfaction that we put together a really good team of people that helped these boys. Even the selectors, the NCA, the people behind the scenes in the BCCI in setting up games, in setting up series, it was all good team work.
"When you get a Cup like this, it reflects on the teamwork and that gives me a lot of satisfaction," Dravid asserted.
What has impressed Dravid most about his wards is not just their cricketing ability but their overall confidence levels. Also the coach stressed on the professionalism that has seeped into junior cricket.
"There was no World Cup when I was playing Under-19. I played just one Under-19 series. We played 2 Test matches against the visiting New Zealand team that came here at nearly the end of my Under-19… I was 18-19 and that was it.
"The quality and quantity of cricket that these boys play is incomparable. The kind of support staff and the kind of professionalism and help that these boys have got is much better than, honestly, what I got when I first played for India," he recalled.
"There is no doubt that this generation of players is extremely fit, they are aggressive, they play a positive brand of cricket. They are more worldly wise in a lot of ways than what we were and confident as well. That is a good sign of exposure and opportunities that they've been given.