JD(U) leader Shivanand Tiwari tells Rediff.com's Manu Shankar that hockey legend Dhyan Chand was more deserving of the Bharat Ratna than Sachin Tendulkar because the former played without monetary gains, and he also suggested that the award be scrapped
Janata Dal-United's Member of Parliament Shivanand Tiwari on Monday voiced his anger over the government's decision to give the Bharat Ratna to Sachin Tendulkar.
According to Tiwari hockey legend Dhyan Chand was more deserving of the honour.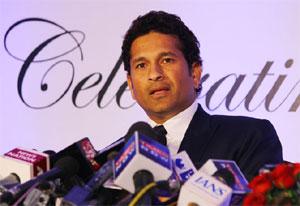 "I agree that Sachin is a brilliant cricketer, but we have to also understand that it's the same game that has given him Rs 1000 cr. He has not played for free," Tiwari told Rediff.com.
"It was Dhyan Chand who deserved more than Tendulkar," he added.
Tiwari said the ministry concerned had shortlisted the name of Dhyan Chand for the Bharat Ratna.
"Dhyan Chand was incredible for having taken Indian hockey to the international level. He won us laurels when India was not even a free country, and, winning three gold medals at that time is commendable," Tiwari said.
Tiwari also criticised the government's discrimination towards hockey stating that hockey players don't really get their due.
"Hockey players are often discriminated. When our hockey players do well in international tournaments, the government can't even muster up Rs 1 lakh for our hockey stars. And here we have a player who earned so much and you are now giving him a Bharat Ratna to top that!" lamented Tiwari.
"If you ask me the government should do away with the entire concept of Bharat Ratna," he added.
Tiwari was also unhappy with the other Bharat Ratna, scientist CNR Rao, terming all politicians "idiots".
Joining the bandwagon was RTI activist Subhash Agarwal who also protested the move stating that "Sachin has had an overdose of awards."
"First of all he was given a Rajya Sabha ticket. Then, against the laws, two postage stamps were released on him -- the law states that a postage stamp can't be released on a living person," Agarwal told a television channel.
Image: Sachin Tendulkar
Photograph: Hitesh Harisinghani/Rediff.com