'Players will all want to go to the funeral to send off their mate. I don't think they can be in the right frame of mind for a Test match at such a time'
'Trying to focus everyone's attention on playing a game of cricket when one of their best mates has passed away will be almost impossible. But things do have to move on at some stage. Life can't just stand still'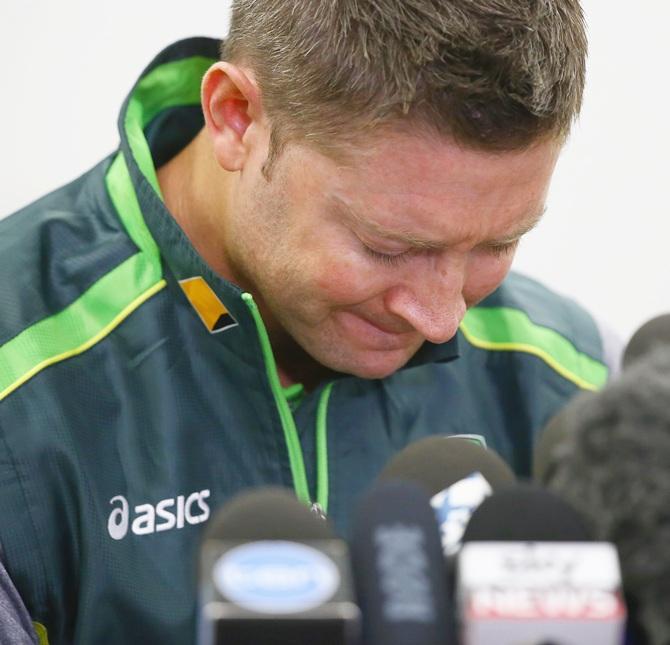 Australian cricket captain Michael Clarke pauses as he reads a statement. Photograph: Mark Kolbe/Getty Images
Former captain Allan Border feels next week's first Test between Indian and Australia should be pushed back by three days so that the players can take part in the funeral of Phillip Hughes.
Australian cricketer Hughes, 25, dead
Tendulkar, Kohli react to Hughes's death
Timeline: How Phillip Hughes met with his fate
The bowler who delivered the fatal delivery to Hughes...
Border said the first Test, which is scheduled to begin on December 4, should go on but it can start on December 8.
"The game must go on but I do have some misgivings about the timing of the first Test against India, starting next Thursday. With Phillip's funeral likely to be held next week, I think the Gabba Test should be pushed back three days to give players more time to grieve," Border said.
"The players will all want to go to the funeral to send off their mate. I don't think they can be in the right frame of mind for a Test match at such a time," he wrote in his column appeared on Herald Sun.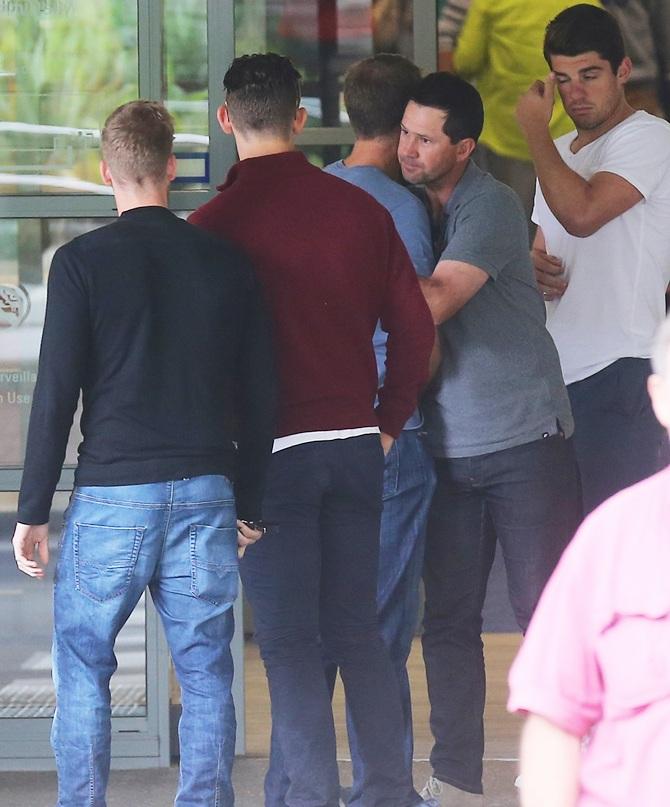 Ricky Ponting consoles Simon Katich at St Vincent's hospital. Photograph: Joosep Martinson/Getty Images
Border said that if the Gabba Test was pushed back to start next Sunday, 'it would give everyone a chance to deal with things without being rushed'.
"The second Test in Adelaide could then be pushed back three days, and none of this would impact on the Boxing Day or New Year's Tests," the former captain said.
Hughes died in a Sydney hospital on Thursday after being hit by a bouncer bowled by Sean Abbott in a domestic Sheffield Shield match on Tuesday and that plunged Australia as well as the whole world into grief.
Four Test players -- David Warner, Shane Watson, Brad Haddin and Nathan Lyon -- were on the field when Hughes was struck and they have already said that they are not in perfect state of mind to return to competitive cricket, which put the opening Test in doubt.
Border said he felt for Abbott who must be feeling terrible after the tragic incident.
"As tough as the first steps will be, I hope Abbott's NSW teammates can coax him back into the practice nets at some stage. That is where his journey back to cricket will start. From the moment Sean released the ball at the SCG the other day, what happened was out of his hands. There was nothing he could do. My heart bleeds for him," said Border, one of the most successful captains in history.
"I really don't know how Sean is going to return to cricket — let alone bowl a bouncer again. I can't imagine any situation in sport that would be tougher than what this young guy is going through. He will probably find himself replaying things over and over in his head and thinking about Phillip Hughes, " Border said.
"It is going to be very difficult. But let's all hope that he comes through this OK and part of the healing process is him returning to play the game he loves," he said.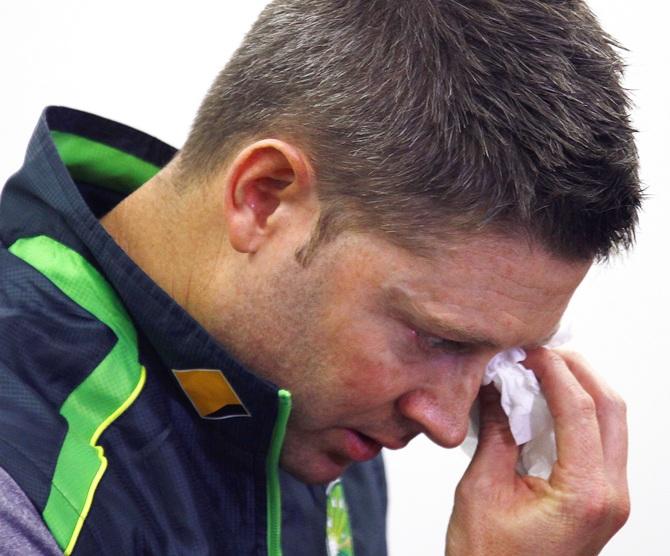 Australian cricket captain Michael Clarke wipes his eyes as he cries. Photograph: David Gray/Reuters
Border also said that he would not want banning short-pitched deliveries just because a tragic incident has happened.
"Just as it will have a huge impact on Sean, the manner of Phillip Hughes' tragic death will disturb all fast bowlers. The use of the short ball has come under instant scrutiny and will become a very real issue in cricket," he said.
"My feelings are this was a freak accident, a one-in-a-billion type situation, and we can all take some sort of solace out of that. Bouncers have been bowled since the first Test match in 1877. They are part of the game and you cannot shelve them now," he added.
"Perhaps they will have to have a rethink of helmet design and come up with something that protects batsmen a little more. But you can't change the fabric of cricket and the way it is played. Phillip Hughes would not have wanted that."
Border praised current skipper Michael Clarke for his handling of an awful week in Australian cricket.
"I must say I have been so impressed with how Michael Clarke has handled himself in this awful week. The next month will continue to be a huge challenge for Clarke, and Brad Haddin who will potentially captain the first Test side," Border said.
"Trying to focus everyone's attention on playing a game of cricket when one of their best mates has passed away will be almost impossible. But things do have to move on at some stage. Life can't just stand still," he said.