Zimbabwe will be the second time that the leg-spinner will represent India at the international level.
Few are aware that the then junior national chess champion represented India at the World Youth Chess Championship in Greece in 2002.
Yuzvendra Chahal, who Sunil Gavaskar hailed as the best young Indian talent of IPL 9 discusses his rise with Aruneel Sadadekar/Rediff.com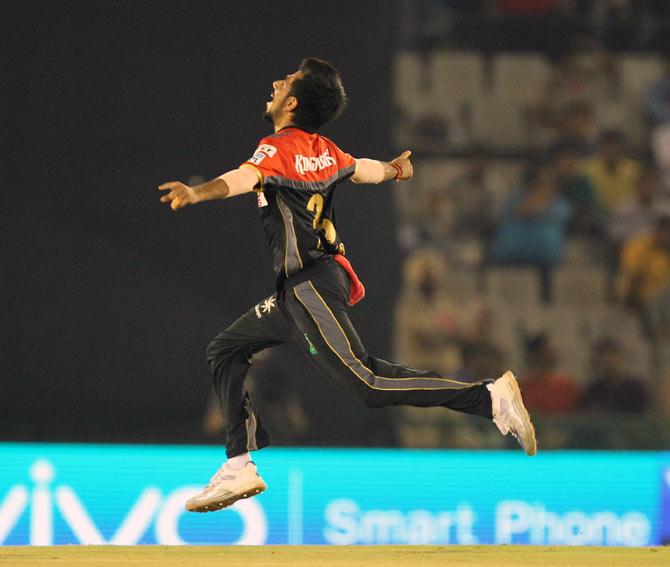 IMAGE: Yuzvendra Chahal celebrates yet another wicket. Photographs: BCCI.
Yuzvendra Chahal was named in India's squad for the limited overs series against Zimbabwe after a fine showing for the Royal Challengers Bangalore in IPL 9 that saw him finish as the second highest wicket-taker with 21 wickets from 13 games.
This will be the second time that the leg-spinner will represent India at the international level. Few are aware that Chahal, the then junior national chess champion, represented India at the World Youth Chess Championship in Greece in 2002.
Were you expecting a call from the selectors?
Frankly, I had no clue that a selection was supposed to be held for the Zimbabwe series. We (the Royal Challengers Bangalore team) had just returned from the game in Raipur against the Delhi Daredevils and I got a call from my family saying that I was selected.
I felt on top of the world. Soon my phone was busy. I celebrated it with a quiet dinner with my RCB teammates in Bengaluru.
Now when I reached my hometown in Jind, Haryana, the celebrations were enormous.
I am the first one from my district to be selected for India and we have had visitors from across the district to celebrate my selection.
Were you expecting it?
I had performed reasonably well in the last two IPL editions. My performances in domestic competitions were good. I knew that a national call wasn't too far.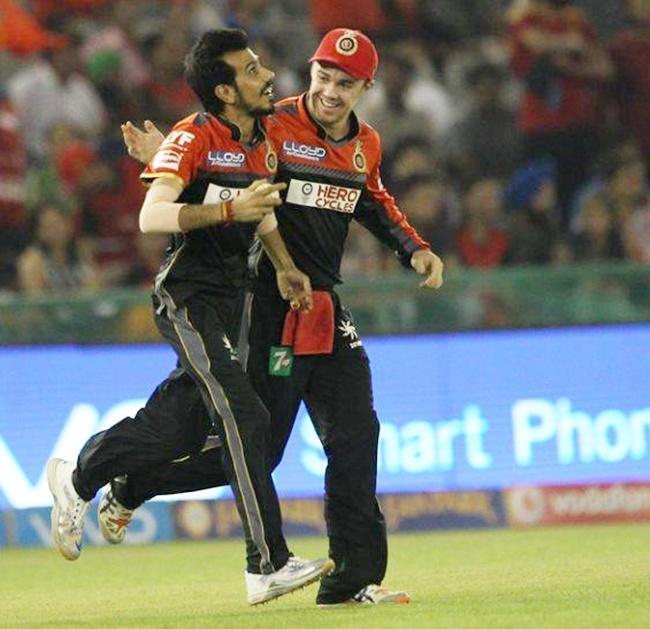 IMAGE: RCB team-mate Travis Head congratulates Yuzvendra.
What do you think of Sunil Gavaskar's views about you?
A legend like him talking highly about me is truly a dream come true.
I need to mention that my recent success has been the result of my constant hard work.
The journey was memorable, but in no way easy.
You are a former junior national chess champion. Tell us about your journey from the 64 squares board to the cricket pitch.
I used to play both chess and cricket when I was a kid. I started showing results in chess during the initial years, but later on cricket interested me more.
I knew the road to success in cricket would be tougher, but I was ready to put in the hard work.
My cricket has benefited a lot from my chess. It has helped me keep calm in pressure situations.
Chess has helped me plan my next move and play with the mindset of a batsman.
You took most of your wickets on the batting-heaven track at the M Chinnaswamy stadium in Bengaluru. What was your plan while bowling on that pitch?
I tried to keep it simple by tossing the ball and back my spin and variations.
When you think about too many things, like ground size and the pitch, you really can't bowl your heart out in T20 cricket.
I just back my strengths.
The ground, big or small, or the pitch, whether it is turning or no, it really doesn't matter to me.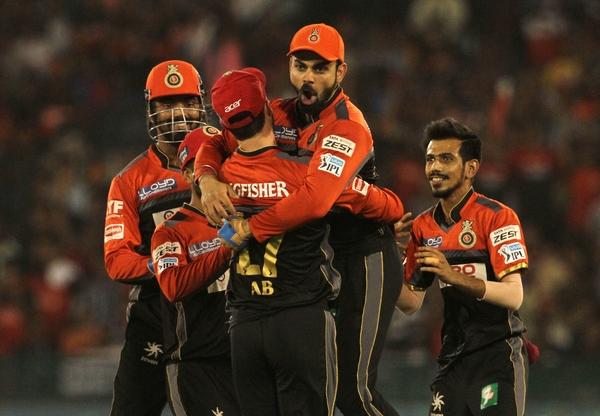 IMAGE: RCB skipper Virat Kohli celebrates a stunning catch to dismiss Karun Nair of the Delhi Daredevils, Yuzvendra is at right.
Tell us about your RCB skipper, Virat Kohli.
He is a true role model for any cricketer, batsmen or bowler. The way Virat trains or follows his diet plan is an inspiration to us.
He and AB (de Villiers) played a crucial role in maintaining a positive vibe in the dressing room. Virat, in particular, is extremely focused and a genuine leader.
He gifted headphones to all of us with our names written on it after the Raipur game against the Delhi Daredevils. It was a special gesture after our last league match.
You dashed into de Villiers' helmet during the celebrations after the semi-final victory over the Gujarat Lions..
(Laughs) I apologised to AB. I saw him bleeding, but such things happen in the heat of the moment.
That victory was really special. We were almost out of the tournament at the half-way stage and here we were in the final.
We may have finished second, but for me reaching the final in such a dramatic fashion makes it a memorable season.
What are your plans for the Zimbabwe series?
It is a great opportunity for me to do well for my country.
I have learned a lot in the IPL from Virat Kohli and others. Now I want to learn from Mahendra Singh Dhoni and other senior members in the team.
I will continue to back my strengths when bowling in Zimbabwe.