'I went to sweep then just tried to chip him into the on-side for one and missed it. That happens in the game, in particular T20.'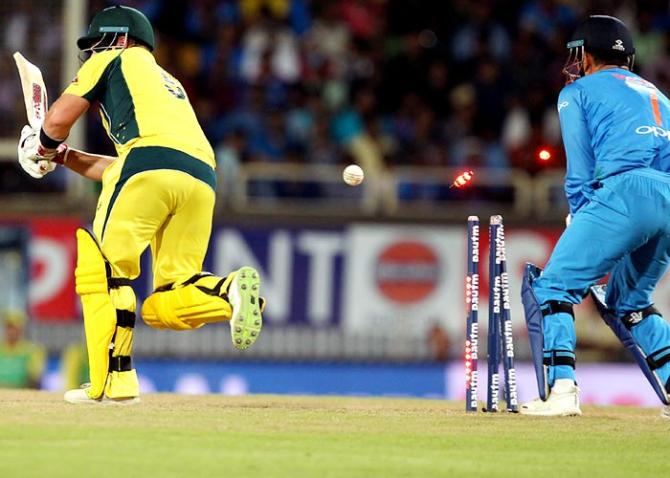 IMAGE: Aaron Finch is bowled by Kuldeep Yadav. Photograph: BCCI
Opener Aaron Finch said he had "a little bit of a brain fade" as he failed to read Kuldeep Yadav's left-arm wrist spin and was dismissed, which triggered Australia's downfall in their nine-wicket defeat to India in Saturday's first T20 International in Ranchi.

Finch looked determined to play the sweep shot against the young chinaman spinner.
After playing five sweep shots against Kuldeep, the right-hander was finally beaten as he tried to flick it on the leg side but missed and was bowled for 42.

"I found that playing the sweep was going to be the safer option. One to get off strike and to get a boundary if I could hip the gap. That ball I got out on was a little bit of a brain fade to be fair," he said at the post-match news conference on Saturday.

"I went to sweep then just tried to chip him into the on-side for one and missed it. That happens in the game, in particular T20."

After Finch's dismissal, the Australia middle-order crumbled to be struggling at 118 for eight when rain curtailed their innings and gave India an easy revised target of 48 in six overs via the Duckworth-Lewis method, which the hosts comfortably achieved with three balls to spare.

"I thought on that wicket to Kuldeep, sweeping was a safer option than trying to take him over the top where some balls were spinning, it was hard to judge the bounce on a track. That was quite difficult."
IMAGE: Aaron Finch is bowled by Kuldeep Yadav. Photograph: BCCI
Australia captain Steve Smith was ruled out with an injured shoulder and Finch claimed they missed his services.

"It's obviously disappointing not to have him out there. He's one of the best players in the world in all three formats. Quality captain, so it would have been nice to have his skill," said Finch.

In Smith's absence, David Warner was the stand-in captain and Finch said he did a decent job, after he was left to defend 48 in six overs.

"Davey's (Warner) obviously played a lot and captained a lot over here in the IPL. He knows the opposition very well. He is very calm under pressure the majority of the time.

"I have only played under him a handful of times...I think three games in Sri Lanka and one now. He is a fantastic leader. He is the vie-captain of the country for a reason. I thought Davey did a fantastic job under the circumstances," he said.

Finch felt if the match had gone the distance they could have had a chance with a score of 135 as the wicket was difficult at the JSCA International Stadium Complex.

"I would not call it a debacle. Trying to defend 48 in six overs with India having 10 wickets in the shed in a format of the game they're particularly good, is difficult. Obviously there are some areas that we could improve.

"I think if it was a 20-over match, 135 would have been a fantastic score on that wicket."

He said debutant left-arm pacer Jason Behrendorff showed a lot of promise.

"Our bowlers did a fantastic job to almost get it down to the last ball. I thought the way Jason started the match on debut against some of the world's best players was fantastic. He swung the ball, so I think that was a real positive to come out of the game.

Finch said some of the players coming into the T20 side found it difficult to cope against Kuldeep.

"There's a few different players coming into the middle order who have not faced guys like Kuldeep. It was a very challenging wicket to start on in particular against the spin.

"Towards the end of the innings where you had (Jasprit) Bumrah, Bhuvneshwar (Kumar) bowling back of a length and they are skidding through at the stumps it is not easy to hit. Unfortunately we just kept losing wickets."

Giving credit to the Indian bowlers, Finch said the hosts formulated their plans quite nicely.

"We just seemed to keep losing wickets at the wrong time. No one ever means to get out. They bowled exceptionally well, a tough loss to take. I think in the end it was probably reasonably generous giving us mid-40s after six overs."