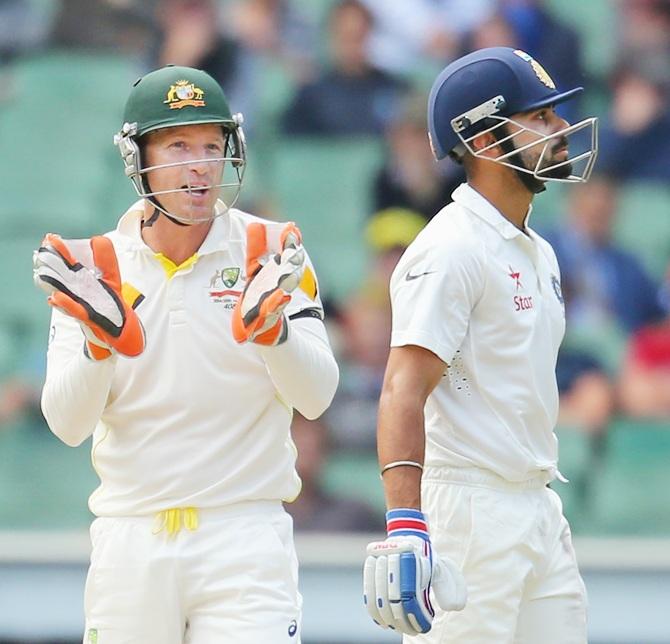 'If a few words from the opposition trouble you,' S Sreesanth tells Harish Kotian/Rediff.com, 'then you shouldn't be playing international cricket.'
The Aussies may have dubbed Virat Kohli a 'spoilt brat,' but the original bad boy of Indian cricket is perhaps Shanthakumar Sreesanth.
The Kerala medium-pacer played 27 Tests and 53 One-Day Internationals for India before he was banned for life for his alleged role in spot-fixing during the Indian Premier League 6.
Sreesanth loved having a go at the opposition and had the ability of getting under the skin of pros like Aussie opener Matthew Hayden and South African skipper Graeme Smith who should have known better.
Few watching that game will forget Sreesanth's jig after hitting South African fast bowler Andre Nel for a six during the Johannesburg Test in 2006-2007, or his long hard stares at batsmen after beating them with a good delivery.
Despite his suspension by the Board of Control for Cricket in India, which he calls unjust and has challenged in the courts, Sreesanth says nothing can keep him away from cricket.
"I wake up every morning to watch the Test matches in Australia. I believe India have done really well despite losing the first two matches. I was happy with the performance of our fast bowlers and feel the future of Indian bowling looks very bright," he tells Rediff.com
When his favourite topic -- sledging -- is brought up, the 31 year old is instantly fired up.
"Someone like me gets charged up and performs really well if someone sledges me, so you have to be careful about whom to sledge and whom not to," says Sreesanth.
"Sledging is not just bad words, it can be anything. Lots of people have the impression that sledging is giving bad words, but that is wrong. It is used only for the batsmen in the middle, saying a few things to taunt him."
"You really love it when someone from the opposition says something like 'You are not capable of taking wickets' or 'You can't score a hundred,' but you take five wickets or score runs."
"Sometimes it's better to leave some players alone because that is the reverse psychology of sledging. You should be smart enough and know how to do it," he adds.
Sreesanth is very impressed with Kohli, who is not only taking on the Aussie verbal pot-shots, but also walking the talk with the bat.
"You should be strong enough to face sledging because you are playing in a different country. It's the same when they come here, so we all go through it. I was part of the team in the VB tri-series in 2008. Even the fans in the stands were sledging or abusing us."
"You should have the strength to take it and show the Australians that we are here to win. The best way to answer them is to perform well and win the series. The best way to respond to sledging is winning," he says.
During the Test series in South Africa in 2010-2011, Sreesanth reveals some team-mates encouraged him to sledge the opposition; later, these team-mates disowned Sreesanth's tactics.
"I had gone wicketless in the first Test at the Centurion. Before the match in Durban a lot of my team-mates asked why I was so quiet and if I wanted to get into the good books of everyone. They told me to be aggressive."
"When I was aggressive, the people who told me to be aggressive were telling the world that Sreesanth is hard to control," he says, adding, "That was after winning the match."
Sreesanth took four wickets in the Durban Test, including bowling the ball of the series to get Jacques Kallis out in the second innings.
"My favourite team to play against has always been Australia. It was a great platform for me to show that the Indians don't just take it, but give it back too."
"The Australians have come hard at me, but I have the ball in hand so I can take wickets and get back at them. So many batsmen sledged me like Graeme Smith in 2006, then in 2008. Andrew Symonds sledged me continuously during the ODI series in India when I got him out a few times. Most times the batsmen who sledged me I have got out. Everyone knows aggression gets the best out of me," he adds.
While sledging should be allowed to continue, Sreesanth feels players must refrain from using abusive language.
"If a few words from the opposition trouble you," says Sreesanth, "then you shouldn't be playing international cricket."
Also Read:
Image: Brad Haddin has a few things to say to Virat Kohli. Photograph: Scott Barbour/Getty Images