- 'Any organisation, if they hire Patil, will think 10 times that after leaving the organisation, he will speak about the organisation.'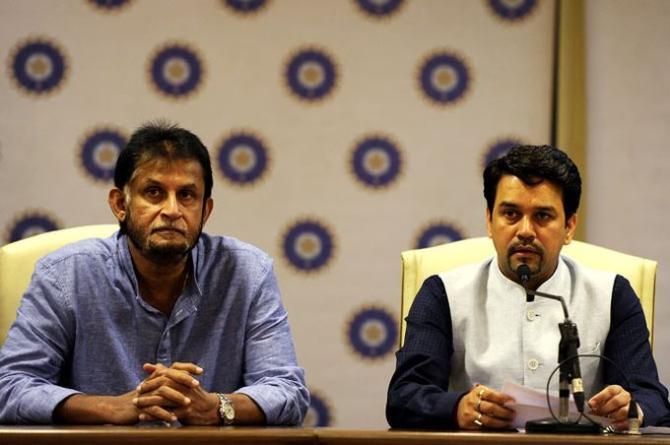 IMAGE: BCCI secretary Anurag Thakur (right) with former chief selector Sandeep Patil. Photograph: BCCI.
Board of Control for Cricket in India president Anurag Thakur on Tuesday slammed former selection committee chief Sandeep Patil, saying it is "unethical" on his part to reveal certain confidential details about Sachin Tendulkar, Mahendra Singh Dhoni and other cricketers after his tenure ended earlier this month.
Thakur stopped short of saying that action will be taken against Patil but said "right people in the BCCI" will speak to him soon over the issue which has created a major controversy.
Patil, a former international cricketer, recently disclosed that the selection panel would have dropped Sachin Tendulkar before he eventually quit international cricket and that it had also considered removing Dhoni from ODI captaincy ahead of the 2015 World Cup.
"Let me make it very clear. Sandeep being a former chairman should not have made these comments. When he was the chairman, he replied differently to the same questions. But after that (his tenure), it was different. It was totally unethical of him to do that," Thakur said.
"One should refrain from making such unethical and unwanted comments in this area (selection matters). It is because he has been trusted to become the chairman, because he has played enough cricket. There were four more selectors with him, they did not say anything. He (Patil) should have avoided that," the BCCI chief added.
Asked whether any action is being contemplated by BCCI against Patil over the breach of confidentiality, he said, "Right people in the BCCI will speak to him soon."
Thakur went to the extent of saying such breach of confidentiality would make it difficult for any of future employers of Patil to trust him.
"Any organisation, if they hire him (Patil), will think 10 times that after leaving the organisation, he will speak about the organisation," he said.
Patil's three-year tenure ended when the panel announced the 15-man squad for the ongoing Test series against New Zealand.
Besides spilling the beans on Dhoni and Tendulkar, Patil while speaking to a television channel, had said that current coach Anil Kumble and Test captain Virat Kohli had spoken to Cheteshwar Pujara on improving his strike rate as the batsman struggled during the recent tour of the West Indies.
With Patil and other four selectors' term ending, the BCCI decided to invite applications for the selectors' job to ensure transparency.
However, that also raised quite a few eyebrows with the appointment of MSK Prasad-led five-member panel whose aggregate of matches played is 13 Tests and 31 ODIs.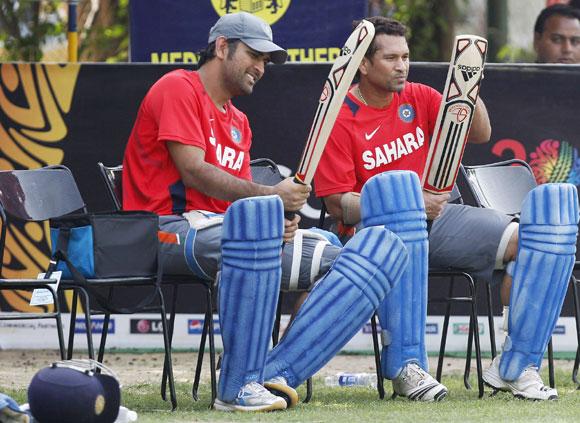 IMAGE: Mahendra Singh Dhoni (left) with Sachin Tendulkar.
The BCCI chief defended the appointments, saying Prasad and others were appointed because they applied for the job while many of the former cricketers did not apply fearing conflict of interest.
"First time ever, the BCCI openly invited people to apply for the selectors' job... We can only appoint those who have applied," he said.
"People are shying away from getting into the BCCI. Former cricketers who run academies and have some role in the state associations are ruled out under Conflict of Interest. What does a cricketer do after retirement if he can't contribute to the game of cricket?" he further added.
Thakur pointed out that too much interference in the BCCI affairs has discouraged former cricketers from becoming a selector and also taking up other roles.
About the five-member panel, he said most of the applicants wanted it against the three recommended by the Lodha Committee.
"I am pleased to say that 99.9 percent (of the applicants) said they want a minimum of five-member selection panel... With India being such a vast country, how do you do justice to the job with three selectors? There should be at least five," he said.