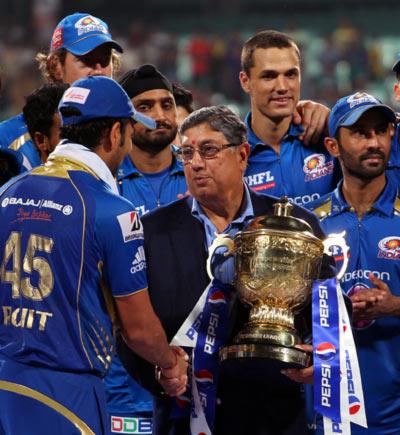 A new documentary titled 'Death of a Gentleman' raises fresh doubts about the future of Test cricket and asks if the game is losing its identity in the face of stiff competition from commerce-driven Twenty20.

'Death of a Gentleman' talks about the decline of Test cricket and the murky world of the sport's administration, featuring interviews of International Cricket Council chairman Narayanswami Srinivasan, England and Wales Cricket Board chief Giles Clarke, former cricketers Kevin Pietersen and Ravi Shastri among others.

The film by director Sam Collins and Jarrod Kimber premiered at the Sheffield International Documentary Festival last week and will be screened in London next week. It had been in the making for four years.

The Daily Telegraph writes the "film-makers have ended up with is a sweeping, impassioned and polemical chronicle of how the game's governance has been taken out of the hands of the International Cricket Council and placed in the hands of the 'Big Three', which is to say India, with England and Australia the weedy sidekicks in the bully's shadow, egging him on and hoping not to get a pasting themselves."

As per the daily, the current situation, the film contends, is the result of the January 2014 ICC meeting in Dubai at which "these countries rubber-stamped a land-grab for the proceeds of television rights".

"We are all equal when we sit at the ICC table. The BCCI is very well-meaning," the article quotes Srinivasan as saying in the documentary.

Clarke says: "I have every right to put my board's interests first."

The film argues that the sport is contracting in on itself to one monolithic market: Indian T20.

The article further says "the documentary paints a picture of a web of money and influence and one figure to whom all roads lead back: Srinivasan, the former president of the Board of Control for Cricket in India who is now the ICC chairman, and the grand fromage of Indian Cements, which owned the Chennai Super Kings, an IPL team -- the same IPL that is accused of killing Test cricket by paying players huge sums to participate in it rather than play in Tests for their countries".

The film portrays that the going-ons today is harming the long-term viability of the sport in anything other than the Twenty20 version as played in India.
Image: Narayanswami Srinivasan presents the trophy to IPL winners Mumbai Indians in 2013.
Photograph: BCCI