There was no Diwali break for the Indian cricketers ahead of their series against the West Indies as 11 team members including captain Mahendra Singh Dhoni arrived on Sunday afternoon.
Four Test specialists including Sachin Tendulkar, who were scheduled to arrive on Monday, will also land in the evening as the team is slated for a net session ahead of the opening Test against the West Indies beginning at Eden Gardens from November 6.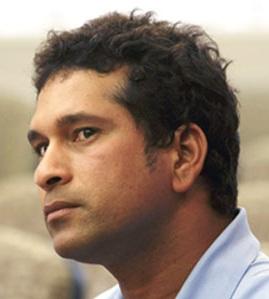 Ten members of the Test squad, who were also part of the India-Australia bilateral ODI series winning team, came directly from Bangalore where the last one-day was held with Mahendra Singh Dhoni and Co winning by 57 runs.
"The 10 who played the ODI series arrived in the afternoon. Left-arm spinner Pragyan Ojha, who is only part of the Test squad, was the first to check in," CAB joint secretary Subir Ganguly said.
Tendulkar would arrive with Ajinkya Rahane, Cheteshwar Pujara and Umesh Yadav by a 8.20 pm flight, he added.
The CAB officials will personally go to the airport in Dum Dum to welcome the seniormost Indian batsman who will play his last Test at the Eden before his final hurray at his homeground in the Wankhede from November 14-20.
The Indian team is slated to practice on Monday morning two days ahead of the opening Test against the West Indies.
Image: Sachin Tendulkar