The 'Sachin Tendulkar Carnival' is all set to hit Kolkata with the CAB, organisers of his penultimate Test match, chalking out an elaborate list of plans to felicitate the legend as he prepares to walk out at the Eden Gardens for one final time against the West Indies from November 6-10.
From conferring him with an honorary membership, felicitation by Chief Minister Mamata Banerjee, to naming a gallery after him, the Cricket Association of Bengal officials have chalked out a list of 'to-do' in order to match Tendulkar's home association MCA in giving the maestro a memorable farewell.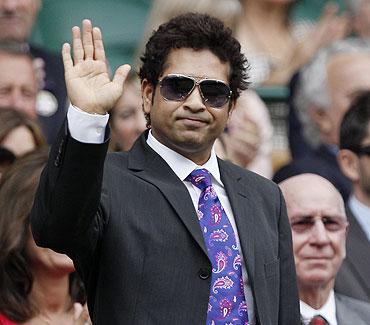 "We would like to give him an honorary membership and later we would think of naming a gallery after him. But at the moment, we would not like to disturb his focus from the match," he said.
Tendulkar has always offered puja at Kolkata's famous KaliTemple at Kalighat and the CAB plans to present the cricketer's wife, Anjali, with a saree which was an offering to Goddess Kali during the recently concluded festivities.
"We would present them (Tendulkar couple) with a 'blessed saree' and if Tendulkar scores a ton here, we'll feel proud," the CAB joint secretary said.
CM Banerjee will personally come to EdenGardens on the last day of the Test to felicitate Tendulkar.
With superstars Amitabh Bachchan and Shah Rukh Khan in town for the film festival during that time, they too are expected even though the CAB is tightlipped about the guests list.
It's like 'Sachin Tendulkar Festival' as the countdown has begun on Sunday for the Indian batsman's last outing at the majestic Eden.
CAB president Jagmohan Dalmiya and sports minister Madan Mitra earlier flagged off a tableau carrying memorable moments of Tendulkar's illustrious 24-year international career.
The tableau has Tendulkar's cutouts and some rare photographs and it would go to every parts of the metropolis till the last day of the Test traversing about 200 kms.
"Eden has the largest capacity of 70,000 but still many would be deprived to see Tendulkar and the tableu will make up for it. It will stop at several places giving people an opportunity to have a glimpse of it," Dalmiya said.
"To get a Test in the Tendulkar farewell series itself is a big achievement for us," he added.
On the last day of the Test, three two-seater aircrafts will shower 199kg rose petals from the sky to make it more befitting for Tendulkar.
"They had a drill today and everything is going on course. We're hopeful of a fine show," Mitra said.
Image: Sachin Tendulkar
Photograph: Phil Noble/Reuters