Ritika Hiranandani tells Ganesh Nadar that Sachin Tendulkar is responsible for breaking the gender divide and making cricket family entertainment.
Cricket traditionally is a man's game, whether playing it, watching it in the stadium or on television. Over the years it's been enjoyed primarily by men across the world.
With Tendulkar taking his baby steps in the world of cricket the scenario changed altogether from him being a child prodigy to the king of cricket.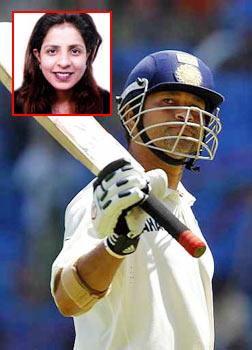 He single-handedly was responsible in getting people like me (women) interested in the game. As he grew in stature, more and more women started watching the game.
Today, 25 years later, it's a game enjoyed by the family. There is no conflict for the remote anymore; the entire family sits and watches the game.
To me, Sachin is truly responsible for changing the economics of cricket. Women-centric brands are seen during cricket matches, be it at the stadium or on TV; his legendary status had a global effect on the game's economics.
It was this popularity of the game that made me get into starting a portal for cricket in India. He broke the gender divide and today cricket is family entertainment.
The king of cricket is set to retire; his absence will be felt, he will be missed, but his contribution to cricket is immense. His records will be next to impossible to break and his contribution to cricket in the last 25 years is way too difficult for anyone else to achieve.
I have been watching Sachin play since he was a child. He is a true inspiration for every Indian; easily, one of the best sportsmen in the world.
We have honoured him a lot on our website. He is a national hero by all standards. I make it a point to watch all his matches. Sometimes it is not possible, but I have watched most of them.
I will be there in the stadium in Mumbai (Tendulkar's 200th Test) and will watch the Kolkata match (his 199th) on television.
I would love to watch him for a few more years, but he did what was best for him.
Ritika Hiranandani runs a cricket portal, so, obviously, she is very interested in cricket.