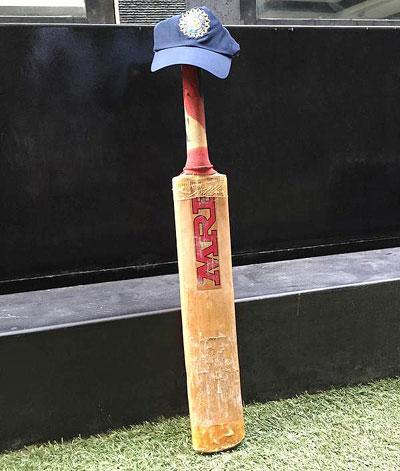 My bat when I was 25. RIP Phil, tweeted Sachin Tendulkar. Photograph: Twitter (@sachin_rt)
Cricketers and fans around the world are paying tribute to Phillip Hughes via a social media campaign by leaving their cricket bats out and sharing a picture with the message #putoutyourbats on Twitter.
Pictures of bats posted with hashtag #putoutyourbats have flooded Twitter, a day after the 25-year-old cricketer succumbed to his injuries at St Vincent's hospital, where he battled for life for two days after being hit on the head by a bouncer from Sean Abbot in a domestic match.
Batting icon Sachin Tendulkar posted: "My bat when I was 25. RIP Phil. #putoutyourbats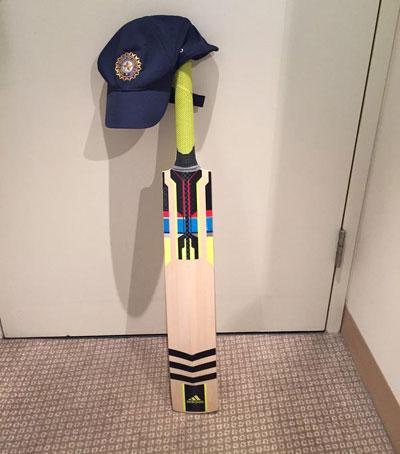 Rip Phil Hughes, tweeted Suresh Raina. Photograph: Twitter (@ImRaina)
Suresh Raina also posted a similar photograph, saying: "Rip Phil Hughes #63notoutforever."
Google Australia's home page also bears a picture of a bat.
The International Cricket Council posted on its twitter handle: "The cricket world continues to mourn the loss of Phillip Hughes, it is time now for everybody to #putoutyourbat."
Dean Jones put out his 1989 Ashes bat.. and wrote: "#RIPHughesy #putoutyourbats."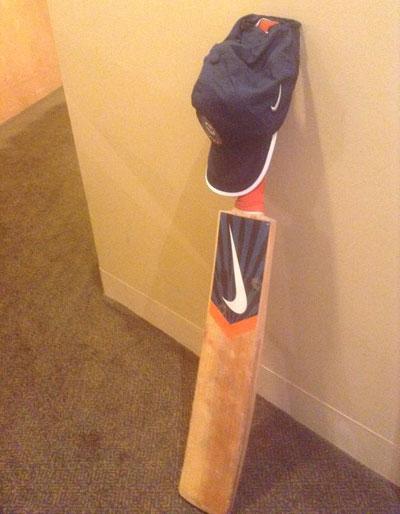 RIP Phil Hughes, tweeted Ajinkya Rahane. Photograph: Twitter (@ajinkyarahane88)
India batsman Ajinkya Rahane was perhaps to display his bat with the Indian cap on it and wrote: "RIP Phil Hughes #PutOutYourBat #CricketFamily."
England's Jonathan Trott displayed a picture of his bat with national cap on it and wrote: "What more can I say... #putoutyourbats."
Steve Smith, who played alongside Hughes, also put up a picture of his bat with the national cap, saying, "#putoutyourbats missing the little fella. #408forever."
West Indies batting great Viv Richards and former England skipper Michael Vaughan also contributed a picture.
"Rest In Peace Phillip Hughes #putoutyourbats," twitted Richards. Before heading out to play against Pakistan in their third Test, the New Zealand team placed their bats outside the team's dressing with their national black caps on them to join the "#putoutyourbats" campaign.
cricket.com.au posted: Some of the 63 bats lining the windows of Cricket Australia's headquarters. Stay strong @seanabbott77 #PutOutYourBats."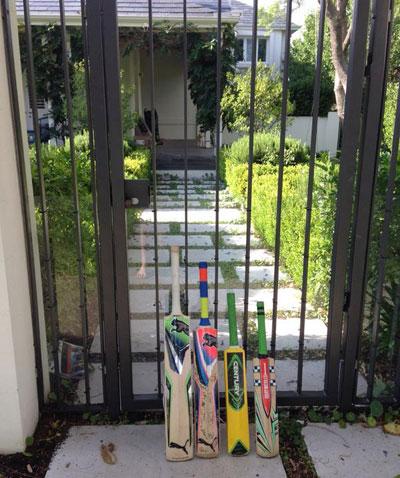 From the Gilly kids, tweeted Adam Gilchrist. Photograph: Twitter (@gilly381)
Former Australia wicketkeeper-batsman Gilchrist, posted a picture of four bats leaning against a gate, saying 'From the Gilly kids'.
"#PutOutYourBats #RIPPhillipHughes," said Gilchrist.
Cricket South Africa posted: #PutOutYourBats #PhillipHughes408 #63NotOut #RIP."
Meanwhile, India's hockey player Rupinderpal Singh posted a photograph of hockey sticks on behalf of the national men's team as a mark of respect for Hughes.
He tweeted: "Phil Hughes, you will always be remembered. #PutOurYourBats #PutOutYourSticks #IndianMensHockeyTeam."
An anonymous Sydney cricket fan, Paul D Taylor, who had started the campaign, wrote on his Twitter account that he was "amazed and humbled" by the response.
"It's just a way for all cricketers to show their respects to Phillip Hughes," Taylor wrote, under his handle @Squizabilly.
"We've all played cricket in one way or other. Backyard or beach cricket, no matter what level we've all grown up with a bat and ball. This is our way to connect and show our sadness."