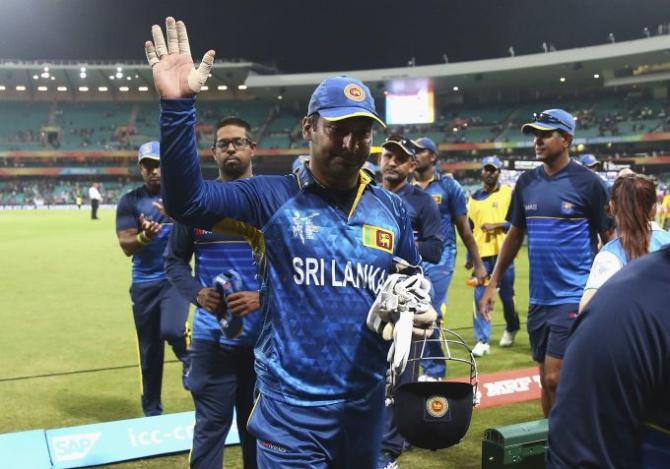 Kumar Sangakkara of Sri Lanka leaves the ground during the World Cup quarter-final match against South Africa at Sydney Cricket Ground. Photograph: Dylan Martinez/Reuters
Sachin Tendulkar led the cricketing world in applauding Sri Lankan veterans Kumar Sangakkara and Mahela Jayawardene, who bowed out of ODIs after their team's World Cup quarter-final loss to South Africa in Sydney on Wednesday.
Both Jayawardene and Sangakkara had announced that the World Cup would be their final ODI assignment and much to the dismay of Lankan fans, it ended on a disappointing note for the much-celebrated duo as Sri Lanka lost by nine wickets.
"Well done on glorious ODI careers @KumarSanga2 & @MahelaJay Being an integral part of the ODI side for so many years,it is difficult to imagine the side without the 2 of you.Wishing you the very best and will miss the 2 of you constructing the innings in coloured clothes," Tendulkar tweeted.
- PHOTOS: South Africa v Sri Lanka
Sangakkara played a whopping 404 ODIs, scoring 14,234 runs, at an average of 41.98, while Jayawardene amassed 12,650 runs from 448 ODIs, at an average of 33.37.
Tributes also poured in from other international stars, former South Africa captain Graeme Smith being among those who congratulated the two on their stellar international careers.
"Congrats to @MahelaJay and @KumarSanga2 on incredible careers and what brilliant memories they gave us all," tweeted Smith.
"To @KumarSanga2 & @MahelaJay bad luck tonight but well done on your superb careers. Good luck and hope to see you both in the future!" added former Sri Lanka coach Dav Whatmore.
Australia all-rounder Shane Watson also tweeted his appreciation for the veterans.
"Sad to see two of the greats @MahelaJay @KumarSanga2 leave the one day game... #Quality #Class #Humility," Watson wrote on his twitter handle.