Indian cricketer Sachin Tendulkar will be competing with the likes of tennis star Rafael Nadal and Formula One driver Sebastian Vettel for the 2011 Laureus World Sportsman of the Year Award.
Tendulkar, who was named International Cricket Council Player of the Year, will also have to fight it out with spin legend Sri Lanka's Muttiah Muralitharan for the prestigious award.
Star footballers like Diego Forlan, Andres Iniesta and Lionel Messi will also hope to become the first ever team player to win this individual Award.
Tendulkar has been very consistent all through out the year. He became the first man to score a double century in a One Day International in February, hitting an unbeaten 200 for India against South Africa.
He also became the first man to score 14,000 runs in Test cricket during the second Test against Australia in Bangalore in October. It was his 171st Test match, in which he also scored his 49th Test century.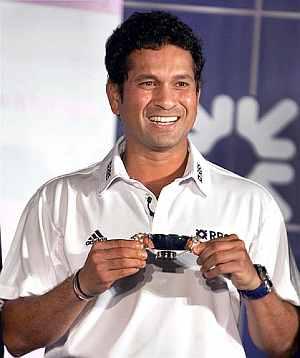 Muralitharan, on the other hand, took his world record 800th Test wicket on the final day of his career in Galle in July 2010, to stay 92 wickets ahead of his nearest rival, Australia's retired lef-spinner Shane Warne.
The Laureus World Sports Awards, which recognise sporting achievement during 2010, are the premier honours on the international sporting calendar.
The names of the six Nominees for the Laureus World Sportsman of the Year Award, as voted by the Laureus Media Selection Panel, will be announced in early January.
The eventual winner will then be chosen from that list of Nominees by the Laureus World Sports Academy, the ultimate sports jury, made up of 46 of the greatest sportsmen and sportswomen of all time, and will be unveiled during a televised Awards Ceremony in Abu Dhabi on Monday, February 7.