Sachin Tendulkar's decision to retire from the ODI format was taken over the "last 72 hours" though he formally informed the BCCI only on Saturday night.
-Compliments and surprise as Tendulkar quits ODIs
According to a source close to the cricketer, the eventual decision was taken in the last three days with BCCI president N Srinivasan being informed only last night.
-'2015 WC preparations prompted Tendulkar to retire'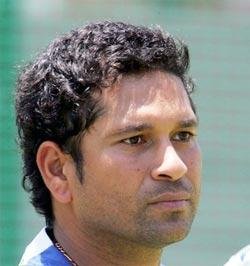 "Once he was back in Mumbai after the Nagpur Test, he switched off his cell phone and became incommunicado for at least three days. The only possible way to contact him was through Anjali's (wife) number as he wanted some time to himself," a very close friend of Tendulkar said on condition of anonymity.
-Sachin Tendulkar retires from ODIs
"By Friday night, he had intimated his family and close group of friends that he wants to quit from ODIs. Accordingly, he informed BCCI president N Srinivasan last night about his decision to retire from ODIs making it clear that he doesn't want to play in the ODIs against Pakistan," the source added.
There are strong indications that Tendulkar would start his preparations for the four-match Test series against Australia by playing in Mumbai's final Ranji Trophy group league game against Gujarat to be played in Mumbai from December 29-January 1.
Asked about the retirement from Test cricket, the source added, "Any decision regarding that will be only taken after he assesses his performance against Australians. The four Test against Aussies will make it 198 Tests and if he does well, he might just think about going to South Africa to complete 200 Tests."