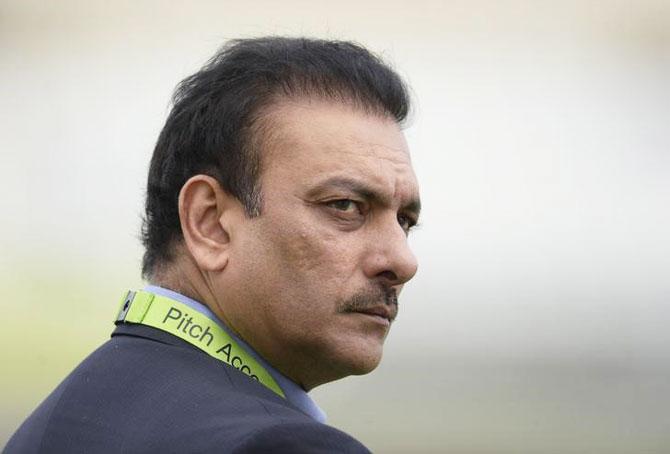 IMAGE: Former India captain and Team Director Ravi Shastri. Photograph: Philip Brown/Reuters
A huge row has erupted following a verbal battle between former India captains Ravi Shastri and Sourav Ganguly in the wake of the national chief coach's appointment.
Denied another stint as India's head coach, Shastri is embroiled in an ugly spat with former captain Ganguly, who was part of the panel which awarded the job to Anil Kumble last week.
The coach's post was vacant since Shastri's 18-month tenure as the team director ended with India's semi-final exit at the World Twenty20 tournament on home soil earlier this year.
- Shastri is living in a fool's world: Ganguly hits back
- Shastri's comments show his desperation: Gambhir
The Board of Control for Cricket in India received 57 applications for the post, which were made available to an advisory panel that comprised ex-captains Sachin Tendulkar and Ganguly and former batsman VVS Laxman.
The panel met the final contenders, including Shastri who spoke via Skype, before Kumble, a contemporary of the ex-cricketers on the panel, landed the job despite his lack of coaching experience.
Shastri told Indian media that Ganguly's absence during his interview was disrespectful and advised the former captain to be present at important meetings in the future.
Ganguly clarified he had taken the BCCI's approval to attend a meeting of his state cricket association, Bengal, of which he is the president and added that the panel had agreed to his request to resume the interview after completing the association's meeting.
He said Shastri should also have made the effort to be present in person during his interview.
'I have an advice for him also. When the coach of India is selected, and it's one of the most important jobs in cricket, he should be in front of the committee giving his presentation and not sit in Bangkok on holiday and make a presentation on camera, especially when someone, who is one of the greatest cricketers of India all-time (Anil Kumble), spoke for two hours nearly.'
With former batsman-turned-cricket commentator Sanjay Manjrekar and veteran India opener Gautam Gambhir also critical of Shastri for his public outburst, tell us, dear readers, is Ravi Shastri a sore loser?