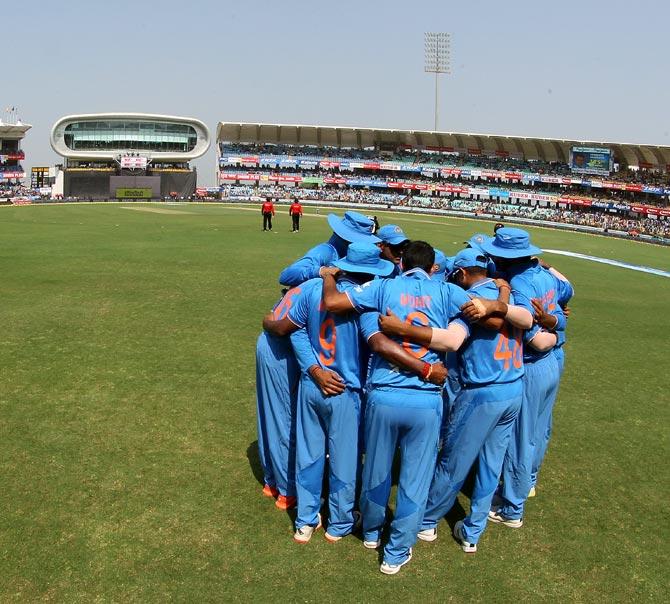 With an eye on next year's ICC World Cup, the Indian cricket team will play around 30 ODIs and an estimated 63 international games across formats in the 2018-19 season.
India will also play 12 Test matches during the upcoming season along with 21 T20 Internationals.
India's ongoing season (2017-18) will end with the Nidahas Tri-Nation T20 tournament in Sri Lanka (Bangladesh, being the third team).
While the Indian cricket calendar starts in April with the cash-rich Indian Premier League, the national team starts its campaign in June with a short two-match T20 series against Ireland.
In the same month, they will host Afghanistan in Bengaluru for the historic one-off Test.
The marquee two-and-a-half month tour of England start in July and ends early September, during which India plays five Tests, three ODIs and three T20s.
There is a window for the Asia Cup (this edition will be 50 overs), keeping in mind the World Cup, but the date and the venue is yet to be finalised.
The Asia Cup will have around nine ODIs.
India's home season will be a short one, with the West Indies coming for two Tests, five ODIs and three T20 Internationals during October-November.
After the tour of the West Indies, India will go Down Under to play Australia in four Tests, three T20 Internationals and three ODIs in November-December.
The BCCI has taken a policy decision of not playing Test cricket in New Zealand as a 3:30 am IST start to Test matches is not commercially viable for the world's richest cricket board.
The New Zealand tour, from mid-January to mid-February, will have five ODIs and five T20 Internationals.
In the second half of February, Australia will come to India for a limited-overs' series, in which they will play five ODIs and two T20 Internationals.
Curtains will be drawn on the 2018-19 season with Zimbabwe coming for an inconsequential three-match T20 series.
India's 2018-19 season itinerary
Estimated International Matches: 63
June 2018: vs Ireland (2 T20I) (Away)
June 2018: vs Afghanistan (1 Test) (Home)
July-September 2018: vs England (5 Tests, 3 ODI, 3 T20I) (Away)
September 2018: Asia Cup (Approx 9 ODIs) (Venue and Date yet to be finalised)
October-November 2018: vs West Indies (2 Tests, 5 ODIs, 3 T20I) (Home)
November-December 2018: vs Australia (4 Tests, 3 ODIs, 3 T20I) (Away)
January-February 2019: vs New Zealand (5 ODIs, 5 T20I) (Away)
February-March 2019: vs Australia (5 ODI, 2 T20I) (Home)
March 2019: vs Zimbabwe (3 T20I) (Home).