Mahendra Singh Dhoni has at his disposal a range of multi-skilled players who possess the ability to turn the game around at the flick of a switch.
With form on their side, Dhruv Munjal says India can go all the way in the World T20.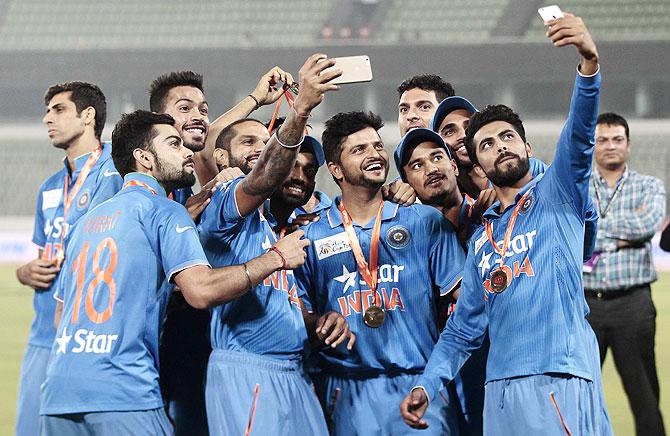 IMAGE: A selfie after winning the Asia Cup on Sunday, March 6, 2016. Photograph: Solaris Images.
It is difficult to explain India's rise to the top of the world T20 rankings. Since the introduction of international T20s, India has played the fewest matches among all Test-playing nations.
Pakistan, for example, has been a part of 101 T20s since 2005; India, in comparison, has played 67. India's winning percentage, though, is only bettered by South Africa.
Intriguingly, for a country that boasts of the biggest T20 league in the world, India, for long, was considered a lightweight in the format.
Results, in major tournaments at least, served as painful reminders.
Ever since lifting the inaugural T20 World Cup in 2007, India has made the final only once, losing to Sri Lanka in a lopsided encounter two years ago. This was preceded by three abject campaigns that saw India fail to make the knockout stages -- a woebegone run of results for a side that was considered a limited-overs colossus.
Yet, ahead of the 2016 World T20, the Indian team is surrounded by a peculiar sanguinity: Batsmen convincingly putting bat to ball and authoritatively leaving it when they can't, the bowlers creating mayhem with the ball, both old and new, and the fielding, mainly due to the spry athleticism of Ravindra Jadeja, at its sparkling best. A failure to reach at least the semi-finals on home soil would be considered cataclysmic.
In 2003, when the England and Wales Cricket Board launched the domestic Twenty20 Cup in a desperate attempt to pull more spectators into stadiums, it was perceived as a young man's game out to brutally expunge the very ethos that makes the sport of cricket so endearing. At times, it was a circus plagued by a heady overdose of razzmatazz. Not any more.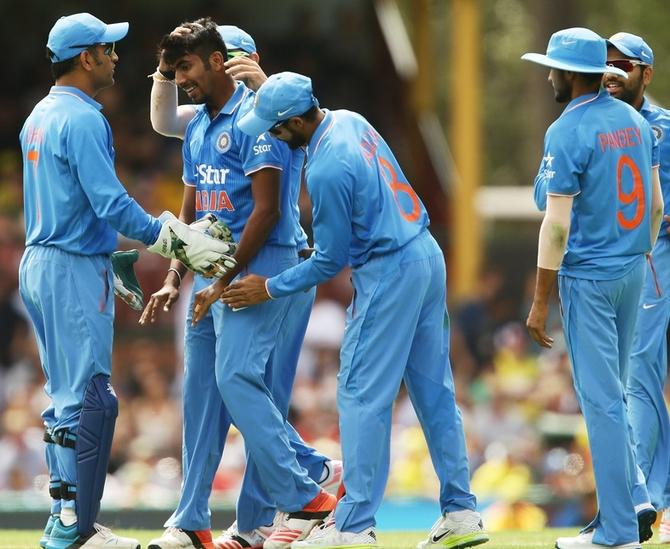 IMAGE: Jasprit Bumrah congratulated by teammates after bagging a wicket. Photograph: Getty Images
The T20 game now is the ultimate test for a player's all-round skills and quick thinking; a breezy three hours that sway and tilt much faster than you can imagine. And, India seems to have adapted to that remarkably well.
Mahendra Singh Dhoni has at his disposal a range of multi-skilled players who possess the ability to turn the game around at the flick of a switch.
That perhaps explains why the Indian team has won nine of its last 10 T20 games, including a 3-0 whitewash of Australia Down Under.
Unsurprisingly then, the final of the T20 Asia Cup in Mirpur was won by India.
At most times, balance is an overrated piece of sporting argot. However, despite its somewhat unsparing use, it remains vital to the composition of any team.
Last week, Dhoni spoke about the balance of this current side being one of the best he has ever seen. And, it's difficult to argue with the Indian captain.
The inclusion of Hardik Pandya and Jasprit Bumrah has added the spark that was dreadfully missing in Indian T20 teams of old. Moreover, great batting depth and two handy spinners in subcontinent conditions add to India's razor-sharp edge.
Virender Sehwag seems to be in complete agreement with Dhoni. "You have world-class batsmen, and bowlers who can pick up wickets. That's all you need. India can go all the way," says the former belligerent opener.
Nayan Mongia, former Indian wicket-keeper, answers the question about 'balance' more bluntly. "When everybody is playing well, it seems as if the team is balanced. That's what's happening with India. It's that simple," says he.
"India has a strong chance of winning the tournament."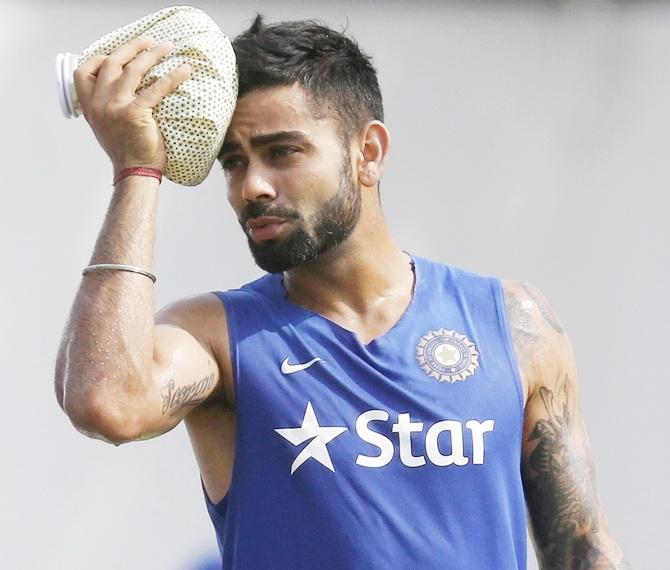 IMAGE: Virat Kohli's hard-fought 49 against Pakistan in the Asia Cup was as good as a century. Photograph: Amit Dave/Reuters
Sehwag reserves special praise for the Indian batsmen, particularly the openers, Rohit Sharma and Shikhar Dhawan, and Virat Kohli.
"Once they get through the first 7-8 overs, it is impossible to stop them," says he.
During the 2014 World T20, among the several fragments of gossip doing the rounds that left everybody befuddled and amused in equal measure was that Pakistan wanted to hire Kohli as its batting coach. Mohammad Aamir would have been glad had they actually did.
On a balmy Mirpur evening, Kohli foiled a swing masterclass from Aamir with phlegmatic ease. Even as the others were left mesmerised by the 23 year old's pace and guile, Kohli warded off the trouble and then pounced, constructing a hard-fought 49 that was as good as a century.
Sharma has struggled since his match-winning knock against Bangladesh in the opener of the Asia Cup, but remains a genuine force.
Dhawan, who has been laid low with a niggling ankle injury, will be eager to rediscover the form that saw him so handsomely destroy Shaun Tait in Australia.
The batting order, however, is something that experts admit Dhoni must sort out. In the last few games, Suresh Raina has batted at four, with mixed results, Yuvraj Singh at five and Dhoni at six. "India's top-order is really strong. So, they do not lose too many wickets early on, which means Dhoni comes into bat fairly late," says a former cricketer on the condition of anonymity. "Dhoni, at times, is wasted as a batsman."
Against Sri Lanka at home last month, Dhoni asked Pandya to bat before Yuvraj and himself. But as long as batsmen above him are scoring big, this is an area that should not trouble Dhoni too much.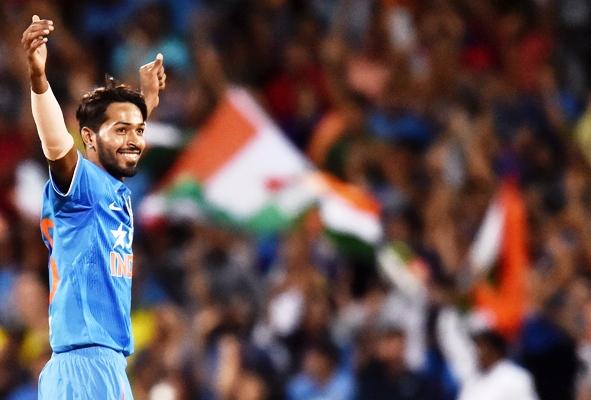 IMAGE: The 22-year-old Hardik Pandya, an all-rounder by trade, fits perfectly into the Indian team. Photograph: Daniel Kalisz/Getty Images.
Two years ago, Pandya was toiling away for Baroda, helping his side claim the Syed Mushtaq Ali Trophy. Now, he is playing for the national team and earning rich plaudits from his teammates, including Dhoni.
Pandya, an all-rounder by trade, would struggle to get into powerhouse teams like Australia and New Zealand; it would be unfathomable to think that the 22 year old can compete with the likes of Corey Anderson and Mitchell Marsh. Yet, he somehow fits perfectly into the Indian team.
Mongia, who has followed Pandya's progress closely since his under-16 days, says he gives you the option of a medium-pace-bowling all-rounder, an option India has coveted for long. Stuart Binny, the last player to have been tried in that category, proved to be a disastrous experiment that the Indian team would want to forget in a hurry.
"He complements all the others around him well. The Indian team has such ability that he doesn't have to be overly good at one discipline. You need someone who connects the dots. That's what Pandya does," explains Mongia.
It remains to be seen if Pandya can produce more of the same in tougher conditions overseas; for now, his elevation has been a resounding success.
The changing nature of the T20 game, rapidly ceasing to be populated by specialists, perhaps explains the phenomenal rise of Pandya.
Others like Jadeja and Yuvraj, who are wily with the ball and occasionally devastating with the bat, considerably add to Dhoni's options.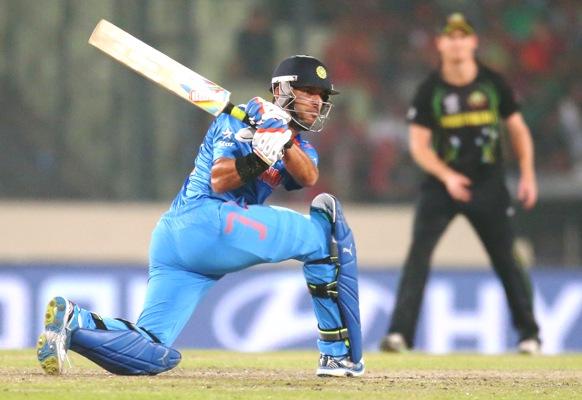 IMAGE: Yuvraj Singh, as wily with bat and ball, considerably adds to Dhoni's options. Photograph: Getty Images
For a team that has the ignominious reputation for producing middling all-rounders, Dhoni must feel lucky to have a couple of decent ones in his armoury right now.
Former Indian opening batsman and coach Anshuman Gaekwad feels that more than batting, it will be the bowling that decides India's fate.
"It is all about damage control now. If you have a good bowling attack, it will be difficult to beat you," he says.
Four or five years ago, a score in excess of 170 would more often than not win you a T20 match. Now, with smaller grounds, humongous bats, batting-friendly pitches and incredible self-belief in batsmen, scores have hit paranormal levels.
There is little doubt that T20 still remains a batsmen's game, but bowlers now have more of a say -- often the most telling one.
As the purists would tell you, Test matches are won by the bowling attack that can pick up 20 wickets. T20 cricket is headed in the same direction. The fact that franchises opted for quality bowlers over prolific international batsmen at this year's Indian Premier League auction acted as a confirmation.
In Ravichandran Ashwin and Jadeja, Dhoni possesses two potent wicket-taking options, who, on Indian pitches, can make even the best look ordinary.
Legendary off-spinner Erapalli Prasanna says India has the ideal spin combination to win the tournament.
"Here are two bowlers who are in complete contrast to each other, but work together in tandem," he says.
Along with Sri Lanka, India will go into the tournament with two world-class spinners.
More than the spinners, it's the quick bowlers that have dazzled in the Asia Cup. On relatively green tracks, Bumrah and Ashish Nehra have bowled with previously unseen verve and purpose, clocking speeds that Munaf Patel, in his ephemeral tenure as India's fastest bowler, would have been proud of.
In Bumrah, Dhoni has found an ideal bowler for the death, a role that would have otherwise been carried out by the experienced Mohammed Shami.
Madan Lal, the former Indian bowler, is mighty impressed by Bumrah. "He can move the ball. More important, he can bowl yorkers that Indians have generally struggled with," he says.
As for Nehra, the 35 year old has shown that old legs can still dictate terms in this format.
"You need experience in this format; knowing when to bowl what. Nehra is doing that perfectly," adds Lal.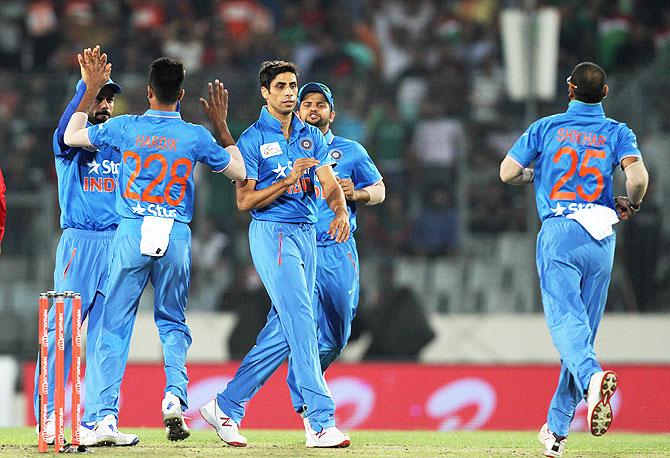 IMAGE: The 35-year-old Ashish Nehra has shown that old legs can still dictate terms in the T20 format. Photograph: Solaris Images
Despite India's impressive winning streak, experts are adamant that the team hasn't been up against the strongest of oppositions in the last few weeks.
The Australian team they so comprehensively outplayed was made up of fledgling, humdrum. pace bowlers. The batting too, mainly comprised players who had set the Big Bash ablaze but had little international experience.
They beat a Sri Lankan team that was so hamstrung by injuries that it had to summon 39-year-old Tillakaratne Dilshan to lead the batting. And Pakistan, despite the ubiquitous 'dangerous team' tag that forever accompanies them, is no longer equipped to compete with India in any format.
Drawn with Australia, New Zealand and Pakistan, India's group makes for ominous reading.
Lal feels that even with India's form, this will be a tough group to get out of.
"All of us think that since India is playing at home, it will do well. But this is an International Cricket Council event, you never know how the pitches will be," he says.
"And, if you look at the teams it'll be up against, this will be a stern examination."
Australia, like India, possesses big-hitting batsmen and sprightly fieldsmen.
New Zealand plays a brand of intrepid cricket, which, when it works, can vanquish any opposition in the tournament.
"What makes T20 so exciting is its unpredictability. We should forget what we see on paper," adds Lal.
India would be hoping that momentum works in their favour. In what is likely to be Dhoni's last major T20 tournament, his team will be keen to repeat the heroics of that spine-tingling evening at the Wanderers in Johannesburg in 2007.
The world waits with bated breath. The test begins on March 15 against New Zealand in Nagpur.