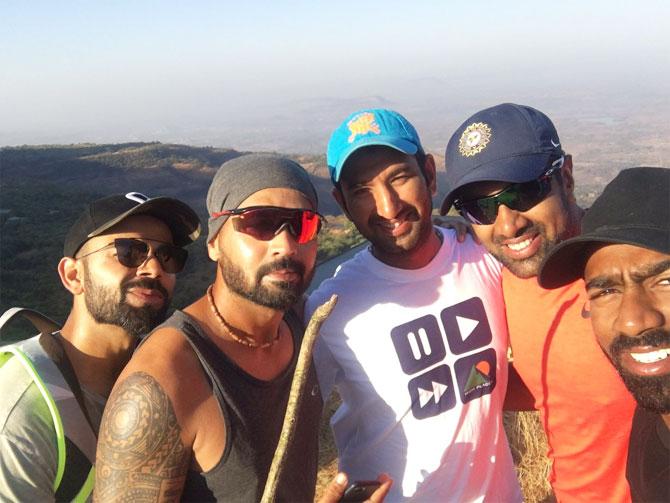 IMAGE: India captain Virat Kohli, Murali Vijay, Cheteshwar Pujara, Ravichandran Ashwin and Abhinav Mukund pose for a selfie. Photograph: R Ashwin/Instagram
The 333-run loss against to Australia in the first Test has made Virat Kohli and his boys philosophical!
To keep their minds off the Pune disaster, the team went on a hike at Tamhini Ghat on Monday, and the trek to the Western Ghats seemed to have brought out their inner Platos and Ramanujas.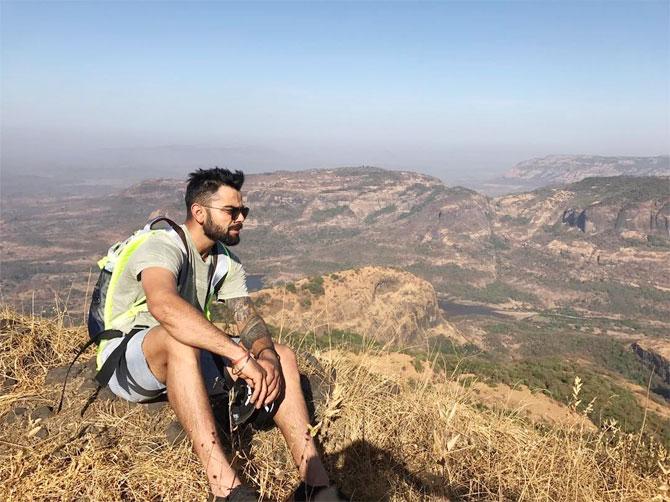 IMAGE: Virat Kohli in a pensive state as he soaks in the surroundings. Photograph: Virat Kohli/Twitter
Kohli, Ravinchandran Ashwin, Ajinkya Rahane and Ravindra Jadeja posted pictures of their adventures across social media platforms.
Admiring the breathtaking view, Kohli posted a picture of himself deep in thought and accompanied it with a few meaningful words: "Everyday is a blessing and an opportunity. Be grateful and keep moving ahead."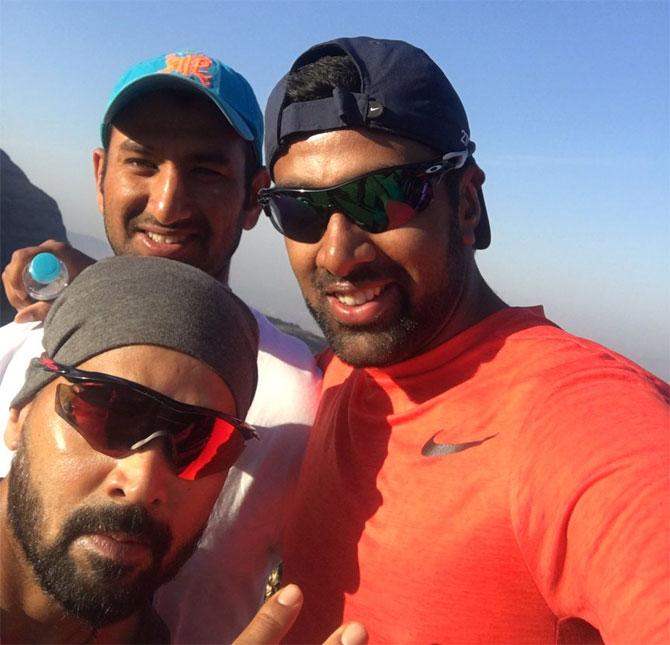 IMAGE: Cheteshwar Pujara, Murali Vijay and Ravichandran Ashwin strike a pose. Photograph: R Ashwin/Instagram
Ace spinner Ashwin was also in a contemplative mood as he posted photos on Instagram.
"Life throws you an opportunity to learn everyday. Learn and grow," he wrote.
IMAGE: Ajinkya Rahane and wife Radhika are all smiles. Photograph: Ajikya Rahane/Instagram
Ajinkya Rahane and Umesh Yadav took their wives along for the trek.
Rahane posted a picture with his wife Radhika on the summit and wrote on his Instagram page: "Seeing a sunset is so peaceful. #beautifulnature."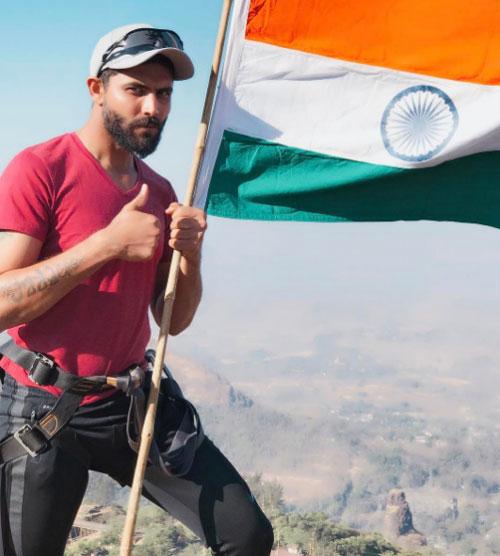 IMAGE: Ravindra Jadeja shows off his patriotic side. Photograph: Ravindra Jadeja/Instagram
Ravindra Jadeja had a winner up his sleeve, posing with the national flag on the summit.
That the left-armer and his teammates can pull off a comeback in the series and once again keep the Indian flag flying high with pride, will be seen once the second Test kicks off in Bengaluru on Saturday.