First loves tend to linger on the backyard of memory, more so when they haven't ended on a shrill, bitter, clawing note. And time and time again, one is compelled to return to that warm glow of memory. Just like Leander Paes does: to cricket.
The fact that he has a flight to catch next day, nor that he is due for the Australian Open two weeks hence could stop the tennis ace from parking himself half the night at Eight Mile Creek. (Trivia: Leander captained his school team back in Kolkata when it was still good old Calcutta.)
Just imagine: Leander Paes leading the Indian team instead of his fellow Calcuttan, Sourav Ganguly! The mind wobbles.
Anyhow, the place was a little slow when I got there, with only nine overs bowled after a slight rain delay. Krishnendu, who I didn't know from Adam, was busy chatting with Jonah, a long-haired Aussie who is as friendly as they come. Apparently they had met and become buddies during the course of the Test. Yesterday, Jonah had bought Krish and his friend Nikhil for drinks so Krish was returning the favour.
But New York being New York, it was not content with letting me watch the cricket match in peace over draft Stella Artois. Like a petulant child eager to show off its latest trick, the city constantly tugs at your attention, crying out 'Look what I can do'!
Indeed. About an hour later who should I meet in the same place but Gita and Sonny Mehta, both legendary figures in their own right, and possibly the most famous power-couple in New York's famously powerful publishing-literary world.
Should I be grateful to the city? Or to bad technology? Their PC wouldn't work and when a nephew told them about Eight Mile Creek, the duo decided to stroll in for an evening of cricket.
Eight Mile Creek is a nice, comfortable little bar and restaurant tucked away almost discreetly on Mulberry Street between Prince and Spring streets. They also have three television screens in the basement bar and one on the ground level bar; they don't have a cover charge; and like they did for the World Cup last year, they were showing the India-Australia Test series. Which is why I dragged myself there.
So did the Mehtas, and so did Leander, and about a hundred-odd people through the night. But that's Eight Mile Creek is -- a friendly place where you can get rambunctious if you feel the urge.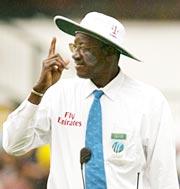 Which, by the way, many people did. For example, where else can someone shout 'Get it up!' and not been regarded as a perv? Of course, the gentleman was only expressing his frustration at the many leg-before calls that went against the Indian bowlers, a feeling echoed by many others who railed animatedly out in the winter cold, pulling feverishly on their Marlboro lights as Steve Waugh's men played for a non-result.
And that perhaps was the single biggest grouse for most of the Indians there -- that a team vaunted for its winning habit should be trying an underhanded trick to sneak an away win away from the Indian sides.
Indeed, optimism ran high at the beginning of the match, though the Australians were pretty comfortable with the idea of playing for a draw -- no man likes to see his country lose. Leander was pumped up 'We are going to win,' he told me with same confidence that he wins Grand Slam titles. A few hours later, resigned to the inevitability of the situation, he took a doze, waking up expectantly whenever a shout went up.
Gita Mehta was no less confident, telling me right at the beginning that India was going to win. Or as Sanjeev Bhuyan told me: "This isn't going to be a fairytale ending for Waugh, it'll more likely be a Shakespearean tragedy."
Menaka Guruswamy, a New York-based attorney was actually woken up by her friends to come here. "I like to think we are going to win, since I am an eternal optimist," she said, despite the fact that at pint, just before tea, it was looking like a draw.
Anup Rajpure was more inclined towards the logic of random destiny and probability -- he kept flipping a coin on the back of his palm until it dropped to the floor where he couldn't find it. If you flip it often, it might happen.
Funnily enough, at the beginning of the evening, there were more desis than Aussies (how's that for rhyme!), by lunch, it was slightly more even, and by tea, when it became clear that a draw was going to be had, the Aussies pretty much picked themselves up and left, content in the knowledge that Steve wouldn't be going out on the tragic note that Bhuyan expected.

But Jonah persisted with his defence of Waugh. "We let him down, as a team," he insisted. "I mean, he's without McGrath and Warne but the rest of the team let him down."
The highlight of the evening, of course, was the walk-in by Waugh himself, with the team in a sticky situation with 170-3 on the board. And the first ball, a mistimed cue, brought the house to its feet as Indians imagined a Bradmanesque farewell for Waugh. And so it continued for the next couple of balls to the end of the over, expectations flighting like the cherry itself, to be firmly put down by Waugh's willow.
To be fair, though, must admit the Indians haven't lost their sense of fair play, applauding every good stroke from the Roos -- Sonny leading the way for most even as he commented on bowling changes. For me, it was a world removed from the India-Pakistan game during the World Cup, with no bones being made about who you were supporting, sportsmanship be damned.
And as one icon was bowing out, at least one Australian was reminiscing of another. Wilford remembered his claim to fame at the age of 13: shaking hands with Bishan Singh Bedi in Wayla, in Australia, where Bedi was apparently playing a match. "I didn't understand a word of what he was saying, but it was great!" he told me. And in the next breath, confirmed the making of another "Dravid is the saviour of Indian cricket."