'The tough thing is you are playing against two wrist spinners, and not a lot of players have played against'
'It does take time to get used to their change-ups and their variations'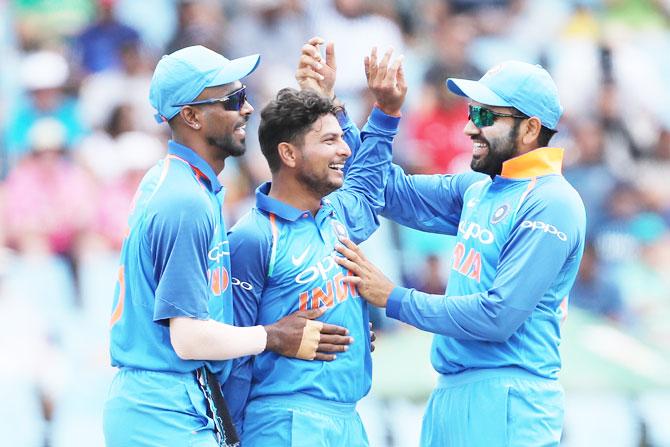 IMAGE: Kuldeep Yadav (centre) celebrates with teammates after picking the wicket of David Miller. Photograph: BCCI
South African batting coach Dale Benkenstein conceded that their batsmen have been unable to read Indian wrist spinners Yuzvendra Chahal and Kuldeep Yadav during the ongoing ODI series as it is taking time to get adjusted to their change-ups.
India took a 2-0 lead in the series with their comprehensive win on Sunday, as Chahal took a career-best 5 for 22 and bowled out South Africa for the lowest total on home soil.
"The tough thing is you are playing against two wrist spinners, and not a lot of players have played against. It does take time to get used to their change-ups and their variations," Benkenstein sounded helpless.
"Their spinners are very good, obviously. Earlier, Anil Kumble was the one who could really spin the ball away from the bat. He bowled pretty quick and the ball would come on to the bat. But these guys (Chahal and Yadav) are a lot slower.
"We've had a good look at them in the two games (so far) and I'm sure our performances will improve as the series goes on," he said.
The Proteas have got two wrist spinners to create match simulation but comfort facing them won't happen overnight.
"The guys were in the nets and we've got two wrist spinners, so they were practising against them. But things don't turn around overnight. So, there isn't much time to practice but I don't think today we got out to the spinners bowling us out. I think we had some soft dismissals there."
Benkenstein said that the slow pace of the Indian spinners made all the difference.
"The challenge lies in the fact that they bowl very slow. Our spinners bowl very fast. Even on domestic wickets, we bowl pretty quick and it's so much easier to get runs (when that's the case). To be fair, in South Africa we don't get a lot of spin. So, this is obviously an issue."
"I'm actually pretty amazed by how slow they can actually bowl. And obviously if you're a wrist spinner and you bowl slow, then it turns on any surface. But I think because of the slowness, there are also scoring opportunities. I would rather that we look at that than just plodding around," he added.
Benkenstein said that absence of experienced stalwarts like AB de Villiers and Faf du Plessis is a massive miss for them.
"It obviously is tough to not have them (De Villiers and Du Plessis). We are playing against a very, very strong team and we would have ideally wanted to be at full strength. We have got in the back of our minds as well as our eyes are on the World Cup. We want to win the series but we do see this as a great opportunity to get some game time on to our next best players," Benkenstein reasoned.
"Also, even though AB and Faf aren't playing, there are some very senior players that are still playing. And it's a great opportunity for them to put their hands up and start winning some games," Benkenstein added.