India will open their campaign in the T20 World Cup with a high-profile clash against Pakistan in Dubai on October 24, the International Cricket Council said on Tuesday.
India have been placed in Group 2 with Pakistan, New Zealand, Afghanistan and two more qualifiers.
India will take on New Zealand in Dubai on October 31 followed their match against Afghanistan in Abu Dhabi on November 3. India's next two games will be on November 5 against Winner of Group B and on November 8 against the second-placed team of Group A.
India's schedule at T20 World Cup 2021: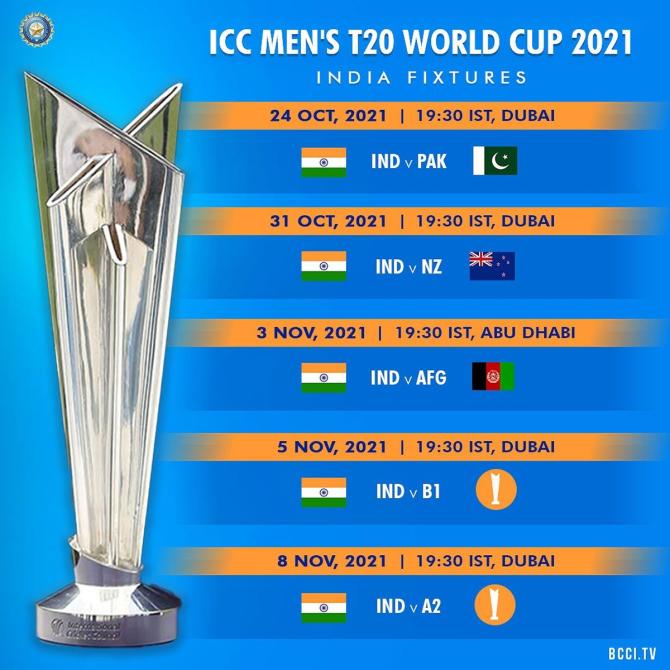 Australia are in Group 1 of the Super 12 stage alongside England, defending champions West Indies, South Africa and two qualifiers from the preliminary round.
The T20 World Cup 2021 will get underway from October 17 in UAE and Oman, with the final to be played in Dubai on November 14.

The tournament will begin with the qualifying round clashes featuring Bangladesh, Sri Lanka, Ireland, Netherlands, Namibia, Oman and Papua New Guinea, with the top teams advancing to the Super 12 stage, which starts on October 23.

The Super 12 stage gets underway in Abu Dhabi on October 23, when Australia clash against South Africa, followed by the England vs West Indies match in Dubai.

Old rivals England and Australia will lock horns in Dubai on October 30. The group will conclude on November 6 with matches between Australia and West Indies in Abu Dhabi, and England and South Africa in Sharjah.

The first semi-final will be held in Abu Dhabi on November 10. The second semi-final will be hosted by Dubai on November 11. Both semi-finals have reserve days.
The Twenty20 World Cup was shifted to the United Arab Emirates and Oman from India due to the surge of COVID-19 cases in the country.
The groupings:

Round 1

Group A: Sri Lanka, Ireland, the Netherlands and Namibia
Group B: Bangladesh, Scotland, Papua New Guinea and Oman

(Top two teams from each group advance to Super 12s)

Super 12s

Group 1: England, Australia, South Africa, West Indies, A1 and B2.
Group 2: India, Pakistan, New Zealand, Afghanistan, A2 and B1.

(Top two teams from each group advance to the semi-finals)

Complete schedule:

Round 1

17 Oct: Oman v Papua New Guinea, Muscat; Bangladesh v Scotland, Muscat

18 Oct: Ireland v Netherlands, Abu Dhabi; Sri Lanka v Namibia, Abu Dhabi

19 Oct: Scotland v PNG, Muscat; Oman v Bangladesh, Muscat

20 Oct: Namibia v Netherlands, Abu Dhabi; Sri Lanka v Ireland, Abu Dhabi

21 Oct: Bangladesh v Papua New Guinea, Muscat; Oman v Scotland, Muscat

22 Oct: Namibia v Ireland, Sharjah; Sri Lanka v Netherlands, Sharjah

Super 12s

23 Oct: Australia v South Africa, Abu Dhabi; England v West Indies, Dubai

24 Oct: A1 v B2, Sharjah; India v Pakistan, Dubai

25 Oct: Afghanistan v B1, Sharjah

26 Oct: South Africa v West Indies, Dubai; Pakistan v New Zealand, Sharjah

27 Oct: England v B2, Abu Dhabi; B1 v A2, Abu Dhabi

28 Oct: Australia v A1, Dubai

29 Oct: West Indies v B2, Sharjah; Pakistan v Afghanistan, Dubai

30 Oct: South Africa v A1, Sharjah; Australia v England, Dubai

31 Oct: Afghanistan v A2, Abu Dhabi; India v New Zealand, Dubai

1 Nov: England v A1, Sharjah

2 Nov: South Africa v B2, Abu Dhabi; Pakistan v A2, Abu Dhabi

3 Nov: New Zealand v B1, Dubai; India v Afghanistan, Abu Dhabi

4 Nov: Australia v B2, Dubai; West indies v A1, Abu Dhabi

5 Nov: New Zealand v A2, Sharjah; India v B1, Dubai

6 Nov: Australia v West Indies, Abu Dhabi; England v South Africa, Sharjah

7 Nov: New Zealand v Afghanistan, Abu Dhabi: Pakistan v B1, Sharjah

8 Nov: India v A2, Dubai

Knock-out stage

10 Nov: Semi-final 1 (A1 v B2), Abu Dhabi

11 Nov: Semi-final 2 (B1 v A2), Dubai

14 Nov: Final, Dubai