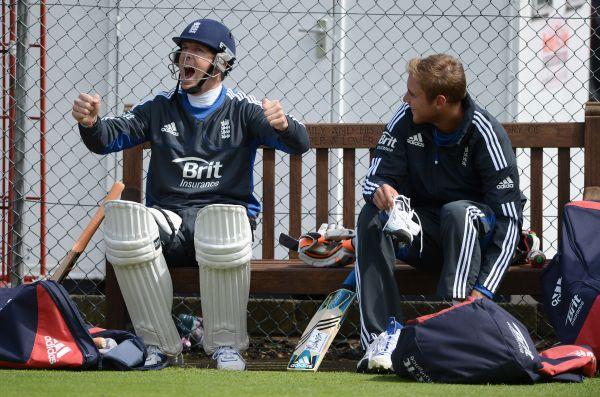 Graeme Swann and Stuart Broad. Photograph: Gareth Copley/Getty Images
Kevin Pietersen's claim that a former England captain has told the England Cricket Board that three of his team-mates might have access to a parody twitter account mocking him came out to be true with Alec Stewart saying that he stood by what the controversial former batsman said in his autobiography.
Stewart, England's most-capped Test cricketer with 133 matches, said that Richard Bailey introduced himself as the author of @KPGenius account during the Test against South Africa at the Oval in 2012 and revealed Graeme Swann, Stuart Broad and Tim Bresnan had access to it.
Bailey, who has no official connection to England camp, is said to be a close friend of Broad.
'I'm not in the habit of making up stories like that'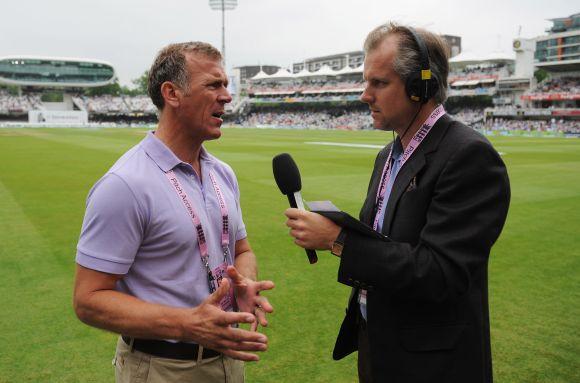 Alec Stewart. Photograph: Gareth Copley/Getty Images
Pietersen, in his autobiography, said the account was an example of "bullying" in England's dressing room and he was "ruined" after he was told that some of his team-mates might be behind the account.
"I'm not here to protect KP and I'm not here to nail any England players. But I stand by the account of my conversation with this fella at the Oval in 2012, which is in KP's book, and I'm not in the habit of making up stories like that," Stewart said.
"I had a conversation with then ECB managing director Hugh Morris during the Oval Test match and then with England coach Andy Flower at a later date. I left them to deal with it. I felt they deserved to be made aware of it," he was quoted as saying by the English media.
"It was then down to the ECB to investigate things if they wanted to or they could ignore it. After that I don't know what happened."
A thorough and robust investigation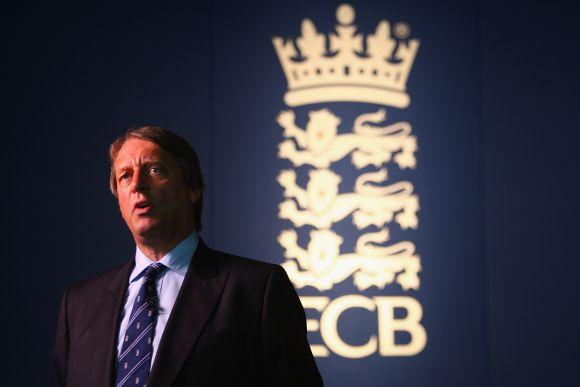 Gile Clarke. Photograph: Tom Shaw/Getty Images
Bailey insisted a few days back that the England players were not directly involved in the account. But, Stewart said Bailey told him a different story two years ago.
"The reason why I'm prepared to talk about this is because Bailey said he didn't say anything to me, therefore doubting my integrity and I won't have that," said Stewart.
The account was closed shortly afterwards, with Bailey apologising "to anyone I know involved with England Cricket who I may have put in an awkward or embarrassing position".
The ECB had said it conducted "a thorough and robust investigation" by speaking to all three of the players but the ECB may now be forced to explain how thoroughly they investigated Stewart's tip-off.
Swann, Broad and Bresnan had assured them at that time that they had no involvement in the account.
Pietersen was dropped from England team two years ago for exchanging derogatory texts about his captain Andrew Strauss with South African opponents, but it could be embarrassing for ECB if evidence emerged of a campaign to belittle KP from inside the England dressing room.