'Since the Board and Virat himself was very keen, the monetary part was least of concern for us.'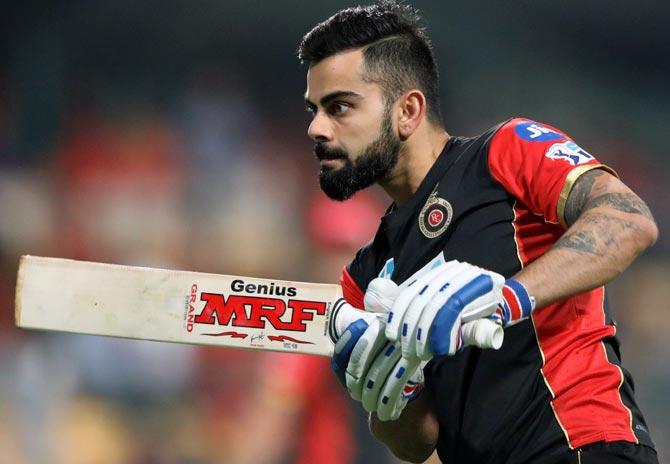 He might be the top earning cricketer in the world today but English county side Surrey signed up Virat Kohli for a dirt cheap deal as the Board of Control for Cricket in India was keen to ensure quality game time for the India captain ahead of tour of England.

Kohli, who will miss the one-off Test against Afghanistan and two T20 Internationals against Ireland (all in June), is keen to redeem himself in the Old Blighty in pursuit of greatness.

With the BCCI wanting it's top players to get county exposure, the deal with Surrey was finally inked only as late as this week.
"Contrary to popular belief that Virat will cost a bomb for Surrey, it was completely the other way round. Let's get it clear. Surrey is paying airfare, accommodation and a very nominal match fee during the month," a senior BCCI office-bearer said.

"Since the Board and Virat himself was very keen, the monetary part was least of concern for us," he added.

"We are not at liberty to quote the amount but it will be a very nominal amount that he will be paid and that is at par with any standard county player. We can vouch it's a win-win deal for Surrey as well as for the BCCI," the official added.

While the talks between the two parties started in March, the BCCI was engaged with Surrey about how much the county can use the Indian captain's image rights and that was the likely reason for the delay in putting pen to paper.

"Obviously, Surrey wants to cash in on his image. But then Virat's focus will be six games (Three Royal London Cup 50 over games and Three County four day games).

"There will be curiosity and marketing opportunities but we don't want our captain to be unduly disturbed by peripheral activities. He is going there to prepare for England series and if he scores runs, it helps Surrey," the office bearer said.

It must be mentioned that the RCB paid a whopping Rs 18 crore (1.95 million pounds) for Kohli's retention this year.

Kohli's stint with Surrey starts on June 1 with a 50-overs game against Kent at Beckenham.

He will be playing the second and third match of the Royal London Cup on June 3 and 6 against Middlesex and Glamorgan respectively.

The four-day campaign will start against Hampshire in Southampton from June 9 to 12 followed by a match against Somerset at Guildford from June 20-23 and concluding with the match against Yorkshire at Scarborough from June 25 to 28.

Recently-retired South African pacer Morne Morkel will be his teammate at Surrey.

Kohli's debut four-day match could prove to be a challenge if Dale Steyn, who has signed for Hampshire, gets fit by that time.

Former South African swing bowler Kyle Abbott, who had a five-wicket haul against India in a 2015 Test at Delhi, is also expected to be part of the bowling attack along with Fidel Edwards.

Against Yorkshire, the likes of Tim Bresnan and Liam Plunkett, who is currently playing for Delhi Daredevils, will pose him a few questions.

Cheteshwar Pujara is expected to play against Kohli in the Yorkshire game as he will be back in the UK after playing the Test match against Afghanistan.