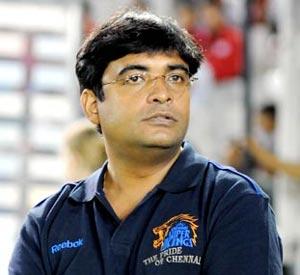 The three-member committee appointed by the Supreme Court to probe the Indian Premier League spot-fixing scandal will question Chennai Super Kings team principal and BCCI president N Srinivasan's son-in-law Gurunath Meiyappan during its four-month investigation.

The committee headed by former Punjab and Haryana High Court Chief Justice Mukul Mudgal and comprising Additional Solicitor General L Nageshwar Rao and senior advocate Nilay Dutta, also an official of Assam Cricket Association, met in New Delhi, on Friday.
- Timeline: How IPL spot-fixing propelled BCCI's shameful fall

"They met officially and started their work. They discussed the entire schedule of how to carry out the probe. They have chalked out a routine for the next 120 days. All the three members will be meeting in person. They will be meeting at all the major centres across India," a source said on Saturday.

"The terms of reference were also discussed and apparently the committee members are very happy with them. Since the honourable Supreme Court has directed BCCI to extend cooperation, former CSK Team Principal Gurunath Meiyappan and Rajasthan Royals co-owner Raj Kundra will be called for questioning by the probe panel," he added.

The committee was constituted after Cricket Association of Bihar challenged the BCCI-appointed probe panel findings, which cleared Meiyappan and Kundra of the charges of betting, in the apex court.

Meiyappan has, however, been chargesheeted by the Mumbai Police.

"The previous probe panel had no right to question anyone," the source said.

The panel appointed by the Supreme Court will examine the IPL scandal once again but would not give any statement till the time its investigation is done.

"The committee has decided that before the completion of 120 days, no official communication will come from them," he said.

India pacer S Sreesanth and his Rajasthan Royals team mate Ankeet Chavan, who were also arrested by Delhi Police before being released on bail, were banned for life by the BCCI for their alleged role in the spot-fixing scandal that rocked the sixth edition of the IPL.

BCCI's Anti-Corruption Unit chief Ravi Sawani, who probed the spot-fixing scandal and submitted his report, found Sreesanth, Chavan, Ajit Chandila and Amit Singh guilty on multiple counts. Rajasthan Royals pace bowler Siddarth Trivedi was banned for a year after being found guilty for failing to report approaches by bookies, while Ajit Chandila's fate is yet to be decided.
Photograph: BCCI