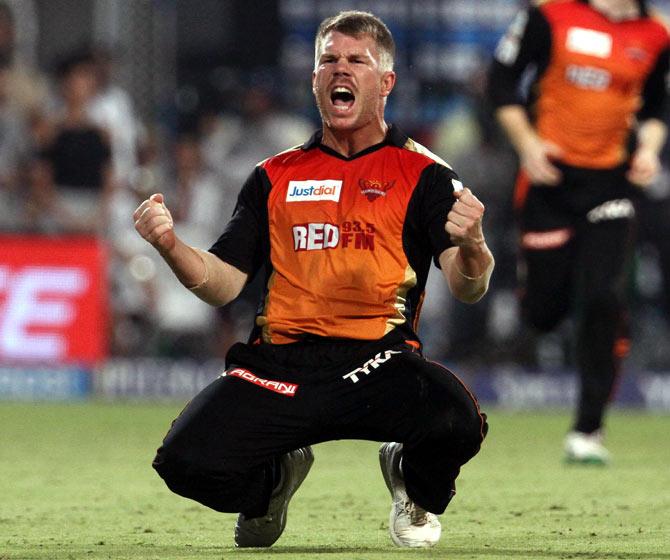 Sunrisers Hyderabad captain David Warner. Photograph: BCCI
Sunrisers Hyderabad are lying a lowly seventh with eight points from nine games in the Indian Premier League but head coach Tom Moody is not disheartened by the dismal scenario and said on Wednesday that the team can make it to the play-offs by winning four out of their next five games.

"We have got five games left. Realistically speaking, if we win three or four out of five then we have got a good chance," said Moody on the eve of Thursday's game against second-placed Rajasthan Royals who need just one win from their remaining three matches to advance to the next stage.

"We were in a similar position last year as well where we are now, where our destiny is in our hands with five games left and we are playing some of the opponents that we are challenging for the final four spot. So it is a tight competition. Every single game from this point is going to be critical and its going to have a real shift in the table," explained the Australian.

"I think last year (the scenario) was pretty similar. Lots of teams are well balanced and so everyone has got an opportunity to find themselves in the top four. Probably Kings XI Punjab are the ones that have fallen a wayside a little bit," Moody added.

Moody said similar to his team, which depend on the opening combine of captain David Warner and Shikhar Dhawan to get going, other teams too faced the same dilemma.

"I think every team in the tournament is dependent on their openers. The team that we are playing tomorrow (Rajasthan Royals) with (Ajinkya) Rahane and (Shane) Watson hold the key to their campaign. You knock out both of those guys early on, you expose Rajasthan Royals.

"It's no different with KKR (Kolkata Knight Riders). You knock out Gautam Gambhir or Robin Uthappa and you right into the thick of it," he said.

Moody, however, conceded that the middle-order spots in his team are yet to be cemented.

"We haven't absolutely nailed our middle order as well as we like and I see that as more of an opportunity than a concern in a tournament like this. We have got an assured window to gain momentum and gain confidence as a team and as individuals," he declared.

Moody said that lanky India pacer Ishant Sharma, who has figured in only the opening match, is very much in contention to play.

"He is very much in consideration. He is fully fit. He had a disappointing start to the campaign, (had) no ball issues in our very first game and also some wides. He has worked very hard in the last few weeks to iron out those issues, which he has done. So he is very much in the mix to play an important role in our remaining games," said Moody.

Moody said the key to doing well in T20 cricket is to play fearless cricket.

"Everyone must have a free mind. T20 is a game that needs to be played fearlessly and you need to take those opportunities and not concern yourself with the consequences and outcome. Of course people are going to fall down in the pursuit of playing fearless cricket," he said.

He also gave a big thumbs up to Warner's captaincy.

"Davy (Warner) is an exceptional individual in many ways. In the past 24 months he has grown as a person and has shown over the past few weeks he is continuing to grow as a leader. He has been excellent with his leadership on and off the field and he has embraced the challenge and he has done a great job of it.

"The real stand-out quality that I see in David Warner is that he is a cricketer who is never satisfied. He is hungry for success. I think with that mind set he is always going to be challenged to the next opportunity, the next game, the next series. He always wants to be a major component contributing to any cause."