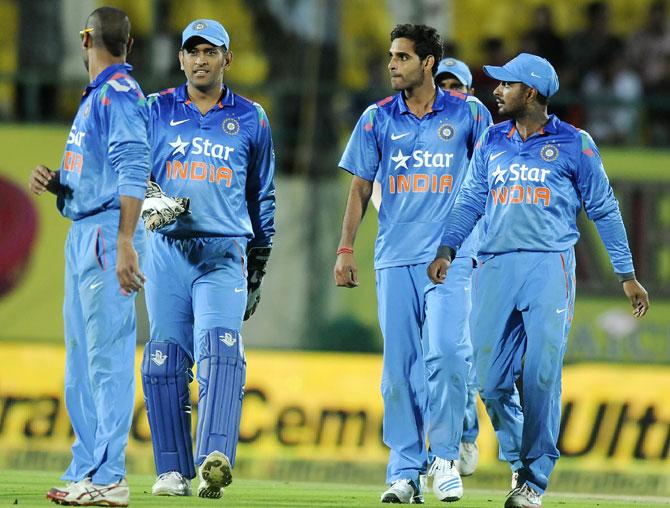 Bhuvneshwar Kumar of India (right) celebrates with teammates the wicket of Jason Holder of West Indies during the fourth one-dayer at Dharamsala. Photograph: BCCI
India's success in the upcoming Australia tour would hinge upon their ability to take 20 wickets, reckons former batting great Sunil Gavaskar.
India, who have been juggling with their team set-up for quite some time now, will take on Australia in a three-Test series in December before competing in tri-series, which will also involve England.
"You need bowlers who can take 20 wickets for a period of 2-3 matches at a stretch. And I am afraid, India have always missed such a bunch of bowlers. If they can do this only then they will have chance," said Gavaskar during the Aaj Tak Salaam Cricket conclave.
'For a captain to do well Down Under, he has to have complete belief in his boys'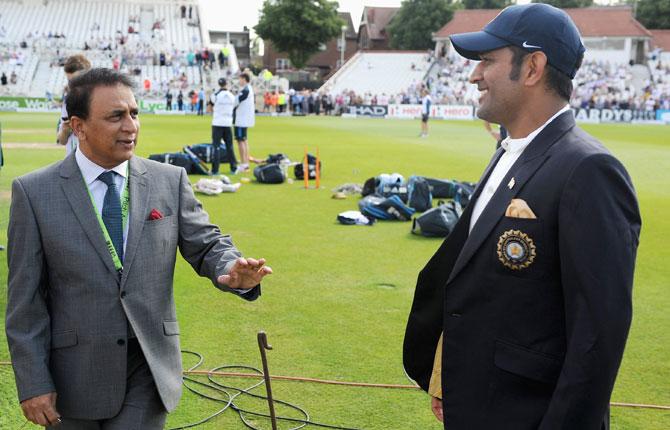 Sunil Gavaskar with Indian captain MS Dhoni. Photograph: Getty Images
Widely regarded as one of the best overseas batsmen of his era, Gavaskar said that scoring hundreds on Australian soil in more satisfying than doing it in the sub-continent.
"With the hundreds you score in Australia, you feel a sense of satisfaction than the one's registered in India or the sub-continent. You are always regarded as better batsman when you get runs outside your country and same goes with a team that wins overseas," said the former India opener.
With India now looking forward to the Australia tour before the 2015 World Cup Down Under, Gavaskar said that skipper Mahendra Singh Dhoni should believe in his team to get the best out of them.
"For a captain to do well Down Under, he has to have complete belief in his boys. Speak to them on on-on-one basis if necessary. When I was captain, there were times when I took former Indian players, who were new in the team then, Maninder Singh and Chetan Sharma out for lunch to just ease them into the new scheme of things. I am not part of the dressing room now, so I don't know how they go about it," said the Little Master.
'The Australian crowd appreciates when you perform well'
Virat Kohli of India gestures with his middle finger to the crowd during the Second Test Match against Australia at the Sydney Cricket Ground. Photograph: Mark Kolbe/Getty Images
Having vivid memories of himself scoring a ton during the last series against Australia in 1986, Gavaskar said that even with the introduction of new rules and the rise of Twenty20 cricket, doing well in the longer format still matters the most.
"All over the world Test performances are remembered for long. So not only in India but everywhere else Test cricket still rules," said Gavaskar.
An Australia tour is never easy for a player due to completely different playing conditions and culture but Gavaskar opines that the appreciation, ones it come, from an Aussie crowd is always an honour.
"Many say that Australian crowd is rough. It rattles you. But mind you, when you perform well they really appreciate you and that is the best. Praise by the Aussie crowd is the highest praise'," concluded the batting legend.