Legendary India opener Sunil Gavaskar may have made the 70s' fiery West Indian bowling line-up look ordinary, but his former teammate Ravi Shastri has disclosed the little master's fear of 'Bouncer and Beamer'.
"For someone who has never been bothered by bouncers and beamers hurled at him by rival fast bowlers, Gavaskar is very scared of dogs. Every time he comes across my pets, 'Bouncer and Beamer', he breaks out in sweat," Shastri wrote in a new book 'Sunil Gavaskar: Cricket's Little Master', as a tribute to mark the 60th birthday of the Mumbai batting ace.
"They keep him on his toes all the time," he said.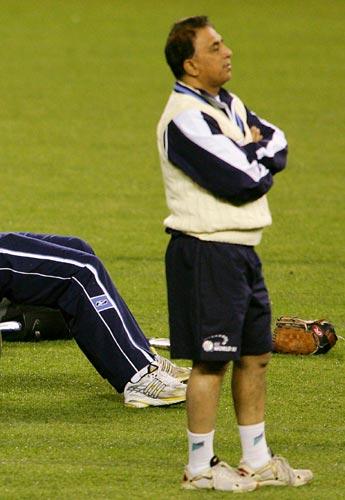 Legendary England all-rounder Ian Botham also confirmed Gavaskar's fear of dogs.
"One day he went to a phone booth outside Taunton. As he entered the booth, I kept a dog outside... Sunny was so scared of dogs that he stayed inside the booth for two hours," he said.
Gavaskar's teammate Arun Lal shared with readers that the highly successful cricketer took failure in his stride by singing.
"He handled failures brilliantly. He usually did so by singing songs and taking a long shower. That was his 'cooling down process'," he revealed.
None other than Lata Mangeshkar certifies the cricketer's crooning abilities better. She wrote: "Sunil can really sing very well".
Sourav Ganguly feels Gavaskar's "wit and humour are legendary, which means there is no dull moment when he is around". 
But the major surprise was in Milind Rege's piece, in which he says his friend Gavaskar was among the crowd shown in the 'Dum Maaro Dum' song from Dev Anand's superhit film of the 70s 'Hare Rama Hare Krishna'. 
"At college, he had this deep desire to act in films. When the film song 'Dum Maaro Dum' was to be shot, Dev Anand had come to our college looking for youngsters to be a part of the mob scene.
"My friend had vanished from college and went for a screen test for the shot. So if you ever see Sunil somewhere in the corner with a 'chillum' in his hand, don't be surprised," Rege said.
Former captain Mohammad Azharuddin, however, says till today he is clueless why Gavaskar shouted at him for coming late at nets despite instructing him to bat after the former opener.
"Being the opener and the number one batsman of the team, Sunnybhai used to go into the nets first... One day he asked me to bat at the nets after him. I reached the nets few minutes late.
"When I came back to the dressing room I gathered that Sunnybhai was not happy. Till today, I really do not know why he shouted, because I had expected him to bat for 20-25 minutes. But, on that day, he batted only 10-15 deliveries and came back to the dressing room... I have never asked him why he shouted," he wrote.
On a serious note, Sri Lanka's only World Cup-winning captain Arjuna Ranatunga pointed out the great foresight of Gavaskar, who suggested his name as captain to then Sri Lanka Cricket president Gamini Disanayake. 
"Sunny had mentioned to the former Sri Lanka Board president that our national team would benefit if I were made the captain... Disanayake later followed Gavaskar's suggestion and I am happy that I could prove Sunny right," Ranatunga wrote in the book.