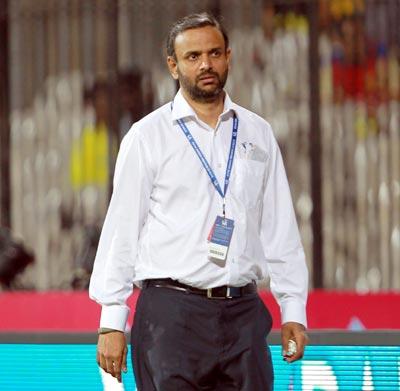 Interim president of Board of Control for Cricket in India Sunil Gavaskar said he is evaluating the request of Bihar Cricket Association (CAB) secretary Aditya Verma, who wants Indian Premier League chief operating officer Sundar Raman removed from his post for alleged involvement in corrupt practices.

'I am seized of the matter and evaluating all the information that I am getting,' Verma quoted Gavaskar as saying in reply to the CAB official's letter to the former India captain, urging him to take action against Raman.
- The man who dared take on Srinivasan and the BCCI!

Verma, on whose PIL the Bombay High Court ruled that BCCI's two-member panel constituted to probe IPL spot-fixing scam was unconstitutional, had also alleged that Raman passed insider information for betting purposes in the IPL last year.

"I had also mentioned about the transcript given by Mumbai Police to the Mudgal Committee indicating the role of Sundar Raman in passing insider information which clearly aided and abetted betting in the last season of IPL," Verma said in his letter to Gavaskar.

"The said conversation formed part of Annexure-15 to the report filed by Mudgal Committee regarding intercept of 15th May, 2013 between Jaipur based bookie Pawan and Vindoo Dara Singh showing that Sundar Raman gave tip to Gurunath Meiyappan which were being shared by Vindoo Dara Singh to bookie Pawan," he claimed.

On Monday, Verma had written a letter to Gavaskar asking him to remove Raman in the interest of IPL and the game of cricket.

"I had earlier invited your kind attention to the fact that Mr. Sundar Raman's continuation as COO of IPL is deeply prejudicial to the interest of IPL and game of cricket. However, no action has been taken on my said letter nor any response to the same has been given. By way of this reminder, I would urge you that in the interest of IPL and the game of cricket please remove Sundar Raman as COO of IPL," Verma wrote in the letter to Gavaskar.

The Supreme Court had last month installed batting legend and former captain Gavaskar as the interim head of BCCI in place of incumbent N Srinivasan.