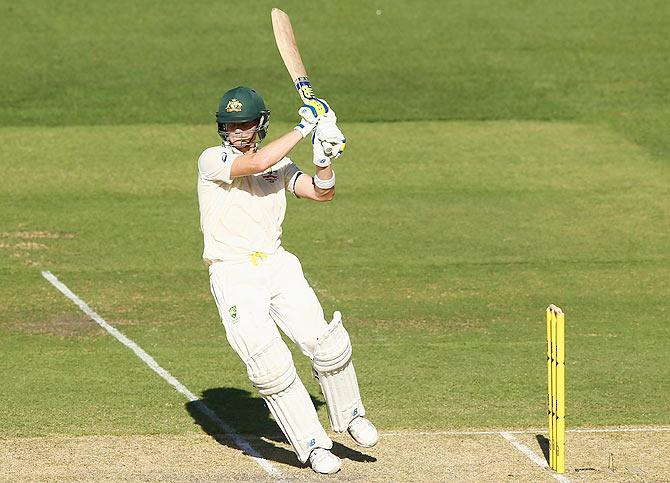 Steven Smith of Australia hits out. Photograph: Scott Barbour/Getty Images
Australia's new captain Steven Smith has led the charge in the latest ICC Player Rankings for Test Batsmen following the conclusion of Boxing Day Tests.
- What are your favourite memories of Dhoni in Tests? Tell us!

New Zealand defeated Sri Lanka by eight wickets in Christchurch, while Australia and India Test in Melbourne and South Africa and West Indies Test in Port Elizabeth ended in draws.

Smith, who scored a Test best 192 in the first innings, has gained two places to claim fifth spot for the first time in his career. He now trails number-one ranked AB de Villiers, who has regained the top spot from Kumar Sangakkara, by 40 ratings points.

New Zealand captain Brendon McCullum and Virat Kohli are the other batsmen inside the top 20 to make upward movements. McCullum, who scored 195, has achieved a career-best 12th position by climbing two places. Kohli's contributions of 169 and 54 have earned him four places and has put him in 15th place.

Also moving in the right direction are Chris Rogers of Australia (24th, up by four places), Ajinkya Rahane (26th, up by 15 places), Kraigg Brathwaite (37th, up by 11 places), Marlon Samuels (37th, up by seven places) and Dean Elgar (50th, up by 13 places).

In the ICC Player Rankings for Test bowlers, Australia's Ryan Harris has moved up two places to second following his six wickets at the Melbourne Cricket Ground (MCG), while Trent Boult has achieved a best-ever ranking of seventh after rising two places. Boult had figures of three for 25 and four for 100.
- Australia brace for emotional Sydney Test

The bowlers outside the top 20 and moving in the right direction include Neil Wagner (22nd, up by two places), Umesh Yadav (36th, up by eight places), Mohammad Shami (38th, up by eight places), Josh Hazlewood (53rd, up by 16 places) and Imran Tahir (58th, up by six places).

Dale Steyn has retained his number-one ranking and is ahead of Harris by 54 ratings points.

There is no change to the top five in the ICC Player Rankings for Test All-Rounders. Shakib Al Hasan of Bangladesh leads the field, followed by Vernon Philander of South Africa and India's Ravichandran Ashwin.

Meanwhile, South Africa is just a draw away from retaining the ICC Test Championship mace and with it winning a cash award of US$ 500,000. If South Africa draws the Cape Town Test and Australia wins in Sydney, then South Africa will finish on 122 ratings points, compared to Australia's 119 ratings points.

However, if the West Indies wins in Cape Town Test and Australia wins in Sydney, then Australia will finish ahead of South Africa by a fraction of a point (0.2).

The side that will finishes second will pocket $390,000, while England and Pakistan have been guaranteed $280,000 and $170,000 after sealing third and fourth positions, respectively, following the Christchurch Test result.

The annual cut-off for the ICC Test Championship is April 1, 2015. But with the ICC Cricket World Cup 2015 to be played from February 14 to March 29 next year, the current Test series are the last for the season.

Upcoming Test fixtures

Australia v India
January 6-10 -- 4th Test, Sydney

South Africa v West Indies
January 2-6 -- 3rd Test, Cape Town

New Zealand v Sri Lanka
January 3-7 -- 2nd Test, Wellington


ICC Test Player Rankings (as on 31 December, after Boxing Day Tests):

Batsmen

Rank (+/-) Player Team Pts Ave HS Rating

1 (+1) AB de Villiers SA 893 51.43 935 v Aus at Port Elizabeth 2014

2 (-1) K. Sangakkara SL 891 58.22 938 v Eng at Kandy 2007

3 ( - ) Hashim Amla SA 887 52.40 907 v Pak at Abu Dhabi 2013

4 ( - ) Angelo Mathews SL 877! 52.83 877 v NZ at Christchurch 2014

5 (+2) Steven Smith Aus 853! 50.38 853 v Ind at Melbourne 2014

6 (-1) S.Chanderpaul WI 848 52.53 901 v NZ at Napier 2008

7 ( - ) Younus Khan Pak 818 53.37 880 v SL at Lahore 2009

8 (-2) David Warner Aus 815 48.06 880 v Ind at Adelaide 2014

9 ( - ) Joe Root Eng 789! 50.94 789 v Ind at The Oval 2014

10 (+1) Misbah-ul-Haq Pak 777 49.15 842 v NZ at Abu Dhabi 2014
11 (-1) Ross Taylor NZ 772 45.96 871 v WI at Hamilton 2013

12 (+2) B. McCullum NZ 760! 39.24 760 v SL at Christchurch 2014

13 (-1) Kane Williamson NZ 753! 41.89 753 v SL at Christchurch 2014

14 (-1) Michael Clarke Aus 740 50.79 900 v SL at Melbourne 2012

15 (+4) Virat Kohli Ind 737 44.41 784 v NZ at Wellington 2014

16 ( - ) Faf du Plessis SA 710*! 52.50 710 v WI at Port Elizabeth 2014

17 (-2) M. Jayawardene SL 695 49.84 883 v Ind at Ahmedabad 2009

18 (-1) Asad Shafiq Pak 673 40.23 680 v SA at Cape Town 2013

19 (-2) C. Pujara Ind 654 47.11 851 v SA at Durban 2013

20 ( - ) Murali Vijay Ind 653! 39.77 653 v Aus at Melbourne 2014

Selected Rankings

Rank (+/-) Player Team Pts Ave HS Rating

24 (+4) Chris Rogers Aus 643* 37.40 694 v Eng at Sydney 2014

26 (+15) Ajinkya Rahane Ind 634*! 44.60 634 v Aus at Melbourne 2014

36 (-1) MS Dhoni Ind 581 38.09 662 v SA at Kolkata 2010

37 (+11) K. Brathwaite WI 579*! 39.85 579 v SA at Port Elizabeth 2014

38 (+7) Marlon Samuels WI 573 35.21 672 v Zim at Bridgetown 2013

45 ( - ) Shane Watson Aus 534 35.49 729 v Eng at Perth 2010

46 (-3) Kaushal Silva SL 528* 35.39 541 v Pak at Colombo (SSC) 2014

47 ( - ) Alviro Petersen SA 515 35.36 655 v NZ at Cape Town 2013

48 (-8) Tom Latham NZ 513* 42.86 569 v Pak at Dubai 2014

49 ( - ) BJ Watling NZ 512 34.75 574 v WI at Port-of-Spain 2014

50 (+13) Dean Elgar SA 490*! 36.05 490 v WI at Port Elizabeth 2014

Bowlers

Rank (+/-) Player Team Pts Ave HS Rating

1 ( - ) Dale Steyn SA 906 22.56 909 v WI at Centurion 2014

2 (+2) Ryan Harris Aus 851 22.77 870 v SA at Cape Town 2014

3 (-1) Rangana Herath SL 842 29.06 851 v Pak at Colombo (SSC) 2014

4 (-1) Vernon Philander SA 822 21.13 912 v Ind at Johannesburg 2013

5 (-1) Mitchell Johnson Aus 812 27.84 849 v Pak at Dubai 2014

6 ( - ) James Anderson Eng 806 29.72 813 v Ind at Edgbaston 2011

7 (+2) Trent Boult NZ 805! 27.19 805 v SL at Christchurch 2014

8 (-1) Stuart Broad Eng 774 29.90 783 v WI at Lord's 2012

9 (+1) Tim Southee NZ 767 30.11 799 v WI at Kingston 2014

10 (-3) Kemar Roach WI 766 25.98 774 v SA at Centurion 2014

11 (+1) Morne Morkel SA 730 29.42 776 v Aus at Cape Town 2011

12 (-1) Saeed Ajmal Pak 725 28.10 855 v Zim at Harare 2013

13 (+1) Shakib Al Hasan Ban 673 31.42 700 v Zim at Khulna 2014

14 (-1) Pragyan Ojha Ind 670 30.26 773 v Eng at Kolkata 2012

15 (-1) R. Ashwin Ind 668 29.85 808 v WI at Mumbai 2013

16 ( - ) Peter Siddle Aus 654 30.45 816 v Eng at Old Trafford 2013

17 ( - ) Junaid Khan Pak 620* 28.83 652 v SL at Colombo (SSC) 2014

18 ( - ) Abdur Rehman Pak 618* 29.39 739 v Eng at Dubai 2012

19 ( - ) Nathan Lyon Aus 588 34.96 648 v Eng at Melbourne 2013

20 ( - ) Ishant Sharma Ind 580 37.30 671 v WI at Dominica 2011

Selected Rankings

Rank (+/-) Player Team Pts Ave HS Rating

21 ( - ) Sulieman Benn WI 550* 37.35 574 v Ban at St Lucia 2014

22 (+2) Neil Wagner NZ 542* 34.48 549 v WI at Bridgetown 2014

26 (-1) Dilruwan Perera SL 506* 30.08 531 v Pak at Galle 2014

28 (+1) S. Eranga SL 483* 34.86 541 v Eng at Headingley 2014

36 (+8) Umesh Yadav Ind 412*! 33.47 412 v Aus at Melbourne 2014

38 (+8) M. Shami Ind 398* 37.90 422 v NZ at Wellington 2014

43 (-2) Shane Watson Aus 388* 33.36 633 v SA at Cape Town 2011

50 (+1) Suranga Lakmal SL 346*! 47.95 346 v NZ at Christchurch 2014

53 (+16) Josh Hazlewood Aus 324*! 28.55 324 v Ind at Melbourne 2014

58 (+6) Imran Tahir SA 304* 46.39 312 v Pak at Dubai 2013

60 ( - ) Jerome Taylor WI 303* 35.45 717 v Eng at Kingston 2009


All-rounders

Rank (+/-) Player Team Pts HS Rating

1 ( - ) Shakib Al Hasan Ban 398 419 v Zim at Khulna 2014

2 ( - ) Vernon Philander SA 372*/ 376 v Aus at Cape Town 2014

3 ( - ) R. Ashwin Ind 325*/ 419 v WI at Mumbai 2013

4 ( - ) Mitchell Johnson Aus 297 384 v Eng at Cardiff 2009

5 ( - ) Stuart Broad Eng 296 382 v Pak at Abu Dhabi 2012