It was a day full of runs for Team India on a placid track as local boy Cheteshwar Pujara and opening batsman Murali Vijay struck impressive centuries on Friday, to push India's first innings tally to 319 for 45 in response to England's mammoth 537.
Here are the statistical highlights from the 3rd day's play of the first Test played between India and England in Rajkot on Friday.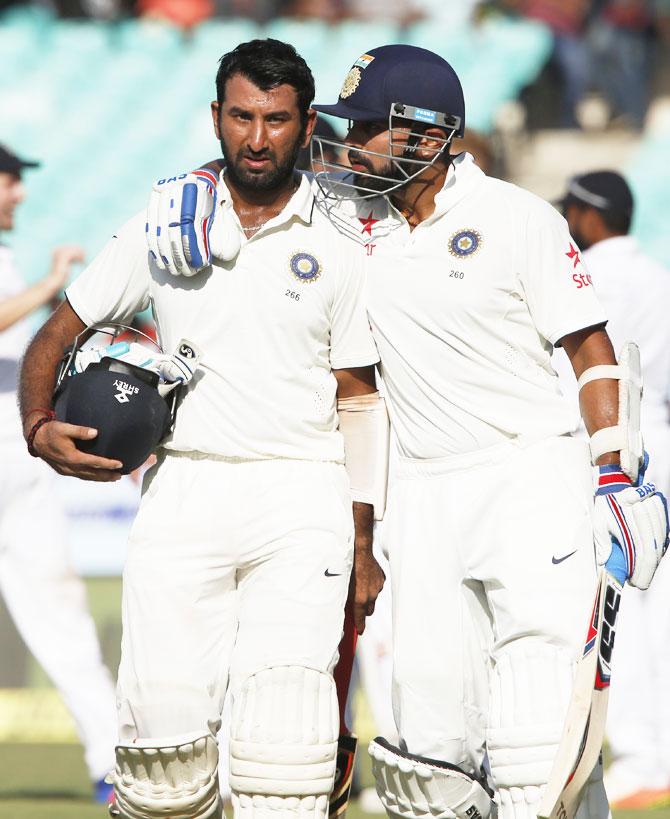 IMAGE: Cheteshwar Pujara and Murali Vijay. Photograph: BCCI
# For the sixth time in the first two innings of a Test match in India, five hundreds or more have been recorded -- India vs New Zealand Test at Mohali in 2003-04 and India vs South Africa Test at Kolkata in 2009-10 had witnessed six centuries in the first two innings of a Test match.
- PHOTOS: India dominate before late wickets boost England
- Vijay, Pujara lead India's fightback with tons
# Cheteshwar Pujara has recorded his ninth century (124) in Tests -- his third vs England -- the most by him against a team.
# Pujara's first two centuries vs England were 206 not out (a career-best) at Ahmedabad and 135 at Mumbai -- both in 2012. Of his nine hundreds, seven have been on Indian soil.
# Murali Vijay's splendid seventh century (126) in Tests is his second against England. His first hundred against England was 146 at Nottingham in July 2014.
# Before his above century, his last three-figure innings was 150 vs Bangladesh at Fatullah in June 2015. Since then he gone 16 consecutive innings without a century.
# Vijay's 126 off 301 balls is his lowest score while recording a century in Tests -- the previous lowest being 139 vs Australia at Bangalore in October 2010.
# Vijay's strike rate of 41.86 is his second lowest while scoring a hundred in Tests -- the lowest being 40.44 while scoring 146 vs England at Nottingham in July 2014.
# Vijay has registered four hundreds in Tests at home and three away from home.
# In 14 Tests under Virat Kohli's captaincy, Vijay has registered two centuries.
# Murali Vijay and Cheteshwar Pujara became the first Indian pair to manage 2000 runs in partnership aggregate and touch an average of 65 (65.03) -- their aggregate being 2081 runs in 32 innings, including six century stands and nine of 50-plus partnerships.
# Pujara and Vijay put on 209 for the second wicket -- India's second highest for the second wicket vs England in Tests next only to the 314 between Rahul Dravid & Gautam Gambhir at Mohali in December 2008.
# Pujara and Vijay have registered their second partnership of 200 or more in Tests for the second wicket. Rahul Dravid and Virender Sehwag had shared three double century stands for this wicket-position while Dravid and Gambhir had put on two double century stands.
# Pujara and Vijay's highest partnership in Tests is 370 for the second wicket vs Australia at Hyderabad in March 2013.