India defeated Bangladesh by 208 runs in the one-off Test which lasted five days, beating expectations of an early finish owing to the visitors' minnow status, in Hyderabad, on Monday. The win also took India's unbeaten streak to 19 Tests.
This was India's the sixth successive series victory under Virat Kohli starting from Sri Lanka series in 2015.
Rajneesh Gupta presents some interesting numbers from Day 5: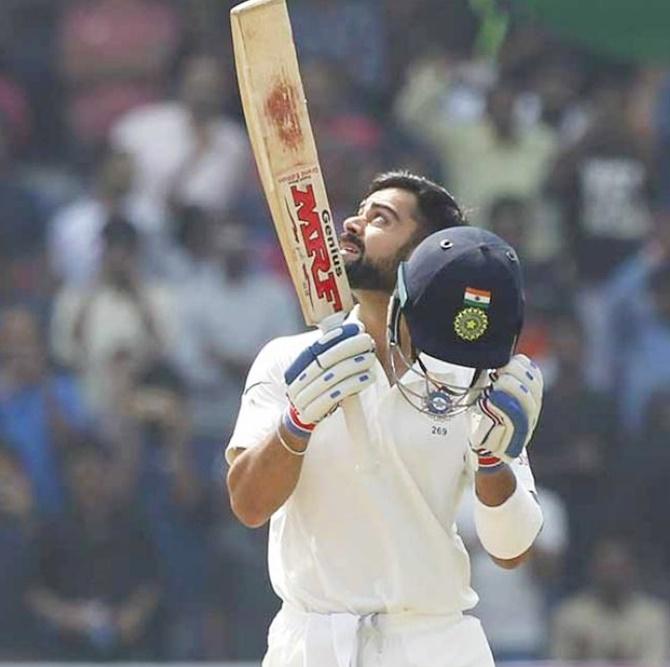 IMAGE: This is India's the sixth successive series victory under Virat Kohli. Photograph: BCCI
19 Number of consecutive Tests India have now played under Virat Kohli without suffering a loss – the longest undefeated streak for any Indian captain, beating Sunil Gavaskar's streak of 18 Tests between 1976 and 1980.
1 Number of captains who had more wins in first 23 Tests than Virat Kohli. Australia's Steve Waugh had won 17 Tests at the same stage. However, Waugh suffered four losses as against only two by Kohli. Two other captains – Ricky Ponting and Michael Vaughan- also registered 15 wins in first 23 Tests.
6 Number of consecutive series wins for India since beating Sri Lanka 2-1 in Sri Lanka in 2015 – their longest winning streak in Tests. India had won five consecutive series between October 2008 and January 2010.
20 Number of consecutive home Tests in which India have not suffered a defeat (they had last lost a Test at home to England at Kolkata in December 2012). This equals India's longest streak at home without a defeat. They had also not lost a single Test out of 20 between 1977 and 1980.
0 Number of Tests Virat Kohli has lost as captain in 13 home Tests. He, however, has a long way to go to equal the existing Indian record, which is held by Sunil Gavaskar. Gavaskar did not suffer a defeat in his first 25 home Tests!
2012 The last time a visiting side batted for 100 overs in both the innings of a Test in India before Bangladesh. England batted for 145.5 overs in the first innings of Nagpur Test and for 154 overs in the second. The Test ended in a draw.
100% Virat Kohli's record after not enforcing the follow-on (despite being entitled to do so) – four wins out of four now!
638 Runs scored by Bangladesh in the Test – most they have scored against India, beating 545 they made at Mirpur in 2009-10.
1484 Runs scored by both sides in the Test – third most in a Test on Indian soil in which a result was achieved. The record is 1494 runs in the Bangalore Test between India and Pakistan in 2004-05. The Kolkata Test between India and Australia in 2000-01 saw 1485 runs being scored. Incidentally 1488 runs were scored in the tied Test between India and Australia at Chennai in 1986-87.
3 Number of man of match awards won by Virat Kohli as captain, equalling Sachin Tendulkar's tally. Now only Kapil Dev and Mohammad Azharuddin have won more awards than Kohli as India's captain – 4 each.