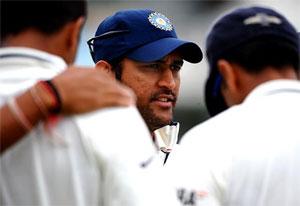 India will be looking to better their head-to-head record when they take on the West Indies in the first of the two-Test series at the Eden Gardens in Kolkata, starting on Wednesday.
Overall, the West Indies have won twice the number of matches than India, with 30 victories out of 88 games, with India winning just 14, and 44 ending in draws.
Their record in India is also quite good, having won a lot of matches in the last century. They boast of a better win record against India in their own backyard, with 14 victories as compared to India's nine in 43 games.
Amazingly, West Indies have lost just three Test series in India, starting from 1948-49. India won a close series 1-0 in 1978-79, while winning the last series against the men from the Caribbean, in 2002-03 and 2011-12.
Rajneesh Gupta presents a detailed statistical analysis involving the two teams:


Head to Head
| | | | | |
| --- | --- | --- | --- | --- |
| | Mts | Ind | WI | Drawn |
| Overall | 88 | 14 | 30 | 44 |
| in India | 43 | 9 | 14 | 20 |
| in West Indies | 45 | 5 | 16 | 24 |
India's Test series in India
| | | | | | |
| --- | --- | --- | --- | --- | --- |
| Season | Mts | Ind | WI | Drawn | Won by |
| 1948-49 | 5 | 0 | 1 | 4 | West Indies |
| 1958-59 | 5 | 0 | 3 | 2 | West Indies |
| 1966-67 | 3 | 0 | 2 | 3 | West Indies |
| 1974-75 | 5 | 2 | 3 | 0 | West Indies |
| 1978-79 | 6 | 1 | 0 | 5 | India |
| 1983-84 | 6 | 0 | 3 | 3 | West Indies |
| 1987-88 | 4 | 1 | 1 | 2 | Drawn |
| 1994-95 | 3 | 1 | 1 | 1 | Drawn |
| 2002-03 | 3 | 2 | 0 | 1 | India |
| 2011-12 | 3 | 2 | 0 | 1 | India |
Series summary
| | | | | |
| --- | --- | --- | --- | --- |
| | Series | Ind | WI | Drawn |
| in India | 10 | 3 | 5 | 2 |
| in West Indies | 10 | 3 | 7 | 0 |
| Total | 20 | 6 | 12 | 2 |
Highest totals
India
| | | | | |
| --- | --- | --- | --- | --- |
| Total | Venue | Season | Inns | Test |
| 644-7d | Kanpur | 1978-79 | 1st | 6th |
| 631-7d | Kolkata | 2011-12 | 1st | 2nd |
| 588-8d | Gros Islet | 2006 | 1st | 2nd |
| 566-8d | Delhi | 1978-79 | 1st | 5th |
| 565 | Kolkata | 1987-88 | 1st | 3rd |
West Indies
| | | | | |
| --- | --- | --- | --- | --- |
| Total | Venue | Season | Inns | Tst |
| 644-8d | Delhi | 1958-59 | 1st | 5th |
| 631 | Delhi | 1948-49 | 1st | 1st |
| 631-8d | Kingston | 1961-62 | 1st | 2nd |
| 629-6d | Mumbai BS | 1948-49 | 1st | 2nd |
| 629-9d | St. John's | 2001-02 | 1st | 4th |
| 614-5d | Kolkata | 1958-59 | 1st | 3rd |
| 604-6d | Mumbai WS | 1974-75 | 1st | 5th |
| 590 | Mumbai WS | 2011-12 | 1st | 3rd |
| 582 | Chennai | 1948-49 | 1st | 4th |
| 581 | Basseterre | 2006 | 1st | 3rd |
| 576 | Kingston | 1952-53 | 1st | 5th |
| 550 | St. John's | 1982-83 | 1st | 5th |
Lowest totals
India
| | | | | |
| --- | --- | --- | --- | --- |
| Total | Venue | Season | Inns | Tst |
| 75 | Delhi | 1987-88 | 1st | 1st |
| 81 | Bridgetown | 1996-97 | 2nd | 3rd |
| 90 | Kolkata | 1983-84 | 2nd | 5th |
| 97# | Kingston | 1975-76 | 2nd | 4th |
| 98 | Port-of-Spain | 1961-62 | 2nd | 1st |
| 102 | Bridgetown | 2001-02 | 1st | 3rd |
| 103 | Ahmedabad | 1983-84 | 2nd | 3rd |
| 114+ | Mohali | 1994-95 | 2nd | 3rd |
| 118@ | Bangalore | 1974-75 | 2nd | 1st |
| 124 | Kolkata | 1958-59 | 1st | 3rd |
| 129+ | Bridgetown | 1952-53 | 2nd | 2nd |
| 144 | Chennai | 1948-49 | 2nd | 4th |
| 150 | Port-of-Spain | 1988-89 | 1st | 3rd |
# batted five men short + batted one man short @ batted two men short
West Indies
| | | | | |
| --- | --- | --- | --- | --- |
| Total | Venue | Season | Inns | Tst |
| 103 | Kingston | 2006 | 1st | 5th |
| 127 | Delhi | 1987-88 | 1st | 1st |
| 134 | Mumbai WS | 2011-12 | 2nd | 3rd |
| 140 | Bridgetown | 1996-97 | 2nd | 3rd |
Highest match aggregates
| | | | | |
| --- | --- | --- | --- | --- |
| Total | Wkts | Venue | Series | Tst |
| 1478 | 38 | Port-of-Spain | 1970-71 | 5th |
| 1448 | 39 | Mumbai WS | 2011-12 | 3rd |
| 1431 | 35 | St.John's | 2006 | 1st |
| 1424 | 33 | Kingston | 1952-53 | 5th |
| 1417 | 29 | Mumbai WS | 1974-75 | 5th |
| 1413 | 30 | Basseterre | 2006 | 3rd |
| 1403 | 37 | Chennai | 1966-67 | 3rd |
Lowest match aggregates (in a decided match)
| | | | | |
| --- | --- | --- | --- | --- |
| Total | Wkts | Venue | Series | Tst |
| 605 | 30 | Port-of-Spain | 1961-62 | 1st |
| 693 | 40 | Kingston | 2006 | 5th |
| 708 | 30 | Kolkata | 1983-84 | 5th |
| 735 | 30 | Kolkata | 1966-67 | 2nd |
Individual hundreds
India: 77
West Indies: 101
Highest individual innings
India
| | | | | | |
| --- | --- | --- | --- | --- | --- |
| Batsman | Runs | Inns | Tst | Venue | Season |
| SM Gavaskar | 236* | 1st | 6th | Chennai | 1983-84 |
| SM Gavaskar | 220 | 2nd | 5th | Port-of-Spain | 1970-71 |
| DN Sardesai | 212 | 1st | 1st | Kingston | 1970-71 |
| W Jaffer | 212 | 2nd | 1st | St.John's | 2006 |
| SM Gavaskar | 205 | 1st | 1st | Mumbai WS | 1978-79 |
| NS Sidhu | 201 | 1st | 2nd | Port-of-Spain | 1996-97 |
West Indies
| | | | | | |
| --- | --- | --- | --- | --- | --- |
| Batsman | Runs | Inns | Tst | Venue | Season |
| RB Kanhai | 256 | 1st | 3rd | Kolkata | 1958-59 |
| SFAF Bacchus | 250 | 1st | 6th | Kanpur | 1978-79 |
| CH Lloyd | 242* | 1st | 5th | Mumbai WS | 1974-75 |
| FMM Worrell | 237 | 1st | 5th | Kingston | 1952-53 |
| CL Hooper | 233 | 1st | 1st | Georgetown | 2001-02 |
| EdeC Weekes | 207 | 1st | 1st | Port-of-Spain | 1952-53 |
Most runs in a match
India
| | | | | | | |
| --- | --- | --- | --- | --- | --- | --- |
| Batsman | Runs | Tst | Venue | Season | 1st | 2nd |
| SM Gavaskar | 344 | 5th | Port-of-Spain | 1970-71 | 124 | 220 |
| SM Gavaskar | 289 | 3rd | Kolkata | 1978-79 | 107 | 182* |
| SM Gavaskar | 278 | 1st | Mumbai WS | 1978-79 | 205 | 73 |
West Indies
| | | | | | | |
| --- | --- | --- | --- | --- | --- | --- |
| Batsman | Runs | Tst | Venue | Season | 1st | 2nd |
| CH Lloyd | 279 | 5th | Mumbai WS | 1974-75 | 242* | 37 |
| EdeC Weekes | 263 | 3rd | Kolkata | 1948-49 | 162 | 101 |
| FMM Worrell | 260 | 5th | Kingston | 1952-53 | 237 | 23 |
| RB Kanhai | 256 | 3rd | Kolkata | 1958-59 | 256 | - |
| JC Adams | 252 | 3rd | Mohali | 1994-95 | 174* | 78* |
| SFAF Bacchus | 250 | 6th | Kanpur | 1978-79 | 250 | - |
Most runs in a series
India
| | | | | | | | | | | |
| --- | --- | --- | --- | --- | --- | --- | --- | --- | --- | --- |
| Batsman | Runs | Season | Mts | Inns | NO | Avg | Hs | 100 | 50 | 0 |
| SM Gavaskar | 774 | 1970-71 | 4 | 8 | 3 | 154.80 | 220 | 4 | 3 | 0 |
| SM Gavaskar | 732 | 1978-79 | 6 | 9 | 1 | 91.50 | 205 | 4 | 1 | 1 |
| DN Sardesai | 642 | 1970-71 | 5 | 8 | 0 | 80.25 | 212 | 3 | 1 | 0 |
West Indies
| | | | | | | | | | | |
| --- | --- | --- | --- | --- | --- | --- | --- | --- | --- | --- |
| Batsman | Runs | Season | Mts | Inns | NO | Avg | Hs | 100 | 50 | 0 |
| EdeC Weekes | 779 | 1948-49 | 5 | 7 | 0 | 111.29 | 194 | 4 | 2 | 0 |
| EdeC Weekes | 716 | 1952-53 | 5 | 8 | 1 | 102.29 | 207 | 3 | 2 | 0 |
| CH Lloyd | 636 | 1974-75 | 5 | 9 | 1 | 79.50 | 242* | 2 | 1 | 0 |
| RB Richardson | 619 | 1988-89 | 4 | 7 | 0 | 88.43 | 194 | 2 | 3 | 0 |
Leading run-scorers
India
| | | | | | | | | | |
| --- | --- | --- | --- | --- | --- | --- | --- | --- | --- |
| Batsman | Runs | M | Inn | NO | Avg | Hs | 100 | 50 | 0 |
| SM Gavaskar | 2749 | 27 | 48 | 6 | 65.45 | 236* | 13 | 7 | 5 |
| R Dravid | 1978 | 23 | 38 | 7 | 63.81 | 146 | 5 | 13 | 0 |
| VVS Laxman | 1715 | 22 | 36 | 6 | 57.17 | 176* | 4 | 11 | 3 |
| DB Vengsarkar | 1596 | 25 | 40 | 4 | 44.33 | 159 | 6 | 7 | 5 |
| SR Tendulkar | 1546 | 19 | 30 | 2 | 55.21 | 179 | 3 | 9 | 3 |
| GR Viswanath | 1455 | 18 | 28 | 1 | 53.89 | 179 | 4 | 7 | 1 |
| PR Umrigar | 1372 | 16 | 30 | 3 | 50.81 | 172* | 3 | 10 | 0 |
| Kapil Dev | 1079 | 25 | 39 | 4 | 30.83 | 126* | 3 | 4 | 4 |
| M Amarnath | 1076 | 17 | 30 | 2 | 38.43 | 117 | 3 | 6 | 5 |
| AD Gaekwad | 1032 | 22 | 38 | 1 | 27.89 | 102 | 1 | 6 | 2 |
West Indies
| | | | | | | | | | |
| --- | --- | --- | --- | --- | --- | --- | --- | --- | --- |
| Batsman | Runs | M | Inn | NO | Avg | HS | 100 | 50 | 0 |
| CH Lloyd | 2344 | 28 | 44 | 4 | 58.60 | 242* | 7 | 12 | 1 |
| S Chanderpaul | 2038 | 23 | 40 | 9 | 65.74 | 140 | 7 | 10 | 0 |
| IVA Richards | 1927 | 28 | 41 | 3 | 50.71 | 192* | 8 | 7 | 1 |
| GStA Sobers | 1920 | 18 | 30 | 7 | 83.48 | 198 | 8 | 7 | 2 |
| RB Kanhai | 1693 | 18 | 28 | 1 | 62.70 | 256 | 4 | 7 | 1 |
| CG Greenidge | 1678 | 23 | 39 | 4 | 47.94 | 194 | 5 | 8 | 3 |
| EdeC Weekes | 1495 | 10 | 15 | 1 | 106.79 | 207 | 7 | 4 | 0 |
| CL Hooper | 1357 | 19 | 30 | 2 | 48.46 | 233 | 5 | 3 | 0 |
| AI Kallicharran | 1229 | 15 | 25 | 3 | 55.86 | 187 | 3 | 7 | 2 |
| BC Lara | 1002 | 17 | 29 | 0 | 34.55 | 120 | 2 | 6 | 3 |
Victims of 99
India : no instance
West Indies :
| | | | | | |
| --- | --- | --- | --- | --- | --- |
| Batsman | Runs | Inns | Tst | Venue | Season |
| RB Kanhai | 99 | 1st | 4th | Madras (Corp.) | 1958-59 |
| MLC Foster | 99 | 1st | 5th | Port-of-Spain | 1970-71 |
| RB Richardson | 99 | 2nd | 3rd | Port-of-Spain | 1988-89 |
Record partnership for each wicket
India
| | | | | | | |
| --- | --- | --- | --- | --- | --- | --- |
| Batsmen | Wkt | Runs | Inn | Tst | Venue | Series |
| SB Bangar & V Sehwag | 1st | 201 | 1st | 1st | Mumbai WS | 2002-03 |
| SM Gavaskar & DB Vengsarkar | 2nd | 344* | 2nd | 3rd | Kolkata | 1978-79 |
| W Jaffer & R Dravid | 3rd | 203 | 2nd | 1st | St.John's | 2006 |
| GR Viswanath & AD Gaekwad | 4th | 172 | 1st | 6th | Kanpur | 1978-79 |
| SR Tendulkar & VVS Laxman | 5th | 214 | 2nd | 3rd | Kolkata | 2002-03 |
| SM Gavaskar & RJ Shastri | 6th | 170 | 1st | 6th | Chennai | 1983-84 |
| VVS Laxman & MS Dhoni | 7th | 224 | 1st | 2nd | Kolkata | 2011-12 |
| R Dravid & Sarandeep Singh | 8th | 120* | 1st | 1st | Georgetown | 2001-02 |
| SM Gavaskar & SMH Kirmani | 9th | 143* | 1st | 6th | Chennai | 1983-84 |
| J Srinath & SLV Raju | 10th | 64 | 1st | 3rd | Mohali | 1994-95 |
West Indies
| | | | | | | |
| --- | --- | --- | --- | --- | --- | --- |
| Batsmen | Wkt | Runs | Inn | Tst | Venue | Series |
| CG Greenidge & DL Haynes | 1st | 296 | 1st | 5th | St. John's | 1982-83 |
| EDAS McMorris & RB Kanhai | 2nd | 255 | 1st | 2nd | Kingston | 1961-62 |
| IVA Richards & AI Kallicharran | 3rd | 220 | 1st | 1st | Bridgetown | 1975-76 |
| CL Walcott & GE Gomez | 4th | 267 | 1st | 1st | Delhi | 1948-49 |
| CL Hooper & S Chanderpaul | 5th | 293 | 1st | 1st | Georgetown | 2001-02 |
| CH Lloyd & DL Murray | 6th | 250 | 1st | 5th | Mumbai WS | 1974-75 |
| CG Greenidge & MD Marshall | 7th | 130 | 1st | 1st | Kanpur | 1983-84 |
| IVA Richards & KD Boyce | 8th | 124 | 1st | 2nd | Delhi | 1974-75 |
| CH Lloyd & AME Roberts | 9th | 161 | 1st | 5th | Kolkata | 1983-84 |
| FMM Worrell & WW Hall | 10th | 98* | 1st | 4th | Port-of-Spain | 1961-62 |
Best bowling in an innings
India
| | | | | | | |
| --- | --- | --- | --- | --- | --- | --- |
| Bowler | Wkts | Runs | Inns | Tst | Venue | Season |
| Kapil Dev | 9 | 83 | 2nd | 3rd | Ahmedabad | 1983-84 |
| SP Gupte | 9 | 102 | 1st | 2nd | Kanpur | 1958-59 |
| ND Hirwani | 8 | 61 | 1st | 4th | Chennai | 1987-88 |
| ND Hirwani | 8 | 75 | 2nd | 4th | Chennai | 1987-88 |
| Harbhajan Singh | 7 | 48 | 2nd | 1st | Mumbai WS | 2002-03 |
| BS Chandrasekhar | 7 | 157 | 1st | 1st | Mumbai BS | 1966-67 |
| DG Phadkar | 7 | 159 | 1st | 4th | Chennai | 1948-49 |
| SP Gupte | 7 | 162 | 1st | 1st | Port-of-Spain | 1952-53 |
West Indies
| | | | | | | |
| --- | --- | --- | --- | --- | --- | --- |
| Bowler | Wkts | Runs | Inns | Tst | Venue | Season |
| JM Noreiga | 9 | 95 | 1st | 2nd | Port-of-Spain | 1970-71 |
| LR Gibbs | 8 | 38 | 2nd | 3rd | Bridgetown | 1961-62 |
| AME Roberts | 7 | 64 | 1st | 4th | Chennai | 1974-75 |
| LR Gibbs | 7 | 98 | 1st | 5th | Mumbai WS | 1974-75 |
Best bowling in a match
India
| | | | | | | | |
| --- | --- | --- | --- | --- | --- | --- | --- |
| Bowler | Wkts | Runs | Tst | Venue | Season | 1st | 2nd |
| ND Hirwani | 16 | 136 | 4th | Chennai | 1987-88 | 8/61 | 8/75 |
| BS Chandrasekhar | 11 | 235 | 1st | Mumbai BS | 1966-67 | 7/157 | 4/78 |
| I Sharma | 10 | 108 | 2nd | Bridgetown | 2011 | 6/55 | 4/53 |
| Kapil Dev | 10 | 135 | 3rd | Ahmedabad | 1983-84 | 1/52 | 9/83 |
| SP Gupte | 10 | 223 | 2nd | Kanpur | 1958-59 | 9/102 | 1/121 |
West Indies
| | | | | | | | |
| --- | --- | --- | --- | --- | --- | --- | --- |
| AME Roberts | 12 | 121 | 4th | Chennai | 1974-75 | 7/64 | 5/57 |
| MD Marshall | 11 | 89 | 3rd | Port-of-Spain | 1988-89 | 5/34 | 6/55 |
| WW Hall | 11 | 126 | 2nd | Kanpur | 1958-59 | 6/50 | 5/76 |
| CA Walsh | 10 | 101 | 4th | Kingston | 1988-89 | 6/62 | 4/39 |
Hat-tricks
No instance from either side
Most wickets in a series
India
| | | | | | | |
| --- | --- | --- | --- | --- | --- | --- |
| Bowler | Series | M | Wkts | Avg | 10WM | 5WI |
| Kapil Dev | 1983-84 | 6 | 29 | 18.52 | 1 | 2 |
| SP Gupte | 1952-53 | 5 | 27 | 29.22 | 0 | 3 |
| KD Ghavri | 1978-79 | 6 | 27 | 23.48 | 0 | 1 |
West Indies
| | | | | | | |
| --- | --- | --- | --- | --- | --- | --- |
| Bowler | Series | M | Wkts | Avg | 10WM | 5WI |
| MD Marshall | 1983-84 | 6 | 33 | 18.82 | 0 | 2 |
| AME Roberts | 1974-75 | 5 | 32 | 18.28 | 1 | 3 |
| WW Hall | 1958-59 | 5 | 30 | 17.67 | 1 | 2 |
| MA Holding | 1983-84 | 6 | 30 | 22.10 | 0 | 1 |
| AL Valentine | 1952-53 | 5 | 28 | 29.57 | 0 | 2 |
| WW Hall | 1961-62 | 5 | 27 | 15.74 | 0 | 2 |
| R Gilchrist | 1958-59 | 4 | 26 | 16.12 | 0 | 1 |
| CA Walsh | 1987-88 | 4 | 26 | 16.81 | 0 | 2 |
Leading wicket-takers
India
| | | | | | | | | |
| --- | --- | --- | --- | --- | --- | --- | --- | --- |
| Bowler | Wkts | M | Balls | Runs | Avg | Best | 10WM | 5WI |
| Kapil Dev | 89 | 25 | 4639 | 2216 | 24.90 | 9/83 | 1 | 4 |
| A Kumble | 74 | 17 | 4693 | 2204 | 29.78 | 6/78 | 0 | 4 |
| S Venkataraghavan | 68 | 23 | 6540 | 2684 | 39.47 | 5/95 | 0 | 1 |
| BS Chandrasekhar | 65 | 15 | 4293 | 2179 | 33.52 | 7/157 | 1 | 4 |
| BS Bedi | 62 | 18 | 5447 | 2163 | 34.89 | 5/82 | 0 | 1 |
West Indies
| | | | | | | | | |
| --- | --- | --- | --- | --- | --- | --- | --- | --- |
| Bowler | Wkts | M | Balls | Runs | Avg | Best | 10WM | 5WI |
| MD Marshall | 76 | 17 | 3507 | 1671 | 21.99 | 6/37 | 1 | 6 |
| AME Roberts | 67 | 14 | 3029 | 1454 | 21.70 | 7/64 | 1 | 4 |
| WW Hall | 65 | 13 | 2774 | 1221 | 18.78 | 6/49 | 1 | 4 |
| CA Walsh | 65 | 15 | 3124 | 1316 | 20.25 | 6/62 | 1 | 4 |
| LR Gibbs | 63 | 15 | 4793 | 1467 | 23.29 | 8/38 | 0 | 4 |
| MA Holding | 61 | 15 | 3142 | 1543 | 25.30 | 6/65 | 0 | 2 |
| GStA Sobers | 59 | 18 | 4301 | 1516 | 25.69 | 5/63 | 0 | 1 |
Most dismissals by a keeper in an innings
India
| | | | | | | | |
| --- | --- | --- | --- | --- | --- | --- | --- |
| Keeper | Dis | Ct | St | Inn | Tst | Venue | Season |
| KS More | 5 | 0 | 5 | 2nd | 4th | Chennai | 1987-88 |
| MS Dhoni | 5 | 5 | 0 | 1st | 3rd | Mumbai WS | 2011-12 |
West Indies
| | | | | | | | |
| --- | --- | --- | --- | --- | --- | --- | --- |
| Keeper | Dis | Ct | St | Inn | Tst | Venue | Season |
| DA Murray | 5 | 5 | 0 | 1st | 5th | Delhi | 1978-79 |
| PJL Dujon | 5 | 5 | 0 | 1st | 1st | Kingston | 1982-83 |
| RD Jacobs | 5 | 4 | 1 | 1st | 1st | Mumbai WS | 2002-03 |
Most dismissals by a keeper in a match
India
| | | | | | | |
| --- | --- | --- | --- | --- | --- | --- |
| Keeper | Dis | Ct | St | Tst | Venue | Season |
| MS Dhoni | 8 | 6 | 2 | 3rd | Mumbai WS | 2011-12 |
| KS More | 7 | 1 | 6 | 4th | Chennai | 1987-88 |
| KS More | 6 | 5 | 1 | 3rd | Port-of-Spain | 1988-89 |
| MS Dhoni | 6 | 4 | 2 | 1st | St.John's | 2006 |
West Indies
| | | | | | | |
| --- | --- | --- | --- | --- | --- | --- |
| Keeper | Dis | Ct | St | Tst | Venue | Season |
| FCM Alexander | 6 | 6 | 0 | 4th | Madras (Corp.) | 1958-59 |
| PJL Dujon | 6 | 6 | 0 | 1st | Kingston | 1982-83 |
| PJL Dujon | 6 | 6 | 0 | 2nd | Bridgetown | 1988-89 |
| PJL Dujon | 6 | 6 | 0 | 3rd | Port-of-Spain | 1988-89 |
Most dismissals by a keeper in a series
India
| | | | | | |
| --- | --- | --- | --- | --- | --- |
| Keeper | Dis | Ct | St | Mts | Season |
| MS Dhoni | 17 | 13 | 4 | 4 | 2006 |
| MS Dhoni | 14 | 11 | 3 | 3 | 2011-12 |
| NR Mongia | 13 | 13 | 0 | 5 | 1996-97 |
West Indies
| | | | | | |
| --- | --- | --- | --- | --- | --- |
| Keeper | Dis | Ct | St | Mts | Season |
| PJL Dujon | 19 | 18 | 1 | 5 | 1982-83 |
| FCM Alexander | 18 | 18 | 0 | 5 | 1958-59 |
| DA Murray | 18 | 17 | 1 | 6 | 1978-79 |
| PJL Dujon | 16 | 16 | 0 | 6 | 1983-84 |
| DL Murray | 15 | 14 | 1 | 5 | 1974-75 |
| PJL Dujon | 14 | 14 | 0 | 4 | 1988-89 |
Leading wicketkeepers
India
| | | | | |
| --- | --- | --- | --- | --- |
| Keeper | Dis | Ct | St | Mts |
| MS Dhoni | 43 | 36 | 7 | 10 |
| SMH Kirmani | 36 | 29 | 7 | 21 |
| KS More | 21 | 12 | 9 | 8 |
West Indies
| | | | | |
| --- | --- | --- | --- | --- |
| Keeper | Dis | Ct | St | Mts |
| PJL Dujon | 60 | 58 | 2 | 19 |
| DL Murray | 27 | 24 | 3 | 9 |
Most catches by a fielder in an innings
India
| | | | | | |
| --- | --- | --- | --- | --- | --- |
| Fielder | Ct | Inn | Tst | Venue | Season |
| ED Solkar | 4 | 1st | 2nd | Port-of-Spain | 1970-71 |
West Indies
| | | | | | |
| --- | --- | --- | --- | --- | --- |
| Fielder | Ct | Inn | Tst | Venue | Season |
| EdeC Weekes | 4 | 2nd | 5th | Kingston | 1952-53 |
| IVA Richards | 4 | 1st | 4th | Kingston | 1988-89 |
| BC Lara | 4 | 2nd | 4th | Kingston | 2006 |
Most catches by a fielder in a match
India
| | | | | |
| --- | --- | --- | --- | --- |
| Fielder | Ct | Tst | Venue | Season |
| ED Solkar | 6 | 2nd | Port-of-Spain | 1970-71 |
| L Amarnath | 5 | 5th | Mumbai BS | 1948-49 |
West Indies
| | | | | |
| --- | --- | --- | --- | --- |
| Fielder | Ct | Tst | Venue | Season |
| EdeC Weekes | 5 | 5th | Kingston | 1952-53 |
| RA Harper | 5 | 1st | Delhi | 1987-88 |
| IVA Richards | 5 | 4th | Kingston | 1988-89 |
| CL Hooper | 5 | 1st | Mumbai WS | 1994-95 |
Most catches by a fielder in a Series
India
| | | | |
| --- | --- | --- | --- |
| Fielder | Ct | Mts | Season |
| ED Solkar | 9 | 5 | 1970-71 |
| M Azharuddin | 9 | 5 | 1996-97 |
| SC Ganguly | 9 | 3 | 2002-03 |
West Indies
| | | | |
| --- | --- | --- | --- |
| Fielder | Ct | Mts | Season |
| BC Lara | 13 | 4 | 2006 |
| GStA Sobers | 11 | 5 | 1961-62 |
| IVA Richards | 10 | 4 | 1988-89 |
| EdeC Weekes | 9 | 5 | 1952-53 |
| RB Richardson | 9 | 4 | 1987-88 |
Leading fielders
India
| | | |
| --- | --- | --- |
| Fielder | Ct | Mts |
| R Dravid | 26 | 23 |
| ED Solkar | 20 | 10 |
| M Azharuddin | 20 | 14 |
West Indies
| | | |
| --- | --- | --- |
| Fielder | Ct | Mts |
| IVA Richards | 39 | 28 |
| GStA Sobers | 27 | 18 |
| BC Lara | 22 | 17 |
| CH Lloyd | 20 | 28 |