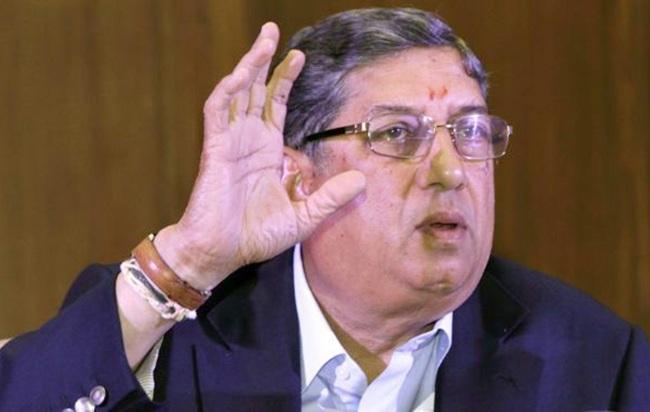 Narayanaswami Srinivasan. Photograph: PTI
Narayanaswami Srinivasan was unanimously elected president of the Tamil Nadu Cricket Association for the 14th consecutive time at its 85th Annual General Meeting in Chennai, on Friday.
Forced to step aside as BCCI president, and later withdrawing from a possible re-election because of the IPL spot-fixing scandal, the former chief of the Board of Control for Cricket in India and current ICC chairman was elected for a one-year term.
Incumbent secretary Kashi Viswanathan also retained his seat for another term while V P Narsimhan was elected treasurer.
Srinivasan is heading the TNCA since 2002-03, when he ended the reign of former BCCI president AC Muthiah.
The 70-year-old is in the line of fire ever since the 2013 IPL spot-fixing scandal rocked Indian cricket. He was forced to step aside as BCCI chief after his son-in-law, Gurunath Meiyappan, was found to be involved in betting by a Supreme Court-appointed inquiry committee.
Meiyappan was Team Principal of Chennai Super Kings, the IPL franchise in which Srinivasan's company – India Cements -- had a stake.
Rapped for conflict of interest by the apex Court, the Tamil Nadu strongman was eventually barred from contesting the BCCI polls in March this year.
Following the election of Jagmohan Dalmiya as BCCI president and Anurag Thakur as secretary, Srinivasan has lost significant clout in the BCCI.
However, he will continue to be ICC chairman till September 2016, a position he took over last year.
© Copyright 2021 PTI. All rights reserved. Republication or redistribution of PTI content, including by framing or similar means, is expressly prohibited without the prior written consent.