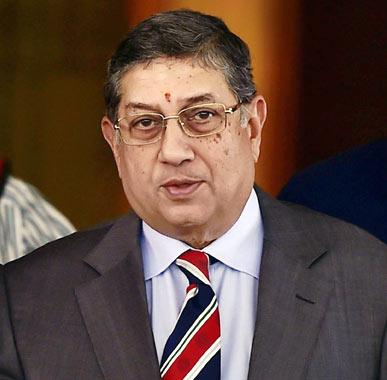 Former Board of Control for Cricket in India president Narayanswami Srinivasan tendered unconditional apology to the Supreme court for presiding over the Board's working committee meeting in Chennai on February 8.
"Srinivasan will not preside over the BCCI AGM (annual general meeting) on March 2," his counsel, Kapil Sibal, told the apex court.
- Why Srinivasan was barred from contesting BCCI elections
The Supreme Court barred Srinivasan from participating or chairing the BCCI's AGM on March 2, but allowed him to vote as nominee of the Tamil Nadu Cricket Association.
On Monday the court had expressed unhappiness over Srinivasan's participation in the February 8 meeting.
"Srinivasan should not have done this, we have certainly found that there is a conflict of interest," Justice Thakur had said.
"This makes him vulnerable. He should not have done this," he added.
Last month, the Supreme Court barred Srinivasan, who is the owner of IPL franchise Chennai Super Kings, from contesting any election of the Board on grounds of conflict of interest.

Striking down rules that permitted office-bearers of the BCCI to have a commercial interest by owning teams in the hugely-popular Indian Premier League and Champions League, a two-member bench of Justices T S Thakur and F M I Khalifulla, said, "Amendment in the BCCI rules allowing Srinivasan to own IPL team is bad as conflict of interest in cricket leads to great confusion.

"No one who has commercial interest, including N Srinivasan, shall be eligible for any post in the BCCI and this disqualification on ground of commercial interest shall continue till such commercial interest will exist," the bench had said on January 22.
- IPL Spot-fixing

Despite the court ruling, it was reported that Srinivasan did most of the talking and had complete control of the proceedings during the BCCI's Working Committee meeting earlier this month.

The Bench was hearing a petition filed by Cricket Association of Bihar, represented by senior advocate Nalini Chidambaram, alleging that Srinivasan and BCCI officials acted in "gross contempt" of the Supreme Court. It sought action against BCCI interim president Shivlal Yadav and secretary Sanjay Patil.
Image: Narayanswami Srinivasan
Photograph: PTI