'We have created a bit of history'
'It was a collective effort. Everyone was raring to go'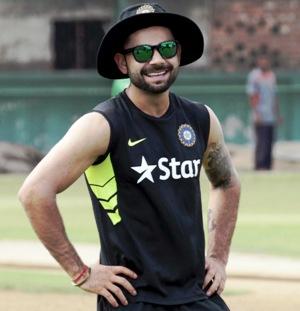 IMAGE: Virat Kohli is the youngest Indian captain to win an away series. Photograph: Reuters
India Test captain Virat Kohli described his team's 2-1 series triumph over Sri Lanka as a "magnificent milestone", adding his players are now part of history.
India defeated Sri Lanka by 117 runs in the third and final Test of the series in Colombo on Tuesday and registered their first series triumph in the island nation in 22 years.
"It's a magnificent milestone for a young team winning here (Sri Lanka) after 22 years. I am told that no Indian team has won a Test series coming back from being 0-1 down. So we have created a bit of history," a satisfied Kohli said, at the post-match presentation ceremony.
He was of the view that the dressing room environment was one of the primary reasons for the success.
"Even players like Bhuvi (Bhuvneshwar Kumar) and Varun Aaron, who did not play the last two Test matches, were helping us out.
"Harbhajan Singh, who is such a senior player, was also helping from outside.
"It was a collective effort. Everyone was raring to go and it's a victory on which our Test careers will be built," the skipper said.
'Pujara came in after someone was injured and he saw it as an opportunity'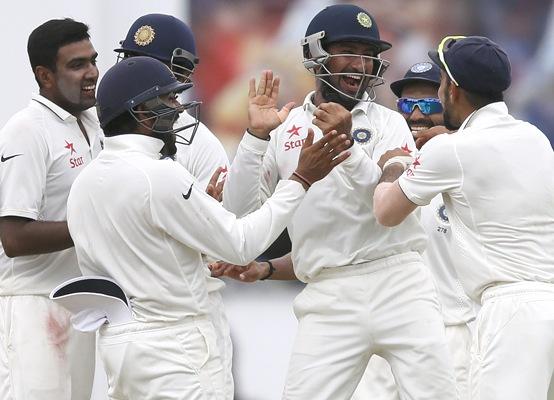 IMAGE: India's Cheteshwar Pujara, centre, celebrates with captain Kohli (right) and teammates. Photograph: Reuters
Man of the match Cheteshwar Pujara came in for special praise from the skipper, having come into the side with a spate of injuries plaguing the team.
"Injuries are always something that frustrates the team. But the attitude has been brilliant.
"Pujara came in after someone was injured and he saw it as an opportunity and not difficulty. That is why we are playing the kind of cricket we are playing," said Kohli.
He expressed satisfaction with the way the players performed.
"There are areas we want to improve on, but, over the series, we can count the number of sessions we were bad on one hand. Really proud of the boys," he said.
Pujara said, "It was a very good opportunity for me; we were 1-1 and we won the series now.
"Facing the new ball was challenging; it was an opportunity as well. My preparation was good, and my experience in international cricket has helped."