Sri Lanka skipper Kumar Sangakkara on Thursday said any effort to find another Muttiah Murailtharan would prove futile as world cricket will never see a bowler like the fascinating off-spinner.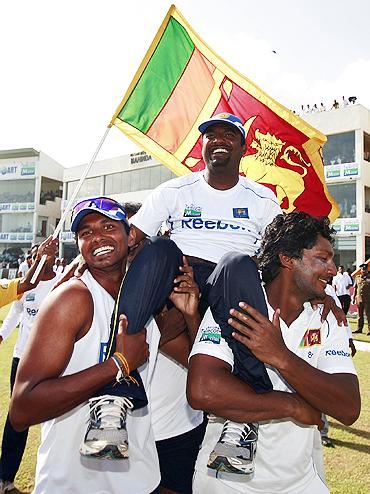 Murali quit Test cricket after his side defeated India by 10 wickets here and he completed an incredible tally of 800 wickets.
Sangakkarra said leading a side without the wily offie will be difficult for him. 
"I am never going to go around looking for another Murali. Because you are never going to find (any). He has played 18 magnificent years of Test cricket. 
"He has been the best bowler who has played the game. He has done so much for the team and for the country. For me leading a side minus Murali is a loss," he said at the post match press conference.
The Sri Lankan captain patted all his platers for a good team show which he said was instrumental in beating India. 
"It was important that we use Malinga and Murali in spells that counted. I think every spell that they bowled got us wickets. Those are the things that really won us the game. 
"We cannot forget Paranavitana getting a Test hundred. Herath and Malinga's contribution with the bat. Those are the things which took us to a position of strength. 
"Lasith like he does in one day cricket, turned it around in the Test and won us the game along with Murali. Indians, I think were constantly under pressure," he said. 
Sri Lanka have won eight out of nine Test series at home and when asked why their rate of success abroad is not that impressive, Sangakkara said problem lies in less amount of Test matches.
"Firstly I don't think we are playing enough Test cricket abroad. Two Test matches here and two there. That does not bode well for the side. We need to play Tests regularly.
"Right now we have a great bowling attack balanced in spin and pace. But it is just one of those things where any side playing home does not lose. I think we can do better away from home.
"Since 2006 we have done better. We won in New Zealand, we won in England. India, Pakistan and South are still eluding us. We need to play more Test matches in those countries. And that will be good for us," he said.