Sri Lanka will be hoping for help from wickets more suitable for spin bowling in the next two Tests against Australia after losing the opener by 137 runs on a Hobart track described as a "minefield" by coach Graham Ford.
-Australia go into 'quarantine' before Boxing Day Test
Spin has always been a key weapon in Sri Lanka's bowling armoury since they achieved test status in 1981, not least when wrist-spinner Muttiah Muralitharan was taking his 800 Test wickets from 1992 to 2010.
Since Muralitharan's retirement, Rangana Herath has emerged as the team's main spin threat and the 34-year-old left arm orthodox bowler has had a stellar year.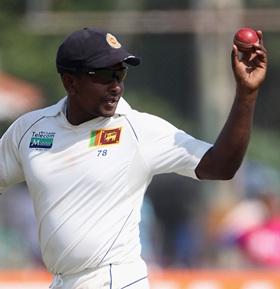 Even in defeat in Hobart, Herath took a five-wicket haul, which gave him 60 wickets for the year and ensured he would win his personal battle with England's Graeme Swann for the title of the most prolific wicket-taker of 2012.
"In Melbourne and Sydney, from what I've heard, it looks like it's some help for the spinners so that's a good start," he said after taking 5-95 in Australia's second innings.
"Taking five wickets from here, that's a good achievement. This is my first game playing in a Test match in Australia so I'm really happy with the way I bowled."
Coach Ford also thought conditions in the last two Tests would suit the tourists better.
"History suggests that the MCG and Sydney would help us a little bit more," he said.
"Although this is a new surface here, spinners haven't done so well whereas at the other venues, spinners have had match-winning performances.
"We'd like to think we are better equipped at those two grounds."
Ford was forced to concede that his pace bowling unit lacked the fire-power to "blow batsmen away" after the Australians had plundered runs off them before declaring at 450-5 in their first innings.
The South African was encouraged, however, by the improved performance by all his bowlers in the second Australian innings, where the hosts were bowled out for 278.
He was also confident that the big names in his batting line-up -- Mahela Jayawardene, Tillakaratne Dilshan and Kumar Sangakkara -- were starting to find their feet.
"It's always hard at the beginning of a tour and these days without a lot of time to prepare, you're straight in," he said.
"It can go one way or the other, things can go downhill or they can improve and I think over the five days all our players started to compete and started to improve."
One man they will have to shut down if they are to fight their way back into the series is middle order batsman Mike Hussey, who in the first innings scored his third century in his last four matches and a fifth in six Tests against Sri Lanka.
The 37-year-old now boasts 908 career runs at an impressive average of 129.71 against the Sri Lankans.
"He is an outstanding player," Ford said. "Over the years I guess he's been able to neutralise our main strength -- spin bowling -- and we haven't been able to get into him with seam bowling, so that's possibly the reason why he's done well, but he is a good player and has a good record, full stop."
Despite the defeat, which came in the final hour of the fifth day on Tuesday after six wickets fell in the last session, Ford was encouraged by the character the Sri Lankans showed to hold off the Australians for so long.
"During the five days there were areas we need to improve on, but if you just look at today, I'm unbelievably proud of the effort the boys put in," he said.
"That surface really became a minefield, it was very difficult, the Australians got the ball to reverse swing considerably. If I look at every delivery, it took a really special effort to get the batsmen out.
"As a coach, you can't really ask for more from your troops than that. Disappointed but at the same time proud of the effort."
Photograph: Tom Shaw/Getty Images