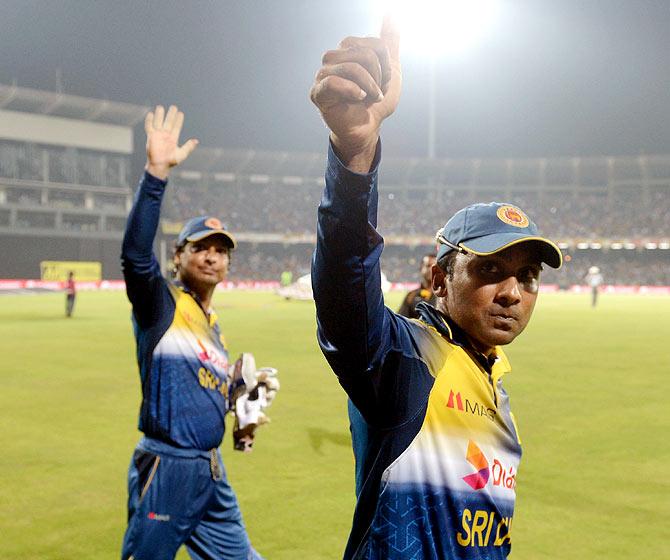 Mahela Jayawardene (left) and Kumar Sangakkara. Photograph: Gareth Copley/Getty Images
Mahela Jayawardene and Kumar Sangakkara might not have got a fairytale ending in their final ODI match of their glorious careers but the veterans smiled through the disappointment as they fondly recounted their respective journeys.
- World Cup PHOTOS: Tahir, Duminy spin South Africa into semis

The duo had already called time on their respective One-Day International careers before the ICC World Cup and it all ended on a bitterly disappointing note as Sri Lanka bowed out after a crushing nine-wicket loss to South Africa in the quarter-final, in Melbourne, on Wednesday.

Sangakkara, who came into this game with record four consecutive ODI hundreds, scored a patient 45 but saw an abject surrender from all the other Lankan batsmen as the innings folded for 133 in 37.2 overs.

South African spinners Imran Tahir and Jean-Paul Duminy claimed seven wickets between them with the latter taking a hat-trick.

The 37-year-old Sangakkara, who has scored 14,234 runs in 404 ODIs, was the ninth wicket to fall in the Sri Lankan innings after the batsman stood witness to no-show by the the formidable Lankan batting order.

Sangakkara, though, ended on a high after scoring 541 runs in seven matches of this edition and is still the highest run-scorer of the tournament so far.

He became the sixth player to score 500 runs in the World Cup. The loss notwithstanding, he remembered better things about him and partner Jayawardene.

"He (Mahela) would be terribly disappointed but that's part and parcel of the game, there are no fairytale endings. How much you want to win a World Cup, end on a high but if it doesn't happen, it doesn't happen, it doesn't mean you walk away disappointed," said a smiling Sangakkara after the match.

Sangakkara relished the days his playing days alongside good friend and team mate Jayawardene.

"It was always friendly, there was never any rivalry, other than when we played a warm-up game. When I got into the side, Mahela was two years there and he was already the vice captain and he was looked upto, he had a lot of respect. We was of the same age, we hung out together and that's how we became fast friends.

"When we batted in the field, it was great because he always looked to dominate and I could slip under the radar and coast along. We always knew that we had that little thing where if he accelerates I can take a backseat. It has been an absolute privileged to bat with him," he said.

Jayawardene, who had already quit the longest format, now bows out of the international scene after a career that started in 1997. He leaves with 17,838 first-class runs to his name, 11,814 of them in 149 Test matches. He played 448 ODIs, accumulating 12,650 runs.

However, Jayawardene didn't have the best of World Cups after managing just a solitary ton in the game against Afghanistan. But the elegant batsman has no regrets.

"The hardest thing was to evolve with everything, everyday something new, every team is trying something new, so for you to survive, you need to keep pushing yourself and that is the most important thing. To be mentally, physically trying to outdo oneself, something that has been the toughest thing.

"But playing cricket with this group of players, enjoying with them in the dressing room, has been satisfying. But the most challenging has been to evolve from I started in 1997 to now when cricket has improved drastically," he said.

"If you take the bowlers, the variations, they have a lot of variations under their armory. Even the batsmen they play so many different shots now. I think the tactics have changed, the way people look at the game has changed, it is more analysing. That's fantastic."
REDIFF RECOMMENDS: