The minister of state for Human Recourse Development Shashi Tharoor on Sunday said the arrest of Kerala pacer S Sreesanth for alleged spot fixing is "very painful" for cricket fans in the state.
Asked if it was fair for Delhi police to have invoked stringent provisions of MCOCA against Sreesanth and 24 others, Tharoor said, "It was for the court to decide on it."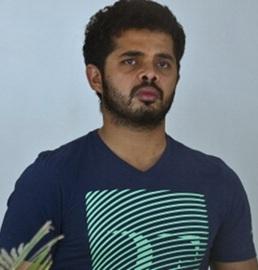 "The enthusiasm of young fans should not wane due to the IPL episode," he told reporters on the sidelines of a function in Kochi.
Tharoor said 18-year-old Sanju Samson from Kerala, who played for Rajasthan Royals this year had become a star and added that Kerala has become a serious cricketing state. The IPL episode should not be a 'setback' for cricket, he said.
Sreesanth and his Rajasthan Royals teammates Ankit Chavan and Chandila were arrested in Mumbai by Delhi police on May 16 for their alleged involvement in spot-fixing in IPL matches for payments upto Rs 60 lakh for giving away pre-determined number of runs in an over.
Image: S Sreesanth
Photograph: Anindito Mukherjee/Reuters