The Pakistan Cricket Board will seek details about reports that banned fast bowler Mohammed Aamir had submitted a written confession during a hearing at the Southwark Crown Court in London admitting to spot-fixing.
- Aamir pleads guilty in spot-fixing case: report
- Coverage: The Match-Fixing Episode II

"We are not directly involved in this hearing going on in London but obviously we would like to know first of all if these reports are correct and if he has indeed made any sort of written confession," a senior board official said.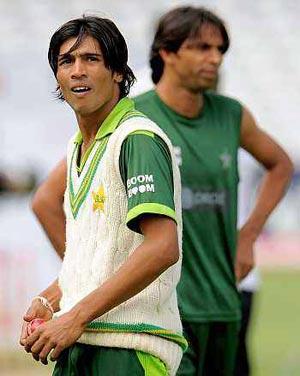 "If the reports are correct than we would like to also see this confessional statement because all along he has denied any wrong-doing and also cost the board a lot in legal expenditures," COO Subhan Ahmad said.
Aamir was banned for five years with teammates Salman Butt and Mohammed Asif last February by an anti-corruption tribunal of the ICC for spot-fixing. But the trio denied charges.
They are presently facing criminal charges of committing fraud, cheat and trying to defraud bookmakers in the Southwark Crown Court which is hearing criminal charges brought against the three by the special crown prosecution office.
Media reports also said that Pakistani origin bookmaker, Mazhar Majeed had also submitted his written confession at the London court.
The PCB official admitted that if reports were true than it would look at the entire issue in a new light as all three had denied the charges against them for which they were banned. Another Board official made it clear that the ICC decision was a totally separate issue from the hearing now going in London.
Ahmad also confirmed that at the last hearing the board had sent its legal advisor, Tafazzul Rizvi as an observer but this time he didn't go to London.
In a related development, Aamir's younger brother Ejaz on Saturday denied confirming or dismissing the reports about his brother's written confession.
"We really don't know anything about it right now but there is no doubt there is a lot of pressure on him and he is still very young," Ejaz said.
Ejaz said at times it was better to face the truth and admit mistakes and if Aamir had indeed confessed to spot-fixing than he had done a brave thing.
"Whatever happens we are there to support him and we know they are thousands of people also supporting and praying for him," he said.
Ejaz said his brother was confident that by October the situation would become very clear. Of the three banned players, Aamir, because of his young age is seen as the one with the brightest chances of getting an early reprieve from his ban and also making a comeback to international cricket.
Legal experts unconvinced by Aamir confession
Legal experts and former players believe that the written confession made by Pakistan's banned Mohammed Aamir that he was involved in spot-fixing was a move designed to help reduce the length of an expected prison term and gain sympathy from the ICC.
But majority of the legal experts and former players believe that Aamir's confession has come late and secondly it could prove to be more damaging for the two other banned players, Salman Butt and Mohammed Asif.
An anti-corruption tribunal of the ICC had banned the trio last February for spot-fixing for a minimum of five-years at that time all three pleaded not guilty.
"Unless, we know what Aamir has said in his confession, I can't say what effect it will have on the case of the two other players, Salman Butt and Asif who have pleaded not guilty so far," criminal lawyer Aftab Gul who represented Butt for a short while during the ICC hearings said.
Gul said if Aamir had said in his confession that he was told by Butt to deliberately bowl the no-balls than the former Pakistan captain could face serious problems.
Another senior lawyer, Khalid Ranjha who was also involved in defending the players during the ICC hearings said he was surprised by Aamir's confession.
"If he had confessed earlier during the ICC hearings things could have very different today. I think he is now acting on the advice of his present lawyers."
Sources said that Aamir had submitted his confession through his British lawyer Gareth Pierce's firm Birnberg Pierce & Partners.
He confirmed that the statement maintained that Aamir was coerced into his actions, rather than acting out of greed. The law firm when contacted refused to comment on the case.
The three players are charged on two counts in the Southwark court.
Firstly, with conspiracy to obtain and accept corrupt payments, which falls under the 1906 Corruption Act, and carries a maximum sentence of seven years. They are also charged with conspiracy to cheat, under the 2005 Gambling Act, which carries a two-year maximum sentence.
Another source didn't rule out the possibility of Aamir having been offered a plea bargain to avoid a lengthy jail sentence.
Butt and Asif who are also due to appear in court on October 4 with Aamir have so far not responded to any calls to contact them. The former Chairman of the Pakistan cricket Board, Lt-General Tauqir Zia said Aamer had done no big thing with his confession.
"The ICC banned them because they already had evidence against the three and obviously that will matter for something in this court hearing as well," Zia said.
Pakistan's former captain Rashid Latif said he was happy that atleast Aamir had admitted he had done wrong but perhaps it had come too late.
"The only thing now is that if there was any doubt over the involvement of our players in spot-fixing it has now been removed," he added.
Former captain Aamir Sohail said Aamer's confession only confirmed the need for the Pakistan board to initiate steps to ensure they manage the financial affairs of the players specially those coming from poor backgrounds.
"The board should take steps to manage the financial affairs of these players who act without thinking and it only brings a bad name to Pakistan cricket," he added.