- The India off-spinner joins a select band to have touched a rating of 900 points since 2000, the others being Muttiah Muralitharan, Glenn McGrath, Vernon Philander, Dale Steyn and Shaun Pollock.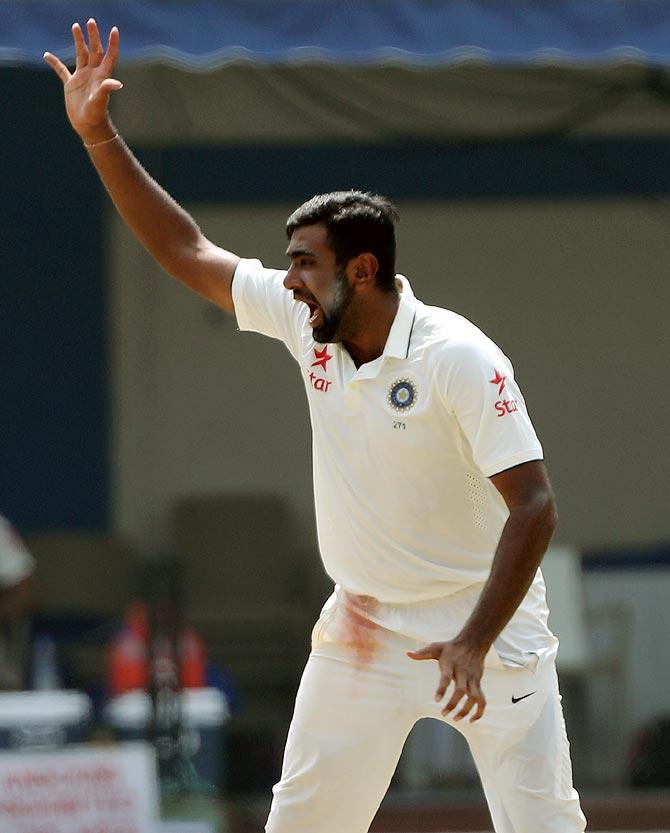 IMAGE: Ravichandran Ashwin celebrates the wicket of Kane Williamson during the third Test in Indore. Photograph: BCCI
Off-spinner Ravichandran Ashwin surged to the top of the MRF Tyres ICC Player Rankings for Test Bowlers with a career-best haul of 13-140 in the final Test that helped defeat New Zealand by a massive 321 runs, India's second biggest victory in terms of runs.
Ashwin, who was named man of the series after he finished with 27 wickets in a 3-0 sweep by India, now has 220 wickets, the most by any bowler after 39 Tests. Ranked third before the final Test in Indore, Ashwin has leapfrogged pace bowlers James Anderson and Dale Steyn to attain a career-best rating of 900 points.
Ashwin, who finished the 2015 year-end rankings as the number-one bowler and was also at the top briefly in July this year, joins a select band to have touched a rating of 900 points since 2000, the others being Muttiah Muralitharan, Glenn McGrath, Vernon Philander, Dale Steyn and Shaun Pollock.

In the MRF Tyres ICC Player Rankings for Test Batsmen led by Australia captain Steve Smith, Ajinkya Rahane has attained a career-best sixth-rank with scores of 188 and 23 not out. Rahane, whose previous best was eighth rank in August this year, has gained five slots after starting the match at 11th position.

The Indore Test also saw Cheteshwar Pujara and captain Virat Kohli move up the rankings. Pujara's knocks of 41 and 101 not out have helped him move up one place to 14th rank while Kohli's scores of 211 and 17 at Indore have helped him move up four places to 16th position.

For New Zealand, opener Martin Guptill has moved up 10 places to 58th rank with knocks of 72 and 29 while Jimmy Neesham has moved up 12 slots to 70th position.

In the all-rounders' list, India's Ravindra Jadeja has reached a career-best joint-third rank, while his team mate Ashwin is ranked No. 1.

ICC Test Player Rankings (as on 12 October after the India-New Zealand series):

Batsmen (top 10)


| Rank | (+/-) | Player | Team | Pts | Avge | Highest Rating |
| --- | --- | --- | --- | --- | --- | --- |
| 1 | ( - ) | Steve Smith | Aus | 906 | 58.55 | 936 v Eng at Lord's 2015 |
| 2 | ( - ) | Joe Root | Eng | 878 | 54.86 | 917 v Aus at Trent Bridge 2015 |
| 3 | (+1) | Hashim Amla | SA | 847 | 51.16 | 907 v Pak at Abu Dhabi 2013 |
| 4 | (+1) | Younus Khan | Pak | 845 | 53.72 | 880 v SL at Lahore 2009 |
| 5 | (-2) | Kane Williamson | NZ | 841 | 50.31 | 893 v Aus at Perth 2015 |
| 6 | (+5) | Ajinkya Rahane | Ind | 825! | 51.37 | 825 v NZ at Indore 2016 |
| 7= | (-1) | Adam Voges | Aus | 802* | 72.75 | 824 v SL at Galle 2016 |
| | (-1) | AB de Villiers | SA | 802 | 50.46 | 935 v Aus at Port Elizabeth 2014 |
| 9 | (-1) | David Warner | Aus | 772 | 48.63 | 880 v NZ at Perth 2015 |
| 10 | (-1) | Alastair Cook | Eng | 770 | 47.31 | 874 v Ind at Kolkata 2012 |


Other selected rankings


| Rank | (+/-) | Player | Team | Pts | Avge | Highest Rating |
| --- | --- | --- | --- | --- | --- | --- |
| 11 | (-1) | Misbah-ul-Haq | Pak | 764 | 48.27 | 842 v NZ at Abu Dhabi 2014 |
| 13 | ( - ) | Asad Shafiq | Pak | 739 | 42.85 | 758 v Eng at Lord's 2016 |
| 14 | (+1) | C. Pujara | Ind | 731 | 49.22 | 851 v SA at Durban 2013 |
| 16 | (+4) | Virat Kohli | Ind | 718 | 45.56 | 784 v NZ at Wellington 2014 |
| 17 | (-1) | Azhar Ali | Pak | 692 | 43.27 | 753 v SL at Pallekele 2012 |
| 19 | ( - ) | Sarfraz Ahmed | Pak | 678 | 43.79 | 715 v SL at Galle 2015 |
| 20 | (-4) | Ross Taylor | NZ | 675 | 46.24 | 871 v WI at Hamilton 2013 |


Bowlers (top 10)


| Rank | (+/-) | Player | Team | Pts | Avge | Highest Rating |
| --- | --- | --- | --- | --- | --- | --- |
| 1 | (+2) | R. Ashwin | Ind | 900! | 24.29 | 900 v NZ at Indore 2016 |
| 2 | (-1) | Dale Steyn | SA | 878 | 22.24 | 909 v WI at Centurion 2014 |
| 3 | (-1) | James Anderson | Eng | 870 | 28.28 | 884 v SL at Durham 2016 |
| 4 | ( - ) | Stuart Broad | Eng | 836 | 28.52 | 880 v SA at Johannesburg 2016 |
| 5 | ( - ) | Rangana Herath | SL | 831 | 28.71 | 851 v Pak at Colombo (SSC) 2014 |
| 6 | (+1) | Yasir Shah | Pak | 806* | 27.48 | 878 v Eng at Lord's 2016 |
| 7 | (-1) | Ravindra Jadeja | Ind | 805* | 23.52 | 809 v NZ at Kolkata 2016 |
| 8 | ( - ) | Mitchell Starc | Aus | 792! | 27.36 | 792 v SL at Colombo (SSC) 2016 |
| 9 | (+1) | Neil Wagner | NZ7 | 31* | 29.63 | 760 v SA at Centurion 2016 |
| 10 | (+1) | V. Philander | SA | 723 | 22.09 | 912 v Ind at Johannesburg 2013 |


Other selected rankings


| Rank | (+/-) | Player | Team | Pts | Avge | Highest Rating |
| --- | --- | --- | --- | --- | --- | --- |
| 11= | (-2) | Trent Boult | NZ | 715 | 29.56 | 825 v EngatLord's 2015 |
| 23 | (+1) | Kemar Roach | WI | 551 | 30.23 | 774 v SA at Centurion 2014 |
| 24 | (-1) | M. Shami | Ind | 547* | 33.72 | 570 v NZ at Kolkata 2016 |
| 28 | (-2) | B. Kumar | Ind | 496* | 28.04 | 501 v NZ at Kolkata 2016 |
| 29 | (-) | Wahab Riaz | Pak | 490*! | 34.50 | 490 v Eng at The Oval 2016 |


All-rounders (top five)


| Rank | (+/-) | Player | Team | Pts | HighestRating |
| --- | --- | --- | --- | --- | --- |
| 1 | (-) | R.Ashwin | Ind | 451! | 451 v NZ at Indore 2016 |
| 2 | (-) | S. AlHasan | Ban | 384 | 419 v Zim at Khulna 2014 |
| 3= | (+1) | R. Jadeja | Ind | 292*/*! | 292 v NZ at Indore 2016 |
| | (-) | Moeen Ali | Eng | 292/*! | 292 v Pak at The Oval 2016 |
| 5 | (-) | Mitchell Starc | Aus | 279! | 279 v SL at Colombo(SSC) 2016 |

* indicates provisional rating; a batsman qualifies for a full rating after playing 40 Test innings; a bowler qualifies for a full rating when he reaches 100 Test wickets.

! indicates career-highest rating