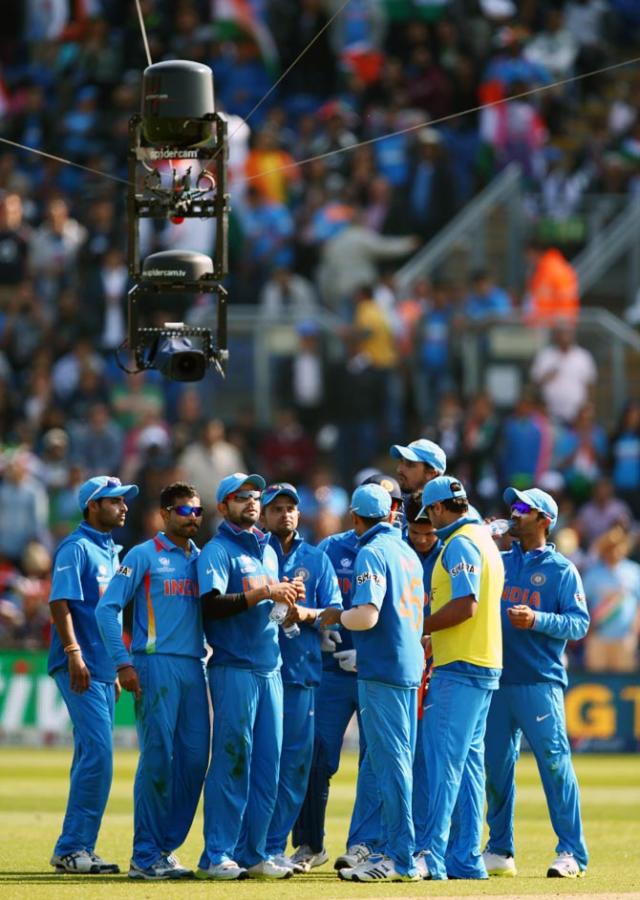 IMAGE: The spidercam focusses on the Indian team during a break in play. Photograph: Michael Steele/Getty Images
The controversial spidercam, which has been criticised by India's limited-overs' captain Mahendra Singh Dhoni, will be used during the upcoming World Twenty20 Championship, but it won't disturb play, International Cricket Council's Chief Executive Dave Richardson assured on Thursday.

"Yes, we are going to use spidercam during the World T20 championship. We will make sure it does not interfere with play. We have guidelines for its usage," said Richardson in Mumbai.

The spidercam had interfered with play during the fifth and final One-Day International between India and Australia at the Sydney Cricket Ground on January 23 as well as during the previous Test series between the two countries Down Under.

Test skipper Virat Kohli upper-cut Australia pacer John Hastings for a boundary in the 19th over of the Indian innings at the SCG, but it was declared a dead ball after hitting the camera.

India's ODI captain Mahendra Singh Dhoni is of the view that such interference could affect the results of close matches.

"I am quite a traditional guy. Anything that disturbs the game of cricket, I don't like it. It all started right from the Twenty20 where people would ask 'Why don't you wear a mic?', 'Why don't you wear a camera?' " said Dhoni after the fifth ODI in Sydney.

"I feel there is always a need for a balance. At the end of the day, it's a spectators' sport, people watching on television, but at the same time four runs can really matter. Especially when it's a 310-320 game, those four runs can be crucial," he added.

Australia captain Steve Smith, who had complained that the spidercam upset his vision leading to the spilled catch of India opener K L Rahul who went on to score his maiden Test hundred (110) in the last series in Australia, saw the funny side of the episode.

"He was probably our best fielder tonight, spidercam. He saved four," he had said.